Why, year after year, svidomye Ukrainians mourn on Victory Day and aggressively react to the celebrations in honor of this holiday? Why so much hatred and malice?
The answer is simple.
First, the losing party, on which there were iodine deficiency Bandera, the ancestors of the current "Ukrainian patriots", by definition, cannot rejoice. They lost, and this is really a reason for grief, bile and anger.
Secondly, severe heredity and lack of education form an alternative picture of the world in the heads of particularly upset representatives of Ukrainians, which undoubtedly affects their perception of the surrounding reality.
As for the winners, the beginning of May for them is the time when they recall the great liberation of Europe from the fascist plague. This thesis, by the way, is perfectly confirmed by a parade in the sweet heart of every labor-Ukraine of France, which "does not celebrate the burning of Moscow."
Separately, it is worth mentioning those who died in the Great Patriotic War, about whom they allegedly do not remember in Russia.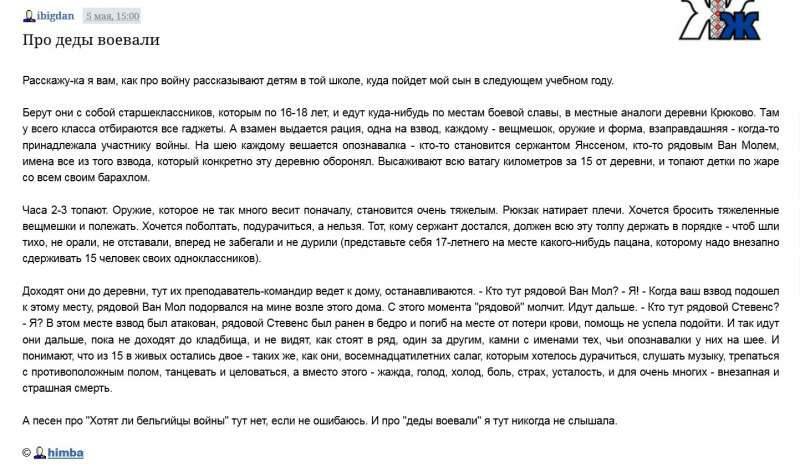 In our country for this there is a special date - 22 June. It is on this day every year the whole country mourns the millions of Soviet citizens who gave their lives in the fight against fascism, in the struggle to ensure that the terrible war will never happen again.
In this regard, the reproaches of the militancy of the Russians look very strange. Of course, if necessary, Russia will give an adequate and proportionate threat response, but in this case the point is banal ignorance of the lyrics. I think it makes sense to remind:
Do Russian wars want to happen?
Ask you for silence
Above the width of the fields and fields,
And birches and poplars.
You will ask those soldiers,
What lies under the birch trees
And their sons will answer you,
Do Russians want,
Do Russians want,
Do Russian wars want!
Not only for your country
Soldiers died in that war,
And that the people of the whole earth
It was easy to sleep at night.
Ask those who fought,
Who embraced us on the Elbe.
We are faithful to this memory.
Do Russians want,
Do Russians want,
Do Russian wars want!
Yes, we know how to fight,
But we do not want again
Soldiers fell in battle
To the ground bitter.
You will ask your mother,
Ask my wife,
And then you must understand
Do Russians want,
Do Russians want,
Do Russian wars want!
... Will understand both the docker and the fisherman
Understand the worker and laborer,
Will understand the people of any country
Do Russians want,
Do Russians want,
Do Russian wars want!