Due to the lack of funding, the US Air Force is experiencing an acute shortage of qualified personnel, including pilots, as well as aircraft spare parts, reports
TASS
Fox News post.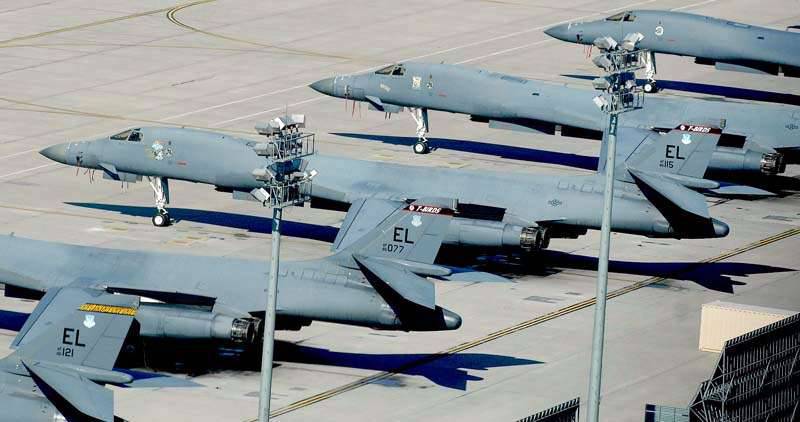 Collecting the material, the channel reporters visited several airbases, including the 28 squadron of B-1 bomber stationed in South Dakkot.
"Of the nine bombers 20, only nine are able to take to the air," Master Sergeant Bruce Pfrommer, who served more than 2 decades in the Air Force, told reporters.
"B-1, on which I flew 20 years ago, had 1 thousand flying hours. Now we have planes that have flown over 10 thousand hours. Not only our staff was tired, all of us were tired
aviation
", - said the sergeant, noting that the blame for all the reduction in funding.
"Over the past 10 years, we have cut our Air Force financing program by half," said Elizabeth Jarding, the captain of the aviation industry. "If we compare it with the times of the Persian Gulf War 1991 of the year, the total number of US Air Force personnel has decreased by 30% since and the number of military aircraft by 40%."
At the same time, "the average age of the latter is currently about 27 years," said the channel.
The same situation is observed in other bases.
"Only 42% of all F-80 fighters deployed on the 16 base are able to take to the air on the first demand," said Colonel Stephen Jost, serving at the Show air base in California. The reason for this - the lack of spare parts.
"Excessive budget cuts, known as sequestration, which began (in the US) three years ago, forced the Air Force to fire employees," the channel said.
According to his calculations, "the American air force currently lacks 700 pilots and about 4 thousand aviation specialists needed to maintain
fleet
in good condition. "
"Faced with a shortage of spare parts for their aircraft, military personnel are even forced to remove parts from machines that have already been decommissioned," reports Fox News referring to B-1 squadron commander Travis Lytton.
According to him, the military "periodically have to go and see the famous" cemetery "of served aircraft in the state of Arizona." "Others turn to aviation museums with a request to lend the missing parts for them," he added.
For example, recently, his subordinates "in search of spare parts went around six museums with military airplanes around the United States so that one of their B-1s could get on the take-off platform normally."
TASS recalls that the US military budget for the next year is laid out in the amount of $ 582,7 billion. The Air Force will receive the biggest increase - their budget should increase by more than 5 billion to 166,9 billion dollars.