The representative of the American anti-Igilov coalition, Colonel of the US Army, Steve Warren, said that, according to American intelligence, the group of ISIS "has introduced a state of emergency in Raqqa." According to Warren, the militants are actively regrouping and strengthening their positions. In addition, facilities that are potential targets for air strikes are being strengthened. Reports about it
Interfax
.
It is noted that the re-grouping of the forces of the so-called "Islamic State" is carried out both in the regions of the Rakka province and within the administrative center of this Syrian region. The same Colonel Warren declared that detachments of the so-called free Syrian army (SSA) are moving to the city of Raqqah (Ar-Raqqa) from two directions (east and west). Allegedly, this is what forces the ISIL militants to begin an active regrouping of forces and the strengthening of their positions.
Raqqa is the unofficial capital of the terrorist Islamic State. Earlier, American media reported that in this Syrian city is a man whom the United States called the leader of ISIS. It's about a man named Abu Bakr al-Baghdadi.
The media reported that the ISIL militants had launched a massive offensive in the province of Deir ez-Zor on the eve. The target area for the attack was the government-controlled area of ​​Tartuh, located off the west bank of the Euphrates River. The assault on the positions of the Syrian army began with the fact that several trucks loaded with explosives were launched ahead. However, Syrian troops were able to stop igilovtsev, destroying mined cars on the approaches to the city with the help of RPGs. Reports about it
AMN
.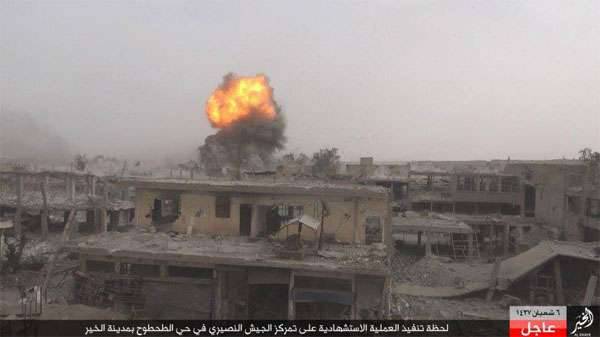 However, this did not stop the terrorists. They attempted an offensive from two directions - the northeast and southeast. The fighting in these sectors of the front continued for at least 2's hours. Through the efforts of the 104 airborne brigade of the SAR, the militants were driven back. On the losses among the Syrian paratroopers are not reported. However, it is known about the losses of ISIL - 30 militants, including 3's warlords, were destroyed. Among the liquidated field commanders of ISIS was Abu al-Hafiz al-Tabuki - a subject of Saudi Arabia.