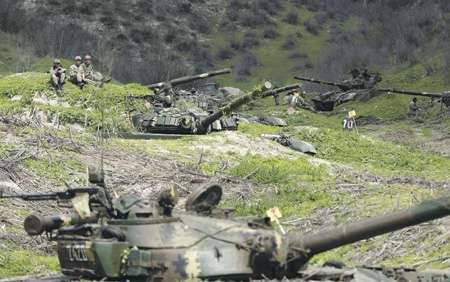 The April "mini-war" in Karabakh was both unexpected and very expected. It is very expected because so far no one has been able to specifically, without political demagogy, explain how to solve this conflict in a peaceful way. However, since the intense hostilities ceased 22 a year ago, their resumption itself is unexpected.
BETTING ON MILITARY EXCELLENCE

Having suffered a heavy defeat in the 1992-1994 war, Azerbaijan made very significant efforts to achieve military superiority over the enemy. He largely succeeded, as evidenced by the current balance of forces between the parties. At the same time, however, it is necessary to point out that if the composition of the armed forces of Armenia and Azerbaijan is very well known, then the composition of the Armed Forces of the Nagorno-Karabakh Republic (NKR) is estimated, although it was they who opposed 2 – 5 on April 2016.
On April 1 of this year Azerbaijani ground forces had 100 main
tanks
T-90 and 379 main T-72 tanks of various modifications, as well as 98 old T-55s, some of which are withdrawn from the Armed Forces and, possibly, will be converted into heavy infantry fighting vehicles (IFVs) on the model of the Israeli "Ahzarit". The Armed Forces of Armenia comprise 137 T-72 main tanks and eight T-55, as part of the NKR Armed Forces - approximately 140 T-72 main tanks and 34 T-55 tanks. Obviously, Azerbaijan's very significant superiority, both quantitative and qualitative.
At the end of April, the only T-90 arrived in Armenia from Russia, won by the team of this country in tank biathlon competitions back in 2014, but of course, he did not change the balance of power.
For infantry combat vehicles and airborne assault vehicles (BMD) also ahead of Azerbaijan, although not so significantly. Its Armed Forces has BMD 20-1, 21-BRM 1K, BMP-63 1, 186-2 BMP and BMP-101 3, while in the Armed Forces of Armenia - BMD-10 1, 12-BRM 1K, BMP-167 1 and 5 BMP-2. In turn, in the NKR Armed Forces, on that date, there were supposedly five BRM-1K, 80 BMP-1 and 153 BMP-2. By the number of armored personnel carriers (BTR) and armored cars, the superiority of Azerbaijan is also quite significant. He is armed with three Ukrainian BTR-3Us (Azerbaijan declined to make further purchases), sn, BNR-40, 60 BTR-239, 70 BTR-33, 80 BTR-70, 80 BTR-D, XNXXXXX, XNXX BTR-11, 55 BTR-85, 35 BTR-393, 152 BTR-19 "Marauder" (produced under license in Azerbaijan itself), as well as at least 60 Turkish Cobra combat vehicles and 54 MTLB. Armenia has six BTR-70, 114 BTR-80, 40 BTR-70, XNUMX BTR-XNUMX and up to XNUMX MTLB, and the NKR army has only nine BTR-XNUMX.
On both sides, a significant part of the said infantry fighting vehicles and armored personnel carriers are not in the armed forces, but in service with the internal or border troops, but this will not prevent them from fighting.
Also in front of Azerbaijan is artillery. It has a 150 OXYST mm) and 25 2C9 (mm 18). The armed forces of Armenia are armed with 2 self-propelled artillery 31С120 and 66 2С1, while the NKR army has approximately 122 self-propelled guns of the 16СXNNXX types. Towed Guns land forces of Azerbaijan - 2 D-3 (18 mm) 2 M-19 (152 mm) 2000 155A15 and 2 D-7 (203 mm), while the Armenian army has 10 D-2 (1 mm) 28 2А3, 12 D-2 and two D-1 (mm 2). In turn, NKR has up to 3 guns M-255 and D-30 (122 mm), 36 D-46, as well as approximately 130 D-16 and 2А36 (24 mm).
Azerbaijan has more than 600 mortars - 400 2B14 (82 mm), 107 PM-38, 85 M-43, and 10 Israeli CARDOM (120 mm). Armenia has about 80 mortars of the 120 caliber mm (19 PM38, up to 62 M-43), and the number of mortars of the NKR army is unknown.
Azerbaijan pays great attention to the development of rocket artillery. He has 44 Soviet MLRS BM-21 and 20 Turkish T-122 (122 mm), 30 Smerch systems (300 mm), 30 Turkish T-107 (107 mm) and 20 TR-300 (302 mm), and also 18 Russian flamethrower systems TOC-1A (220 mm) and six Israeli multi-caliber MLRS "Lynx". Armenia can counter this with the entire 47 BM-21 and four Chinese WM-80 (273 mm), whereas the NKR has only about 24 BM-21.
The anti-tank weapons of Azerbaijan's ground forces include 10 Ukrainian Skif anti-tank missile systems (ATGM), Russian Cornet 100, Malyutka Soviet 150, Fagot 100, Metiz 20. There are also anti-tank guns - 10 D-72 (44 mm) and MT-85 (12 mm). The Armenian Armed Forces have up to 100 ATTM "Malyutka", 20 "Fagot", 12 "Competition", 10 self-propelled ATGM "Sturm-S", and also 27 anti-tank gun - 71 guns D-35 of 44 mm and XNNXN-85 36 anti-tank gun and 12 anti-tank gun. 100 caliber 2 mm. The NKR Army has at least six self-propelled Sturm-S anti-tank systems and as many BRDM-XNUMX with Konkurs anti-tank systems, the number of portable anti-tank systems is unknown.
The military air defense system of Azerbaijan includes three divisions of Buk-М1 anti-aircraft missile systems (ZRK) and Belarusian Buk-MB (18 launchers), one division of the Israeli Zarab Barak-8 (9 launchers), one division in the 27 launchers of the outdated Soviet Krug air defense system, 150 short-range anti-aircraft missile systems (80 complexes of the Osa type, eight Belarusian-Ukrainian Tetrahedron complexes, and 54 of the Strela-10 complex and eight Tor-M1 systems), 300 Man-Portable Air Defense Systems (MANPADS) Igla and 18 MANPADS Strela-3, 40 anti-aircraft gun mounts ZSU-23-4 Shilka. There are from six to nine Osa air defense systems, Strela-48 complexes, Strela-10 30 complexes, and Strela-1 portable 200 anti-aircraft missile systems, 2, 90, in Armenian air defense. anti-aircraft installations "Shilka". The NKR army is armed with at least six "Osa" air defense missile systems, several Strela-48 complexes, and at least six Shilka ZSUs.
Thus, on land, practically in all classes of technology, Azerbaijan has a significant quantitative, and often qualitative, superiority over Armenia and the Nagorno-Karabakh Republic. In the air, this superiority is even greater.

AIRPOWER OF OPPONENTS
The Azerbaijani military has several divisions of the Buk-M1 and Buk-MB complexes. Photo from www.mod.gov.az

Fighter
aviation
The Azerbaijani Armed Forces include 15 MiG-29 aircraft (including two combat training aircraft) and six modernized MiG-25PD fighter interceptors. There are also up to 22 MiG-25 aircraft and up to five MiG-21s in storage, but their return to service is hardly possible. However, formally combat-ready MiG-25PDs are also not very suitable for the conditions of the Karabakh theater, because in the Soviet Union these aircraft were created for completely different tasks. Armenia can oppose this with the only MiG-25, the combat effectiveness of which is extremely doubtful. in this component, the superiority of Azerbaijan is absolute.
The strike aircraft of Azerbaijan on April 1 of this year. included X-NUMX attack aircraft Su-33 (including four combat training), X-NUMX Mi-25 helicopters (of which at least eight were upgraded in South Africa by the Mi-27G version) and 24 newest Mi-24 helicopters. There were five Su-24 bombers and Su-35 attack aircraft in storage, but apparently they were completely inefficient. In the Armenian Air Force, on the same date, there were 24 attack aircraft Su-17 (including two combat trainers) and 15 Mi-25 helicopters, and in service with the NKR Air Force there were two attack aircraft Su-12 and three Mi-24 helicopters. Thus, here the superiority of Azerbaijan is very great.
It should also be added that the Air Force of Azerbaijan also has four reconnaissance aircraft MiG-25РБ, two IL-76 transport aircraft (another aircraft is in storage), up to 23 training aircraft L-39, about 100 multi-purpose and transport helicopters (up to 82 helicopters Mi-17 and Mi-8, seven Mi-2, as well as six Ka-27 and Ka-32). The air force of Armenia, in turn, has approximately 10 transport aircraft (three IL-76, from three to six AN-2 and, possibly, one AN-24 and AN-32), approximately 20 training aircraft (six L- 39, 10-14 Yak-52, one Yak-55, up to five Yak-18T), as well as the order of 20-30 multi-purpose helicopters (11-20 Mi-8 / 17 and eight or nine Mi-2). Another five Mi-8 helicopters are in the NKR Air Force.
The ground defense of Azerbaijan includes two divisions of anti-aircraft missile systems (ZRS) C-300PMU2 (16 launchers), one division of ZRS C-200 (four launchers), 13-14 divisions S-CNXX (up to 125 launchers). The ground defense of Armenia includes three C-54PT (300 launchers) and two C-36PS divisions (300 launchers), one C-24 air defense missile system (six launchers), five C-75 battalions (125 launchers), as well as three "Circle" SAMs (20 launchers). The NKR air defense system presumably has at least one ZNS C-27PS and "Kub" air defense missile systems, as well as five or six Krug air defense systems (300-15 launchers). It is likely that a significant part of the C-18, C-75 and "Circle" air defense missile systems of Armenia was transferred to the NKR air defense system.
It makes no sense to describe the naval forces of Azerbaijan, since they cannot take part in the war over Karabakh for reasons of a geographical nature.

EVERYONE CONSIDERS HIMSELF
It is traditionally difficult to discuss the results of the April mini-war, since each of the parties, as usual, talks about the absolute magnificence of its troops and the total insignificance of the enemy troops. But the truth lying in the middle is still to be learned.
A very important criterion of success and failure of the parties are, of course, the loss. At the same time, each side reports the losses of the enemy, guided by the well-known Suvorov principle of "write more, why, adversaries, feel sorry for them!" Accordingly, the losses should be judged according to those who suffered them, as well as by objective evidence (photo and video) .
There is one well-known domestic site, which began its activities with fixing losses in technology during the war in Donbass, but then covered other current conflicts. According to his data, compiled on the basis of photo and video information, the Armed Forces of Azerbaijan lost one Mi-24G helicopter and four Israeli-made drones in the April war, while the NKR Armed forces lost six T-72 tanks and two X-55 drones created in Armenia . Interestingly, the parties themselves acknowledged even their own great losses. Azerbaijan, in addition to the helicopter, recognized the loss of one tank (obviously, it was a T-72). Thus, the Sun of this country has 378 T-72 and 26 Mi-24 (including at least seven Mi-24G). Karabakh recognized the loss of 14 tanks (apparently all of them are T-72), respectively, he has about 126 tanks of this type left. Other information about the losses of the parties in the technique is not objectively confirmed. The losses of people killed according to their own data are 37 people from Azerbaijan (including six civilians) and 92 from NKR (including four civilians), although according to other Azerbaijani data only the military lost this country to 93 people.
High losses of the NKR Armed Forces in tanks attract attention. If you do not take into account the extremely outdated T-55, then it turns out that Karabakh lost 10% of the tank fleet in four days! Or 5%, if we sum up the armed forces of NKR and Armenia. At the same time, judging by the available data, most of these losses fell on unmanned aerial vehicles - the Kharop Israeli-made ammunition patrols operating in the kamikaze style - they destroyed Armenian tanks right in their shelters. For the Armenian side, this is a very loud wake-up call. In general, the dismissal of several Armenian generals after the war confirms that in Yerevan and Stepanakert they are not very happy with these results.
At the same time, however, despite the suddenness, quantitative and qualitative superiority in technology, the Azerbaijani Armed Forces, even on the first day of the April war, achieved extremely insignificant successes, and over the next three days they were almost completely lost as a result of the Armenian counterstrike. Apparently, ultimately, the Azerbaijanis "bit off" an extremely insignificant territory from the Armenians. Baku's plans were obviously incomparable with the result achieved in reality. However, the reconnaissance in force in Azerbaijan turned out, but for her a negative result is also a result. Compared to the 1992-94 war, Azerbaijanis are very much technically advanced, which threatens the Armenians with serious problems in the future. However, in the field of command and control, as well as in combat and moral and psychological training of personnel, the superiority, apparently, is confidently preserved by the Armenians, in this regard, for almost a quarter of a century, nothing has changed. At the moment, this fully compensates for the technical superiority of Azerbaijanis, which, however, does not mean that this situation will last forever. But today, although both of them consider Karabakh their land, the desire of Armenians to defend it is stronger than the desire of Azerbaijanis to return it.
SETTLEMENT PROBLEM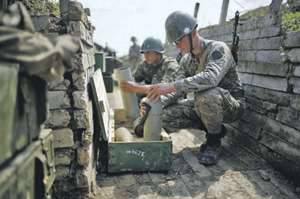 In military and moral-psychological preparation, the troops of Armenia and Nagorno-Karabakh surpass their counterparts. Reuters Photos

It should be especially emphasized that the fact that both parties consider Karabakh their land makes a peaceful settlement of the conflict objectively impossible. Russian statements that the conflict "does not have a military solution" very much resemble demagogy, and Western political correctness bleating about the "need to restore trust between the parties" is so stupid that it does not even deserve comments. The mutual hatred of Armenians and Azerbaijanis is not something that does not decrease, but even grows. And this is a very real "people's" hatred. And it is absolutely impossible to understand what a compromise looks like.
Karabakh is not going to return to the structure of Azerbaijan even with the rights of the widest possible autonomy, despite the fact that Baku is absolutely not going to give it such. The return by the Armenians of the actual Azerbaijani regions surrounding NKR, which is often regarded as a possible intermediate compromise, would instantly transform the strategic position of Karabakh from the present very strong and stable to hopelessly catastrophic, even if the Armenians of the Lachin corridor remain. Accordingly, the Armenian side can go on such a return only if there is an unequivocal legal recognition of the independence of the NKR, but Baku will not even consider such a possibility. The return of Azerbaijani refugees to Karabakh and their residence there is possible only under the protection of Azerbaijani troops, which Stepanakert will not agree to, as it is easy to guess. Talking about solving the Karabakh problem within the framework of "international law" didn't make sense before, and the Kosovo precedent simply "destroyed" this "right" (at least with reference to the problem of unrecognized states, which include, in particular, NKR ).
Thus, the only option for a peaceful solution is the voluntary unconditional surrender of one of the parties. At the moment, neither Armenians nor Azerbaijanis are absolutely not going to capitulate, and why should they? And the current status quo suits everyone except Azerbaijan, because the status quo has fixed its defeat. Since it is absolutely impossible to change the status quo by peaceful means, and no one is going to do this, Baku wants to break it by military means, for which it buys the latest equipment in large quantities in Russia, Israel and Turkey. The only question is when the Azeris decide that they have achieved not only over the NKR, but over the sum of the NKR and Armenian armed forces of decisive superiority, ensuring the hacking of the Armenian defense and the full return of all their lost territories.
As the April events showed, Azerbaijan is still very far from such a decisive superiority. Why, then, decided to fight in Baku? Perhaps the Azerbaijani leadership simply misjudged the situation. Or they deliberately conducted reconnaissance by force, but didn't count the flag over Stepanakert. However, it is very likely that Baku was prompted by its main strategic ally, Ankara. Erdogan decided to respond to Moscow symmetrically: she created very big problems for him in Syria, he decided to create problems for her in the Caucasus. And I must say, in many ways he succeeded. Yes, and could not fail, because Moscow is largely a substitute for these problems itself. Russia did not suffer any military or economic damage from the April war, but the political damage is obvious.

UNFINISHABLE DILEMMA
It can be long and interesting to argue with whom it is objectively more profitable for Moscow to be friends with - with Yerevan or Baku, or we must ignore the fact of the irreconcilable Armenian-Azerbaijani conflict and try to maintain neutrality. In fact, however, it turned out that Armenia is a member of the Collective Security Treaty Organization (CSTO), supporting Russia on almost all key international issues. Azerbaijan is not a member of any pro-Russian organization in the post-Soviet space, it has never entered its foreign policy with Moscow, focusing primarily on ethnically related Ankara. For example, in March 2014, on the most important for us Crimean issue, Armenia voted in the UN General Assembly together with Russia, and Azerbaijan - against Russia. Ie. Yerevan is a legal and de facto ally of Moscow, but Baku is not. As far as Moscow's objectively good or bad, the author of this article is not ready to answer, he only states the fact. Another fact is that allied obligations must be fulfilled. In the past eight years, using examples from Abkhazia, South Ossetia, Crimea, Syria, Russia has shown that it is a very strong and reliable ally, while NATO, using the same examples, showed that friendship with it is suicidal. NATO is not really involved in the Karabakh conflict, but Russia has got the first serious "program failure".
As mentioned above, in recent years, Azerbaijan has purchased a huge amount of modern military equipment in Russia, Turkey and Israel. The most
weapons
Azerbaijan bought from Russia, moreover, offensive systems, which were obviously intended not for parades in the center of Baku, but for breaking into Armenian fortifications in Karabakh. In order to understand this, you do not even need to be a diplomat or a military man. Thus, Moscow deliberately sold weapons to Azerbaijan for war against its CSTO ally. From a commercial point of view, it was a very good deal, but from a political point of view, to say the least, dubious. The argument "from whether we will not sell - we will sell others", sounding from Moscow on this occasion, is even more dubious, if not stronger and rougher, in this case. In addition, the "other" of some things can not sell. For example, there is simply no one in the world who has analogs of the most powerful TOC-1A system, namely, it can cause very great damage to the Karabakh troops at the front line. It is completely incomprehensible where Azerbaijan could find an analogue of T-90. So the argument about "others" is not only extremely cynical, but also does not correspond to reality.
Apparently, realizing all this, the Kremlin made significant efforts to cease fire and restore the status quo in Karabakh. The trouble is that, as mentioned above, it is forever impossible, and Moscow does not have a magic recipe for a "peaceful resolution of the conflict", because it does not exist at all. In addition, Yerevan is now quite openly "put in a pose" and it can be understood, since Moscow's attempt to take a markedly neutral position in the light of the existence of the CSTO looks somewhat strange. By the way, Moscow still wants to see in the CSTO an analogue of virtual NATO - a powerful cohesive military bloc. Now we can say for sure that we have an analogue of real NATO - a bubble in which no one is going to protect anyone.
However, even before the April war, Russia announced the supply of weapons, including the same flame-throwing systems TOC-1A and Smerch multiple rocket launchers, to Armenia. And on credit (we sold equipment to Azerbaijan for the full price). To a certain extent, this will restore the balance of power in the conflict zone. And it will be much better to support the status quo than all diplomatic efforts, especially since the fall in oil and gas prices has dealt a serious blow to the Azerbaijani military budget. As mentioned above, even the current, very significant military superiority of Azerbaijan does not provide him with a victory at all. If this superiority is reduced, Baku's decision on a military operation against the Nagorno-Karabakh Republic will move to an uncertain future.
In a sense, it now turns out that with Azerbaijani money we will supply weapons to Armenia (although, of course, all this is not so literally). Perhaps this fact will somewhat soften the Armenian grievance against Moscow, under which, admittedly, there are grounds.