At the Flight Research Institute. Gromov (Zhukovsky) began to test Orion reconnaissance and drone drone, reports
RIA News
post your source.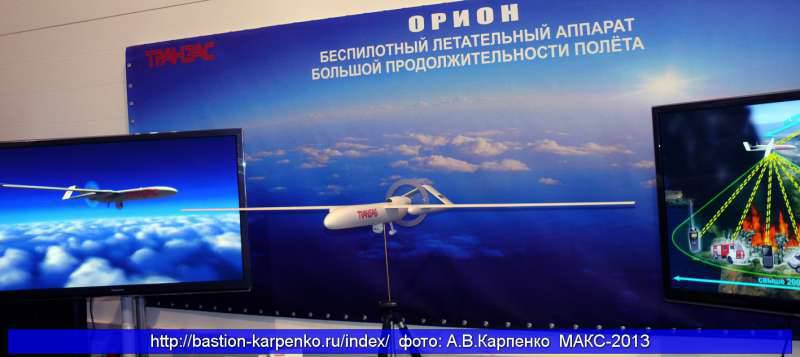 The development of a long duration drone in the interests of the Defense Ministry is being carried out by the Kronstadt group of enterprises.
"As part of this project, it was planned to create a drone weighing about a ton. However, at the MAKS-2015 air show, the organization's president Nikolai Lebedev adjusted some data on Orion - in particular, the drone's take-off weight increased to 1,2 tons, "the agency notes.
"It is assumed that the maximum duration of the Orion's flight will be at least 24 hours, and the altitude will be on the order of 8 kilometers. In this case, the UAV will be able to take on board up to 300 kilograms of payload "
- said the source.
"Most likely, taxi tests will be conducted in Zhukovsky, jogging along the runway and, probably, the first flights. But full-fledged flight tests of such a UAV are obviously impossible to carry out in the Moscow region, most likely they will be held at another site, "said Denis Fedutinov, an expert in the field of unmanned systems, commented on the report.
"At the same time, despite the fact that the tests of the UAV are just beginning, the appearance of the apparatus" in the gland "already indicates a serious positive progress in the implementation of this project," the expert emphasized.