Today, the President of Russia in the space bridge mode launched the fourth and last line of the energy bridge to the Crimea. First, Vladimir Putin was informed about the completed process of construction and installation work and the implementation of commissioning procedures. After listening to the report of the experts, the President of Russia gave the command to allow the start of operation of the fourth line of the energy bridge connecting the Crimean Peninsula with the Kuban.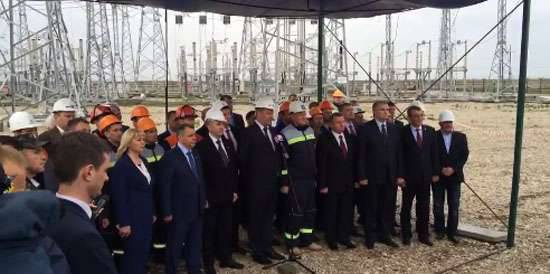 Vladimir Putin quotes
Interfax
:
Here the latest technologies were applied, the works themselves went, as they say, at a dramatic pace. As a result, in a short time it was possible to break through the energy blockade of the Crimea. As a matter of fact, I have no doubt, if necessary, we will break through any other blockade, if anyone wants to train us. (...) I congratulate you all on the completion of the construction of the energy bridge that connected Crimea to mainland Russia.
The capacity of all threads of the energy bridge is 800 MW of electricity. Together with its own generating capacities, Crimea now receives about 1,27 thousand MW with the needs of the peninsula at the level of 1,15 thousand MW.
It should be noted that in addition to the direct laying of cables for the energy bridge to the Crimea, a new power transmission line and a new substation were built.
The provision of electricity to the Crimean Peninsula will allow the industry of the region to develop and provide 100% of the population of the Crimea and Sevastopol with electricity.
The head of the Crimea, Sergey Aksyonov, stated that the cancellation of the state of emergency in Crimea in connection with the outages caused by the blockade of the peninsula by Ukraine may take place on May 15.