As our portal has already reported, a small rocket ship Storm of the 22800 project was laid at the Feodosia shipbuilding enterprise "More". This order, received from the Ministry of Defense of Russia, will allow the plant in Crimea to receive funding for the military-industrial line and increase the number of jobs. It should be noted that at the time of the Crimea as part of Ukraine, this (and not only that) enterprise of the peninsula experienced difficult times. The head of the Republic of Crimea Sergey Aksyonov spoke about what the Ukrainian authorities were going to turn the shipyard into (quote
RIA News
):
Unfortunately, for the 23 of the "economic" year, the Ukrainian authorities destroyed the enterprise. One of the old-timers of the company said that the Ukrainian leadership had plans to do anything here - from the vegetable base to the boat station, but not the revival of industrial production.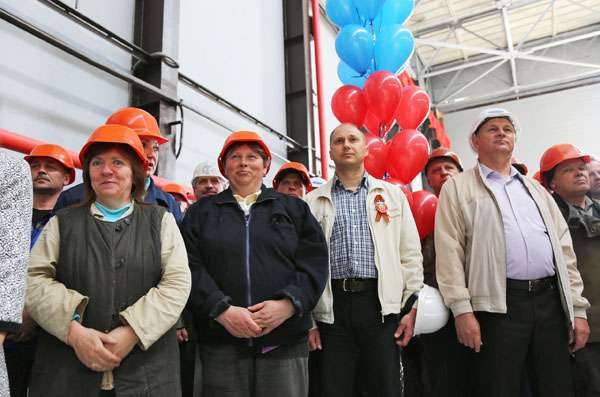 According to Sergey Aksyonov, investments in the Crimea today help many Crimean enterprises to stand on their feet, which literally stood on the brink of survival in the "Ukrainian" years. One of the problems today is to return qualified employees to such factories, many of whom were forced to leave the enterprises due to the decline in the industry and non-financing.
Press Service Heads
Of the Crimea quoted Sergei Aksyonov, who visited the "More" plant in Feodosia:
We talked with the director of the company - many specialists who had previously left for the mainland of Russia have plans to return. However, they are all citizens of the Russian Federation and have the right to choose work in the open spaces of the whole country. But we will be happy to return good specialists, Crimeans, to their native land. I will personally be grateful to everyone who will return.
The fourth line of the energy bridge, which should be launched today, will also serve the development of the Crimean industry. After commissioning of the last line connecting the Crimea to the Krasnodar Territory, the peninsula's dependence on electricity supplies from the territory of Ukraine will be reduced to almost zero.