"When a cat has nothing to do ..." Well, animals are not offended, cats really have nothing to do with it. "Make a fool pray to God ..." And religion is also somewhat out of place in the references, well, I hope everyone has already understood the promise.
In addition to those who fall into the category, aptly described in a nutshell by our great foreign minister. This, of course, will go about them, darling.
Many categories of living organisms, both possessing certain primordia of the mind, and those living solely by instincts, often experience exacerbations in the spring. Someone, like the aforementioned cats, in March, for example, and someone in May. On the eve of Victory Day.
Naturally, the results of this aggravation are poured into the Internet. For all possible resources. Reading all this hlebov, you begin to think about the fact that, in principle, genocide is not such a stupid invention of man. The only question is how to apply.
I don't have a question to whom. All to the same stratum, which assumed the title of "intelligence, honor and conscience" of the people. But here's the catch, I'm a people too. And I do not need someone else's mind and someone else's conscience. Especially since they are often insulting to my mind and my conscience.
And for them, sandwiched, normal. And each of the stratum considers it really its duty to express their next "fe" about what is happening in the country.
Mr. Bunin began his spring aggravation from the Silver Rain radio station. To the depths of the soul, he was angered by the following fact: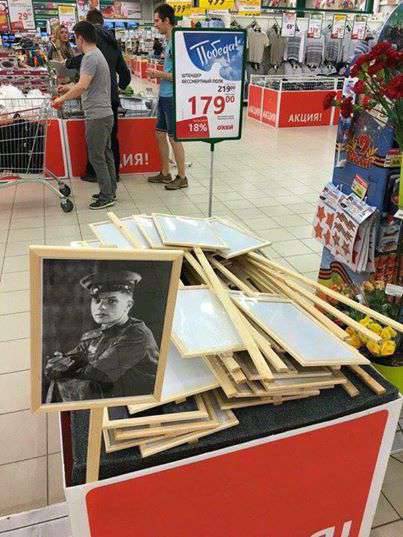 I agree with him in some way that it would not be worth setting a portrait as an advertisement. But because of what all the fuss? A word to Bunin himself.
"Ok, I will explain. I see on the photo the sale of the Defender of the Fatherland. Probably the deceased. Or just dead, judging by the age. And they sell it. With a discount, ****. And after that you will let tears go" oh, thank you, heroes, for our clear sky! "? For the sake of what is all this" Immortal regiment "? To remember? To be proud? To never forget? Including not to make such a sign in a year? And not to run at the last moment" oh, how cheap. "***** did they die then? So that we, Krivorukov bums, could take a picture of them in the sales area among toilet paper and sa ovyh grabelek witness? "
Well, let's say, nobody sold a photo of a front-line soldier. The naked eye can see that the rest of the products are completely empty. But what a wonderful excuse to break into a certain substance ...
Our adored former rock musician, Mr. Makarevich, continued.
Andrei Makarevich
on Saturday
I'm going home in the evening (I live in the new Riga). On the way, I stop at the mall - there we have a "Crossroads", a pharmacy, and anything else. All saleswomen - both girls and fully grown women - in military caps. Look, frankly, stupid, and they feel it. I understand, I ask - why not immediately in helmets and where, in fact, are the automata? "We were ordered ..." - guiltily, hiding his eyes. Who??! They are silent.
Lord, save us sinners ...
(Publ. Without editing.)
I really don't know how the silly and guilty look there was of the saleswomen; here you know yourself, Andryukha will lie, and with pleasure and absolutely free. And what the question was was the answer. By the way, it would be interesting to know, the management of the market obliged saleswomen to buy caps or issued. In our city, for example, they gave out. And no one saw anything wrong with that. Low price issue, by the way. My daughter so simply bought herself specifically for a trip to the "BP". For 150 rubles.
What's so tragic? But Makarevich knows better.
What can I say ... just quoting Makarevich himself Makarevich in part of the fact that "weeds gave birth to weeds." This is not in the address of Vadim Makarevich, do not think. Vadim Grigorievich had just fought, and lost his leg in that war. I do not think that Makarevich Sr. would be delighted with the fact that his son today otchebuchivaet ...
Burian, that there is weed ...
Rustem Adagamov ✔ @adagamov
When millions of unburied fighters lie in damp ground, only rascals can arrange parades. 9 May - the day of sorrow and the memory of the dead.
Another dissatisfied. Here I would like to say only one thing - it is interesting, but how many soldiers found and helped bury this leader of the blogosphere? I will not even bang the numbers, and so everything is clear.
According to Mr. Adagamov, we are a scoundrel people. Well, thanks.
Next we have Mr. Gozman. He decided not to be original at all, and simply copied his last-year soul ik to FB:
"On TV and from the stands, all this is pronounced by the marauders who have appropriated the Victory - the spiritual heirs of the specialists, the ideological followers of those who, together with Hitler, unleashed World War II, who for centuries kept the country from lying and violence. They seem to really think that they are the winners. They believe that it is enough to be an Italian, even Mussolini, to inherit Dante, a Georgian - Rustaveli, a German - Goethe? And they still graciously invite the surviving veterans to a holiday stolen from these same old people ivaya glass of vodka in the hallway. Really for the sake of the tens of millions of our fellow citizens have brought such terrible sacrifices? "
Well, you could expect something new from a friend of such great Russian people as Yegor Gaidar, Anatoly Chubais. But Lyonchik decided not to strain his brains at all and he managed the old one. Like, people shavaet and so.
But I just do not understand, is it about which country he wrote? Although I can and down. For I am really a spiritual heir, though not a special person, but elders from SMERSH.
Ksenia Larina, she is Oksana Barsheva, an asterisk from "Echo of Moscow":
Xenia Larina
Parade.
There are two observations.
Creepy frozen smiles on the marching faces. Apparently, in order not to resemble North Korea at all, they gave the command "Smile" from above, as if they were tearing everyone's mouth with their fingers.
And another of the new technologies of television photography, which are improved every year, is at gunpoint tank put the camera, then the manhole cover.
This time the camera was practically laid on the pavement, and she removed the boots attacking her. Literally on our heads stride.
Psakism there. And in the brain. Apparently, the distortions are already irreversible. I do not even try to refute, because the clinic is there. More precisely, in the head. Oh, Ksyusha, give me the will, I would walk over your heads with such pleasure ... Only the crunch stood on the whole of Tverskaya.
Victor Pelevin (Victor Pelevin)
Monday
All who participated in the action Immortal Regiment, please unsubscribe from this page
(Publ. Without editing.)
This is right demarche! Why unsubscribe from the page? Let's get serious! "Everyone who participated in the action" Immortal Regiment "and has ever acquired my" masterpieces ", please send them back to me. I will return the money."
That would be a real act of a real chela. And a mate in FB to the dissenters ... Vit, you live at their expense, if that. Or how much you need to be sure that your cooking will be somewhere else to buy? Come on, Solzhenitsyn thought so too ...
In general, the list of moral monsters, to my regret, is great. And, what else causes some concern, the list of those who likes them in social networks is great.
If we have enough desire and everything else to express our attitude to memory in this way, putting on ribbons, participating in the procession, today we can confidently say that it is PUBLIC, then naturally this will cause colic among those who are against all this.
I find it difficult to judge who does more harm, embezzler or mozkoklyuy, shitting in our direction. But it is obvious that deserved punishment must be borne by both.
It turns out unfairly that the reptile who stole state or public money in his pocket may sit down, and his colleague, spitting in the face of this people, does not risk anything except a cake in his face.
It is unfair, as for me.
It is necessary to solve this issue at the state level. Ideology should be. And the punishment for contempt and denigration of our memory and the will of the people.
If the people express their will in the procession (it's already clear that they don't smell like any administrative resource), then everybody who spits on the will of the people should be roughly punished. Before the people in which he spat.
That's how we live. Spring aggravation is evident. This I have not all quoted.
What else can you say about these gentlemen?
... (c) S. V. Lavrov.
And all the rest, "the ideological heirs of the Osochists", "Vatnikov", "Colorado", "fooled by the box of Putin's slaves",
Once again, with the great Victory Day, dear comrades!