Updated data on the number of victims in the Turkish city of Diyarbakir (unofficial capital of Turkish Kurdistan). As a result of an explosion in a car in the city center, at least three people died and 42 were injured. Several people are in serious condition.
Governor Diyarbakir quotes
RIA News
:
A car bomb exploded in 16.30 (MSK) in the Baghlar Diyarbakır area while a minibus was being driven by detained members of the Kurdistan Workers' Party (this organization is prohibited in Turkey), which were taken for a medical examination. 45 people were injured - 12 policemen and 33 civilians, three seriously wounded later died in hospital.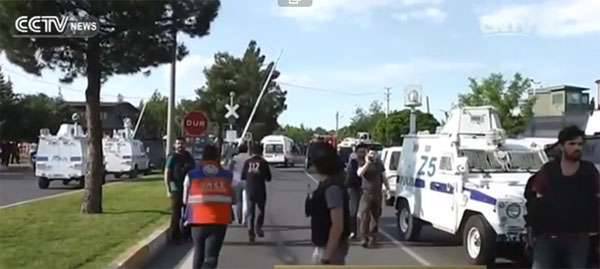 Numerous police and army detachments were pulled to the site of the explosion. In addition, additional armored vehicles were introduced into the city center.
It should be recalled that for several months, in fact, a civil war continues in the territory of the south-eastern provinces of Turkey, populated mainly by Kurds. The army and police of Turkey on the orders of President Erdogan are fighting against the Kurdish population, calling the process "anti-terrorist operation." In some cities of the region (in particular, in Cizre), the situation is close to a humanitarian catastrophe.