The strategic bombers Tu-95MS will be equipped with X-101 long-range cruise missiles, reports
RIA News
the message of the former commander-in-chief of the Russian Air Force Peter Deinekin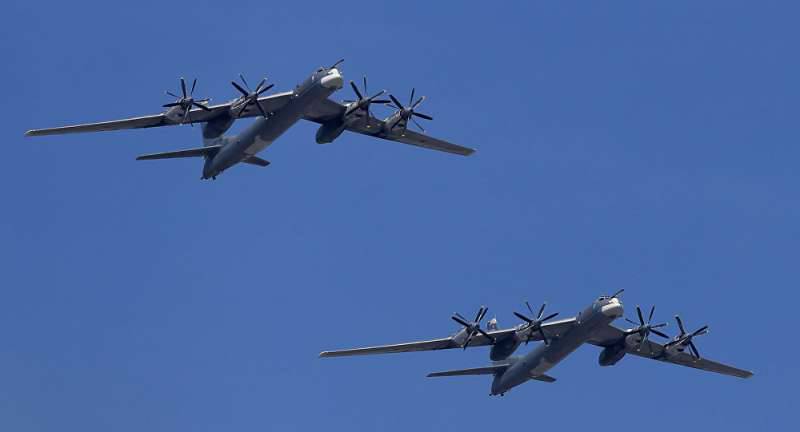 Archive photo
"Foreign military attaches, of course, could not help noticing (at the Victory Parade) the beams that appeared under the wings of the vehicles to mount the latest X-101 strategic long-range cruise missiles. The Tu-95 was originally designed for the use of 16 long-range cruise missiles, but within the framework of the Russian-American agreements, the external beams for their placement were dismantled: the launch equipment and cable tracks to external launchers were removed from the airplanes ",
told the ex-commander in chief of the newspaper Izvestia.
According to him, the plane does not have to break through enemy air defenses; it can use missiles without leaving Russian airspace.
"There is no need to break through the air defense system - missiles can be launched from our territory. We take a compass and measure a circle of five thousand kilometers, for example, from Smolensk or Petropavlovsk-Kamchatsky, and we get a defeat zone, "the general explained.
In turn, the commander of the Far
aviation
Anatoly Zhikharev said that 43 strategists will undergo modernization, which will extend their service life to at least 2025.
According to the newspaper, "updating the Tu-95 concerns the replacement of the Obzor-MS radar station of the new Novel-NV, the installation of the SOI-021 information display system, the upgraded Meteor-HM2 airborne defense complex, and the replacement of NK turboprop engines -12MPM and installation of new propellers AV-60T.
"In addition, the aiming-navigation complex will be replaced, which will allow the use of new strategic cruise missiles. Especially for them, the bomb compartment was enlarged on the Tu-95MS, and eight outer beams were installed on which 16 X-101 cruise missiles can be fixed. From their predecessors - X-55 - they differ in increased flight range and non-nuclear equipment ",
- says the publication.