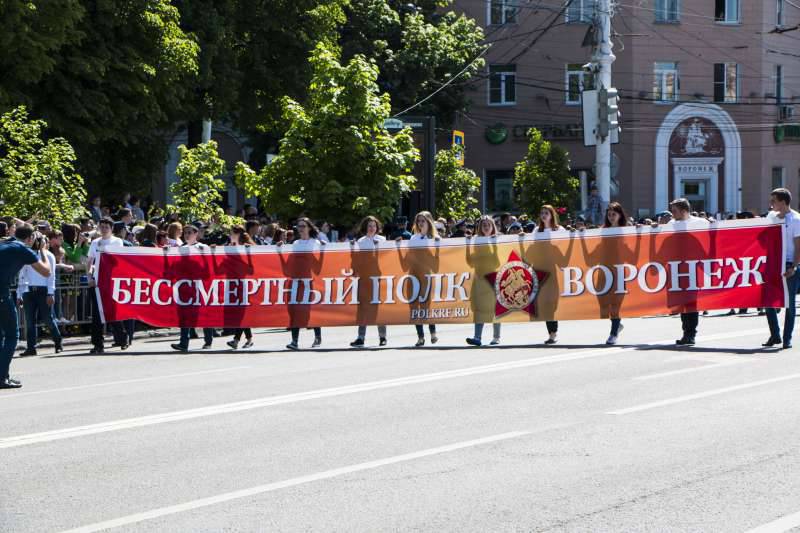 If you pick the recent past, it is easy to recall how many copies and keyboards were broken around the very idea of ​​the "Immortal Regiment". And they didn't come up with it, and didn't realize it, and stuff like that. And the main opponents settled down after Putin himself passed in the ranks. Here, of course, there is no reception against scrap.
However, time puts everything in its place. I agree that in our country an administrative resource can ruin any undertaking, even the most remarkable and useful. Allocations on the topic of participation have a place to be in different cities, I heard about it. But the fact that I watched 9 in May in Voronezh is impossible to create with orders and directives.
Believe it or not, but the photos clearly show that the spectators who came to the parade and the "Shelf" procession were two times smaller than the participants. A lot, but when this endless column began to go, it became clear that there were more participants.
And no administrative resource is to organize such a march. Today we can say with confidence that the Immortal Regiment received precisely popular support. And if the people here have decided that the work is good and useful ... Who would now venture to ban, if that.
In general, watching the stream of people passing by me, I felt some déjà vu. Something from the May Day demonstration was. But much cooler. Demonstration on 1 May - well, I remember them perfectly. Holiday about nothing. They walked, rustled, carried banners ... Good weather, good mood, but really - a holiday from nothing and nowhere.
Here is another completely. Yes, May, yes marches and songs of the war years, May sky, as always with us on this day is bright and warm. But people are different. More precisely, the same people, and many of them on May Day demonstrations were messed up. In the eyes of another.
Take a break. When I drove in a minibus to the center of events, I watched the dialogue between the driver and my colleague. And a colleague, a man of my age, was quite skeptical about the parade and the procession. Say, the year is not a jubilee, the people are planting kartohu, no one will be special. And he goes only because the child rested horn. I want to say, go, and all. The child was sitting nearby and something muttered under his breath, angry looking at the sides. With St. George ribbon and portraits in the package. In general, everyone in the family was unhappy with each other.
And it so happened that I noticed them in the column. Father and son walked alongside, each had a portrait in their hands, and on the older one, I also saw a ribbon and tricolor flowers. And the faces were completely different. Just like others.
You know, they say that faces are mirrors of the soul. You will see in the photographs yourself; there were no dissatisfied people there, that they were torn away from the potatoes or something else important. People came to the procession in advance. Gathered in columns. They waited for the parade to pass. Not one hour. And let's go.
Pride. Involvement to the general idea. When the column approached the place where there were cameras and photographers, many turned the portraits of their heroes to us. Look, here are ours!
Honestly, yes, the parade is beautiful. It is wonderful. But such a parade more calls in the soul. Because it is not by obligation, but by the call of the soul and heart.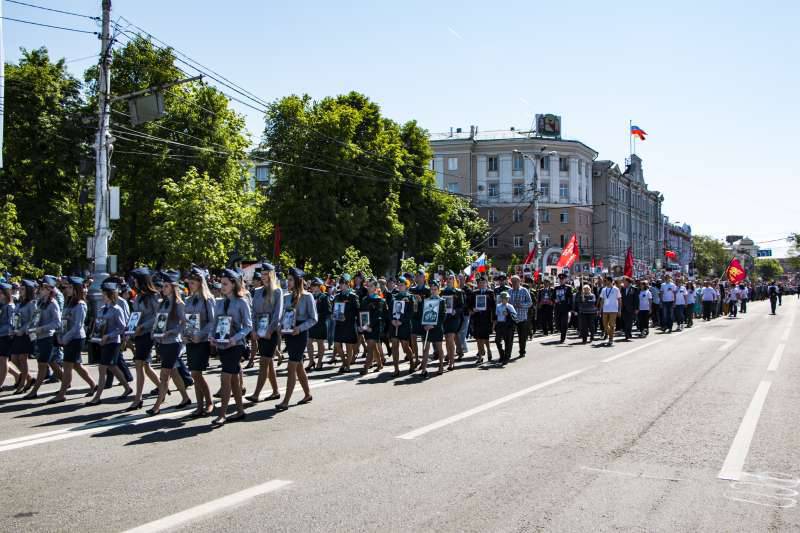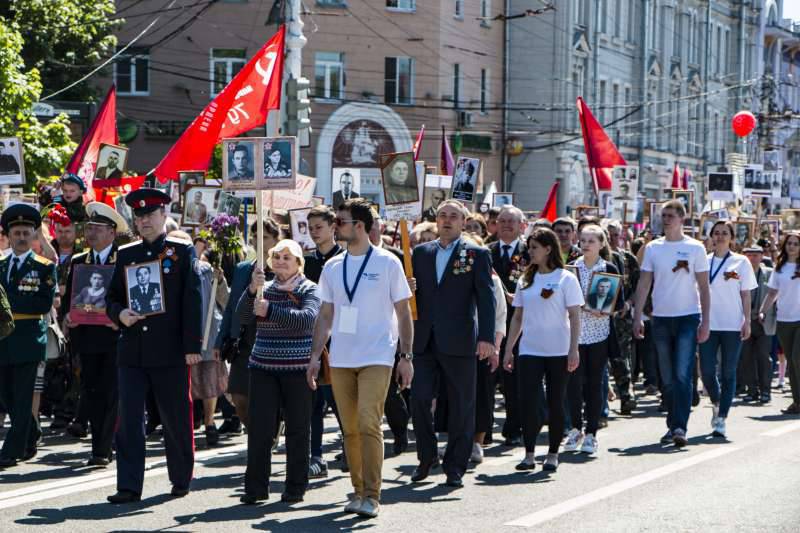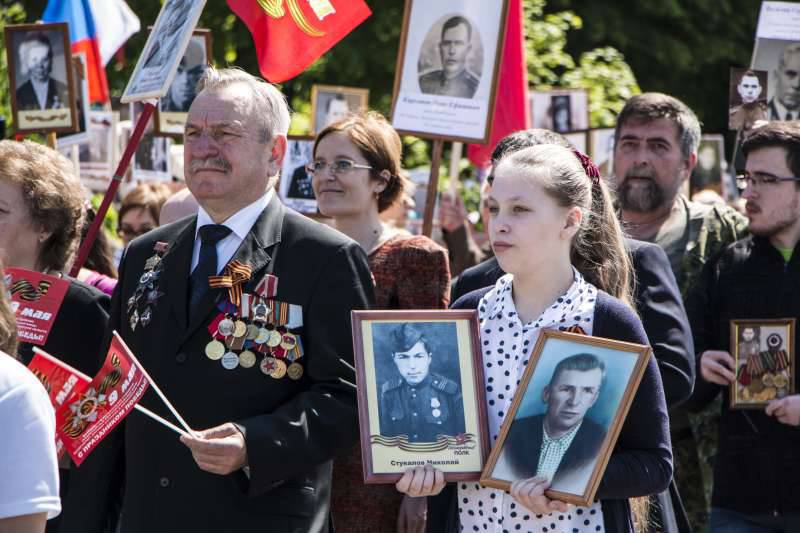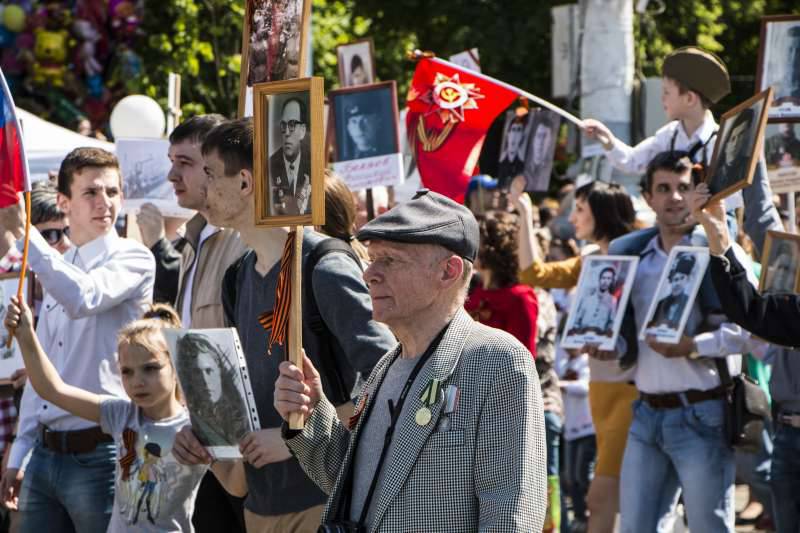 He worked for himself and for his father: "Veteran of Labor" and "For the construction of BAM". Earlier, in the USSR, they said: "A medal is poured from one metal for a fight, a medal for labor".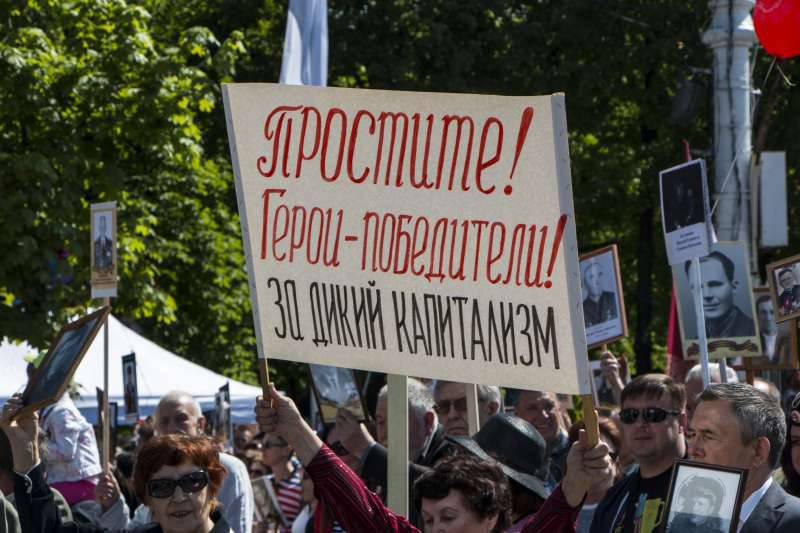 I agree, but much can be fixed, if the whole world.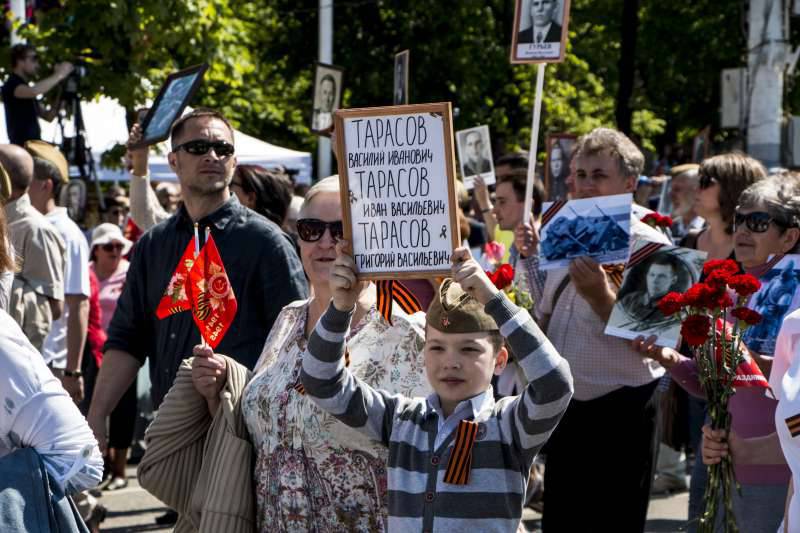 I do not know how in other cities, but here it is possible and so. Moreover, in those days villagers photo was not always possible.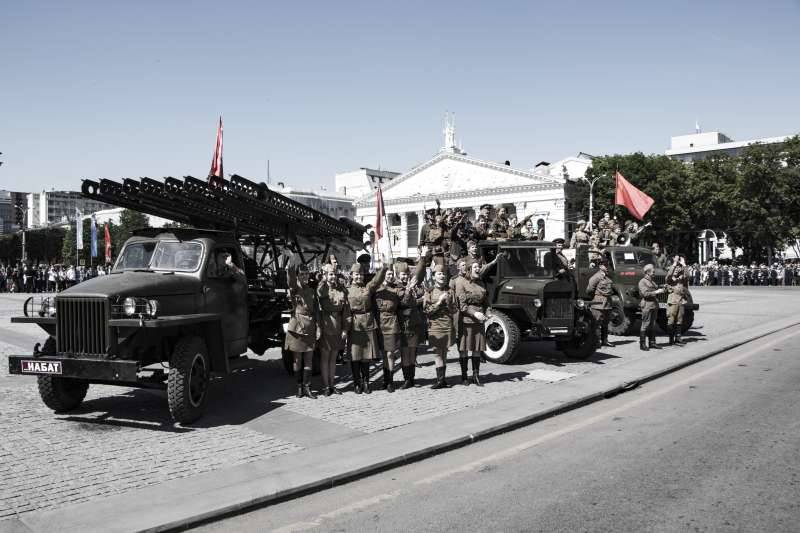 Local reenactors became part of the procession.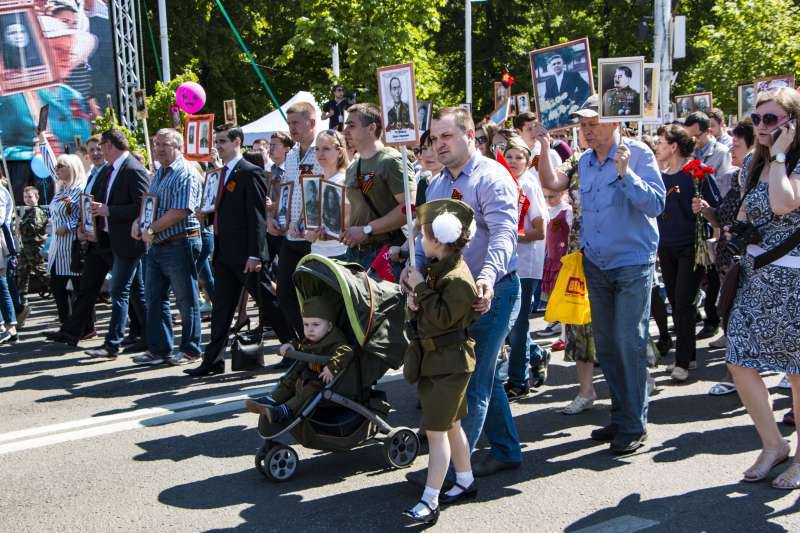 I hope that this is not a local peculiarity: there are a lot of children, and older people in the form of those years.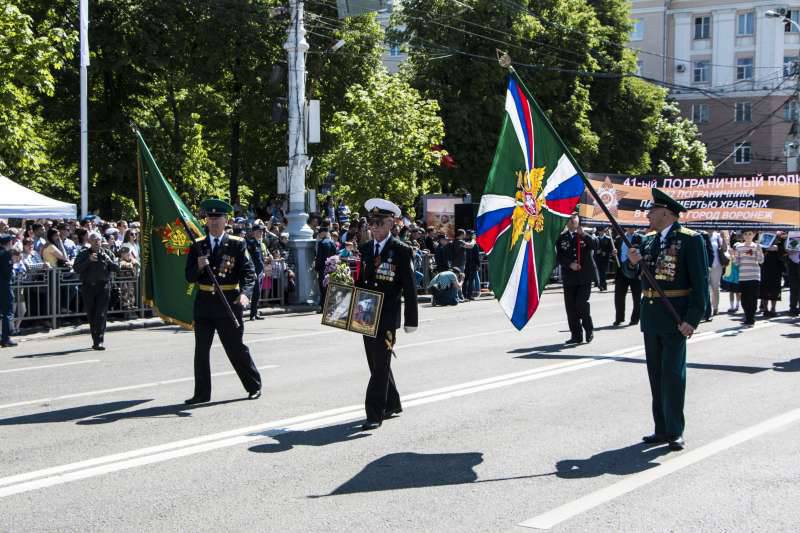 Our special pain and pride: border guards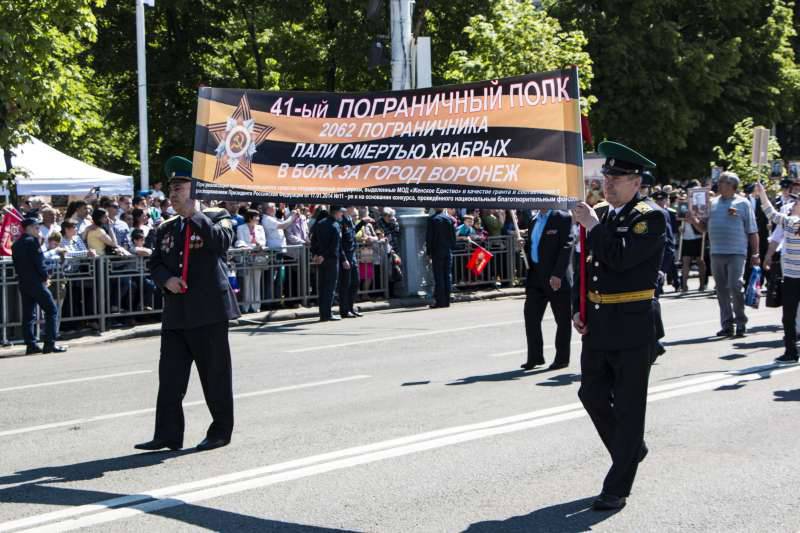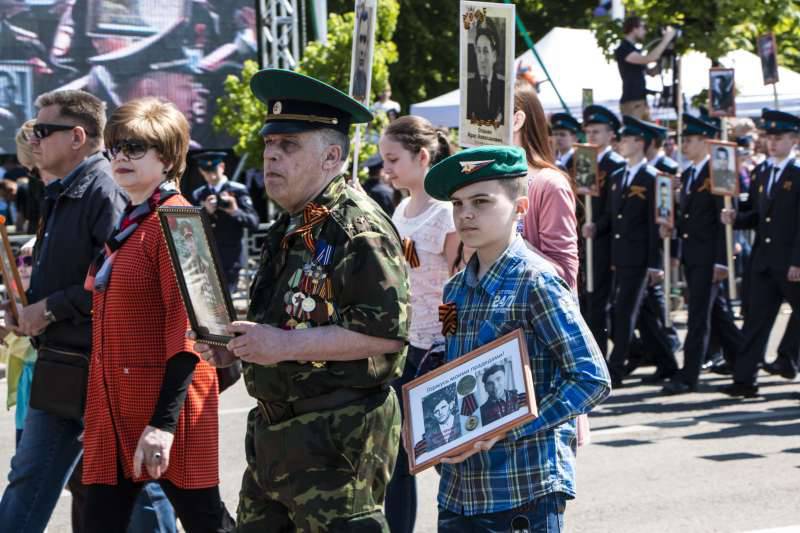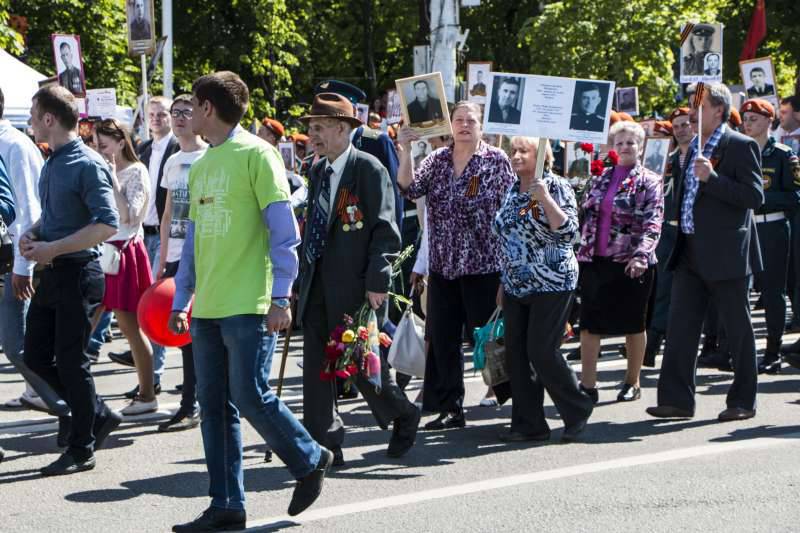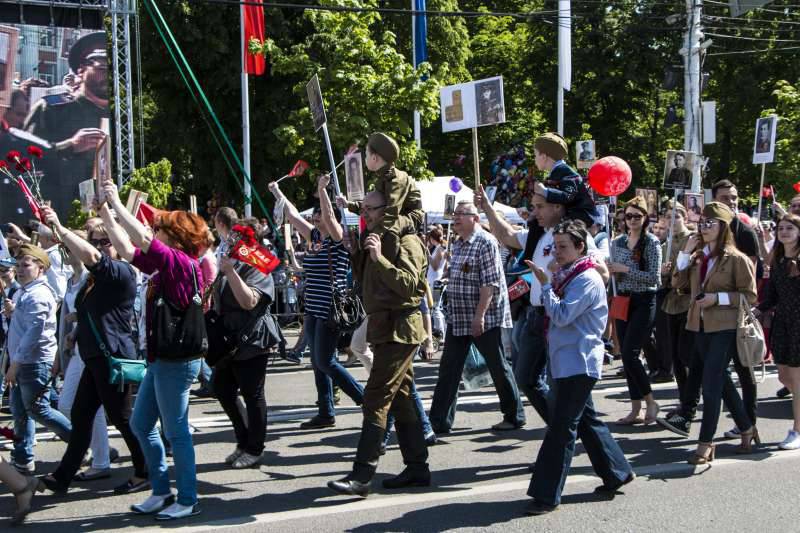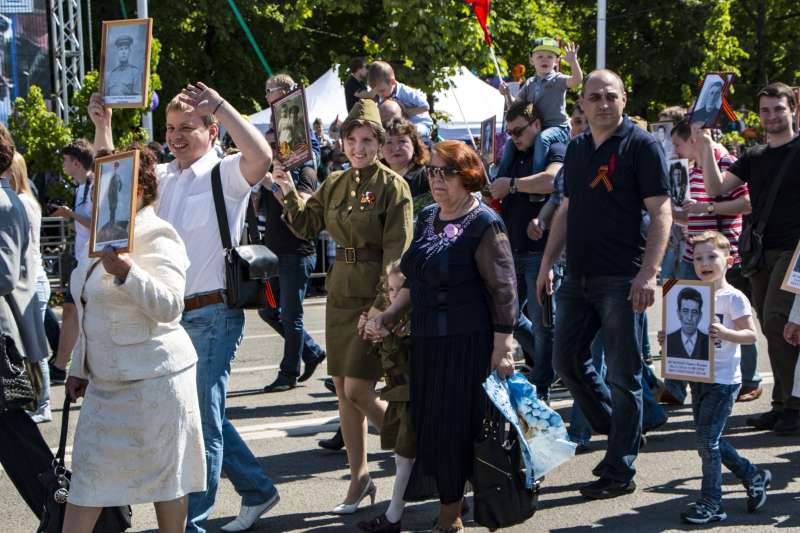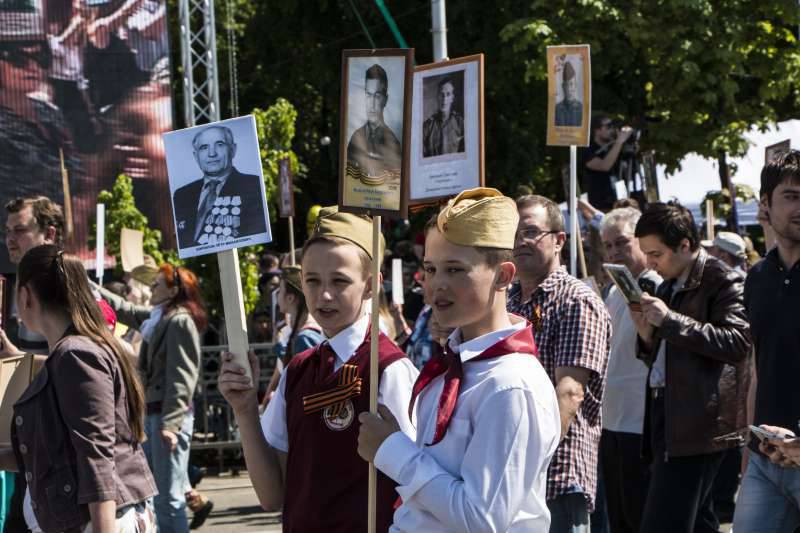 Such faces are good to see.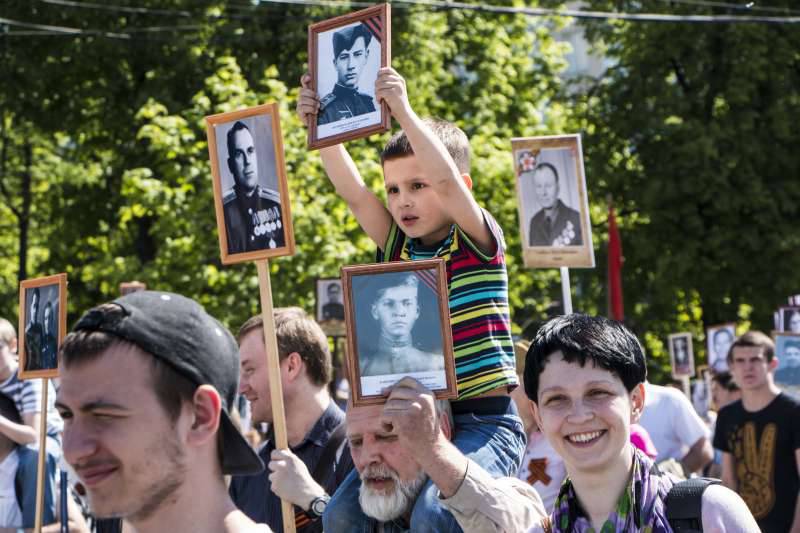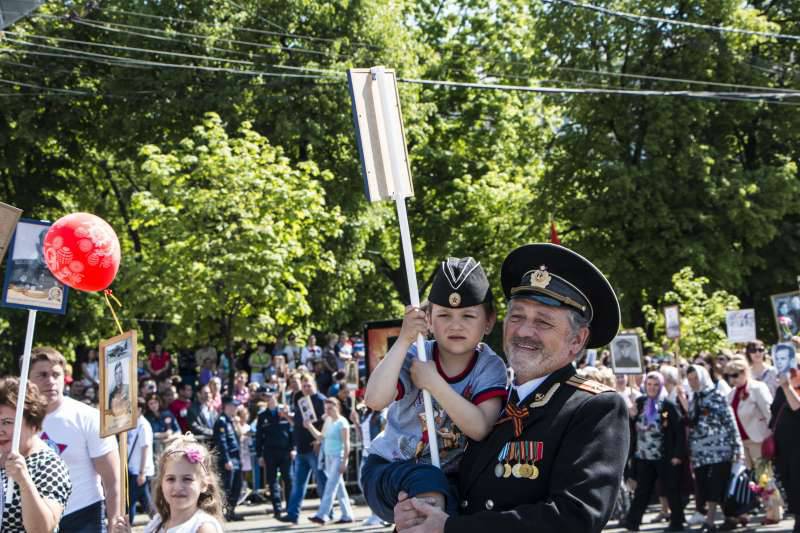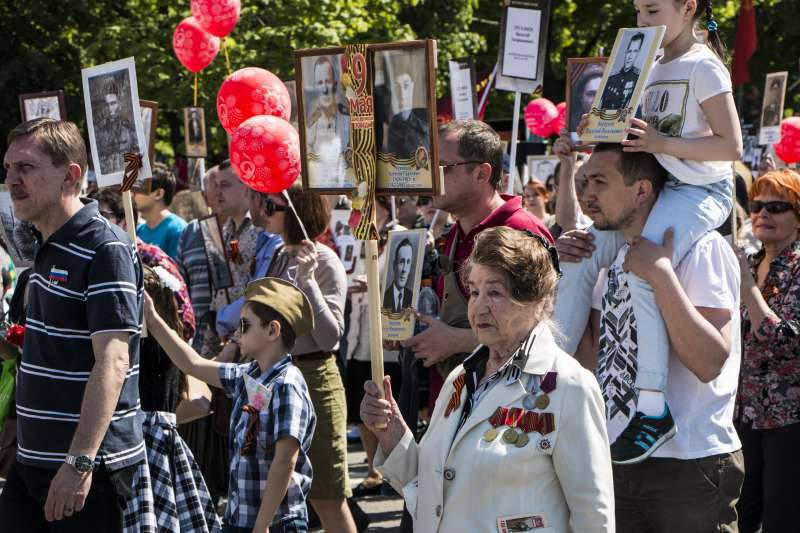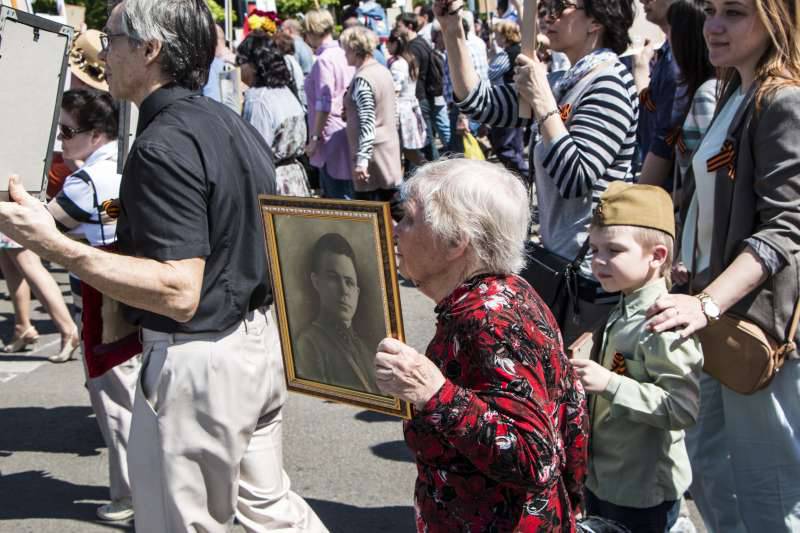 Our local hero. Anokhin Yuri Mikhailovich.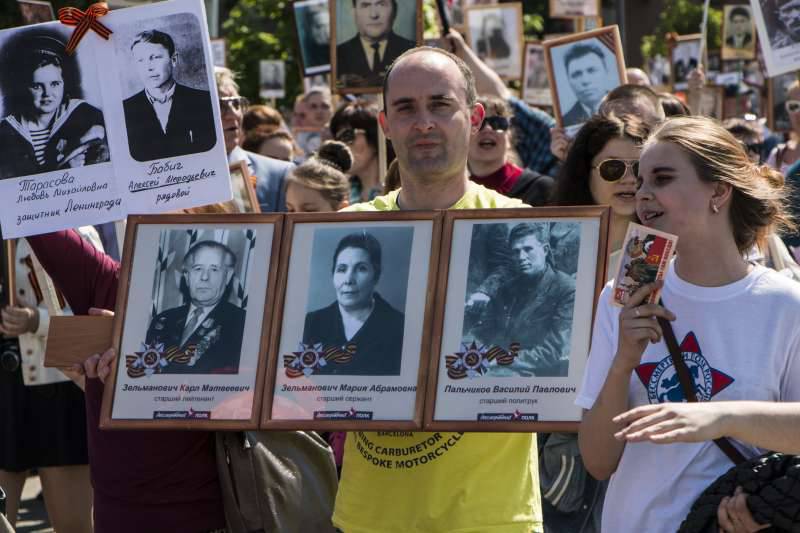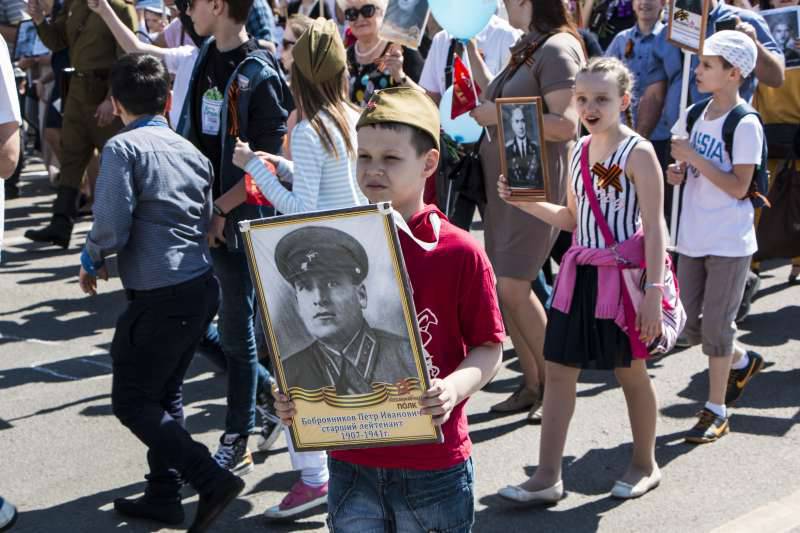 Great-grandfather and great-grandson. Two Peter Bobrovnikovs.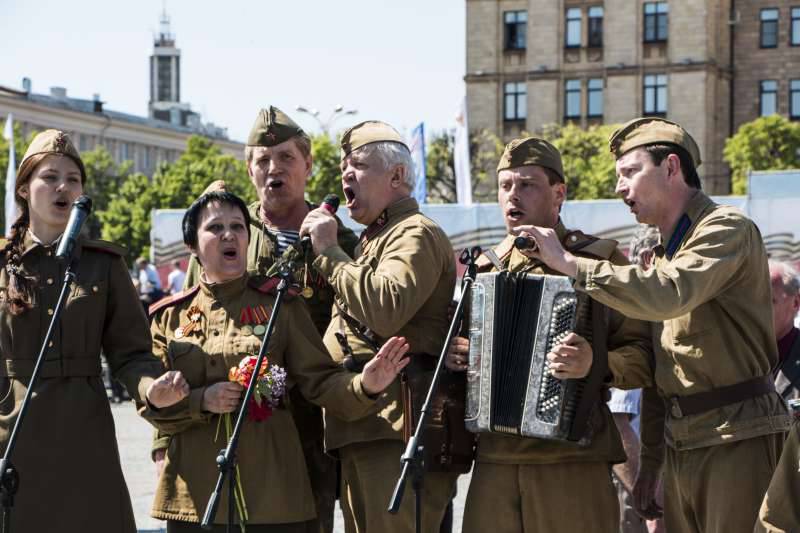 Reconstructors can not only play, but also sing. Under the accordion sang great.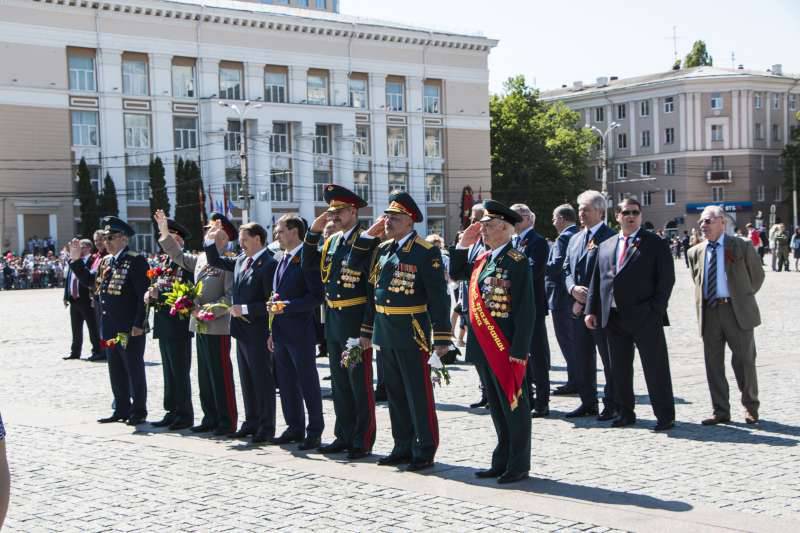 Host: heads of the region and command of the 20 Army. The parade was much shorter than the procession, but ...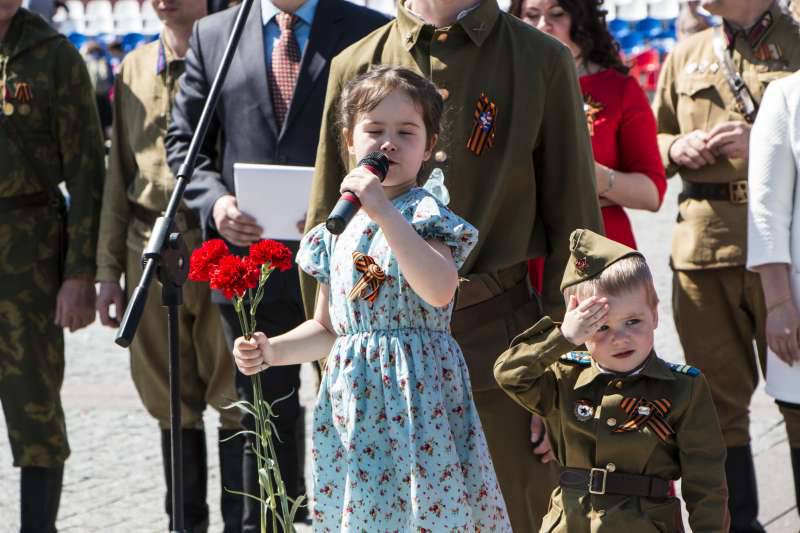 I listened, honestly, where did this little girl come from, but she read the poem of our countryman so that goosebumps ran the size of a cockroach. Squinting, almost in the same breath, but great to read.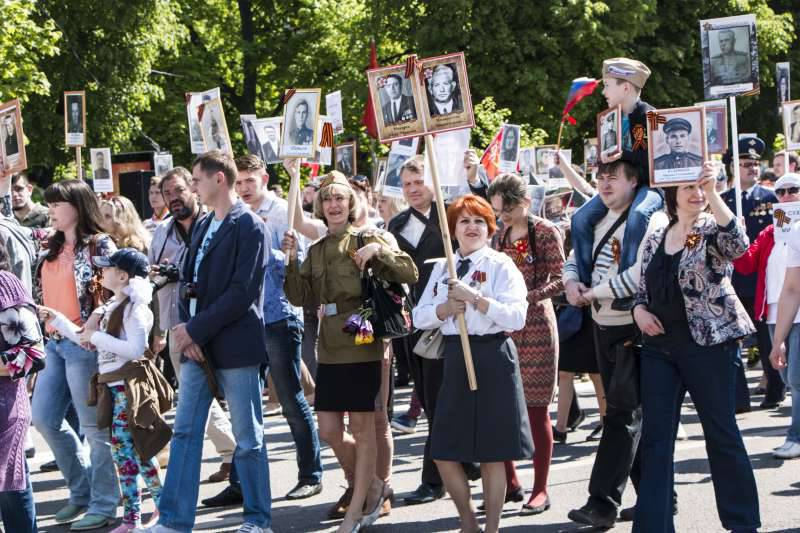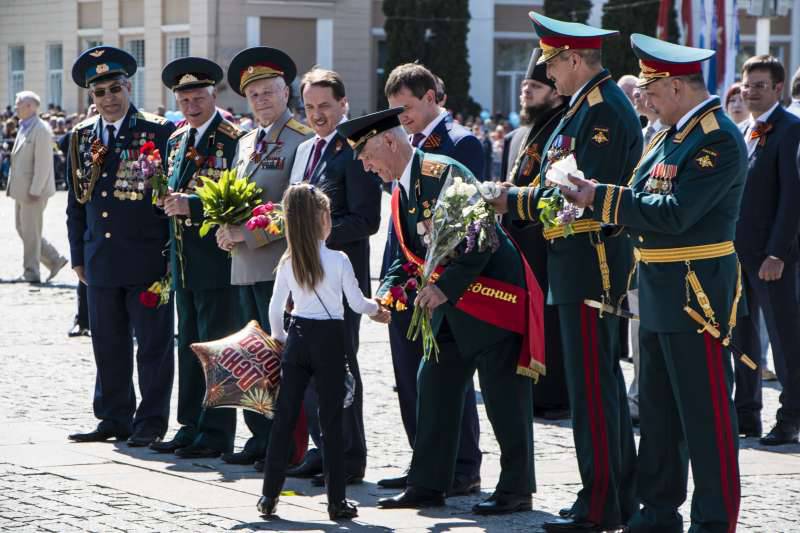 Often it was. People left the column and gave flowers to veterans. And this little girl shouted "Thank you!" So ​​that, probably, the whole square was heard.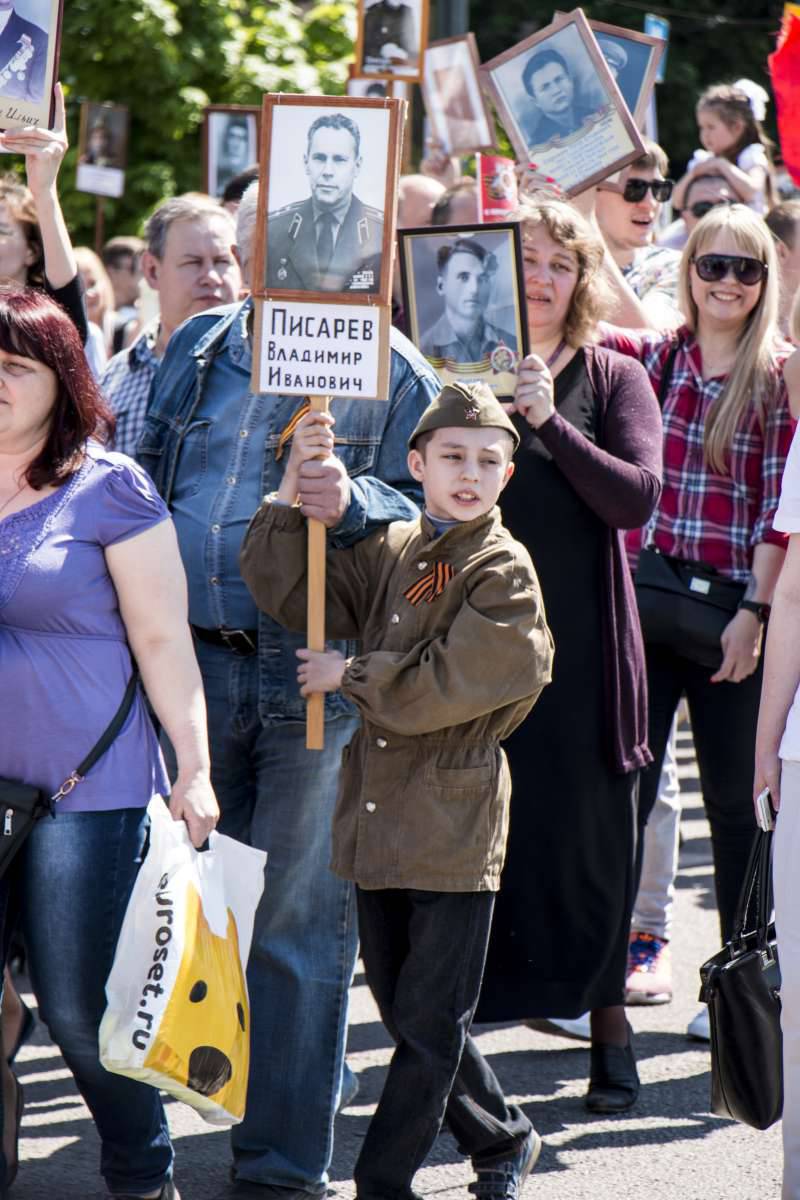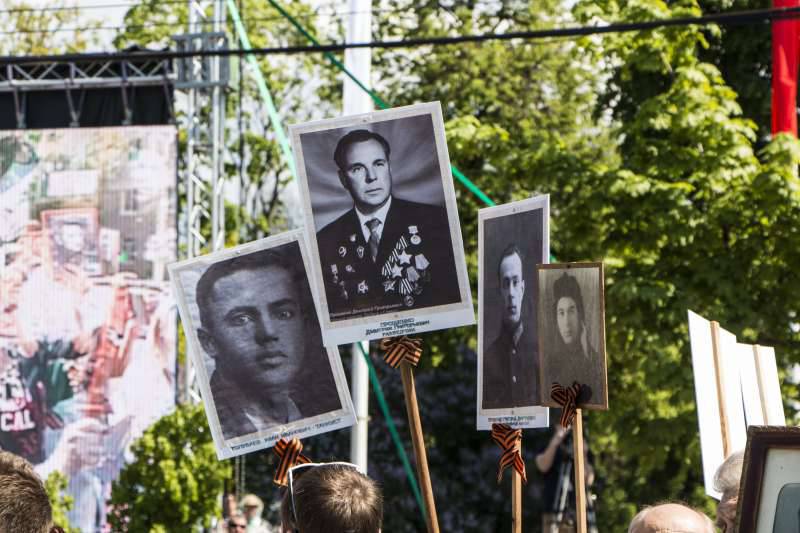 People walked, walked, walked ... The leadership frankly steamed in the sun of the square, but the flow of people continued to go past. With shouts, shouting "Hurray!"
I do not know how you can count all those who participated in the passage, it is difficult to say how many thousands there were. But such a thought occurred to us: we were taught to survive. Well taught, and their, and foreign partners. And the robbery of the country, and sanctions. Almost got to make us repent before the whole world, for what we are, what we are. Almost humiliated our victory. Almost trampled in the mud of our banners. Almost beat us in 1991 and in 1941.
Nearly.
What a capacious word, dear.
But this is not considered "almost." And so that they would not talk about the idea of ​​the "Regiment", which we no longer have a regiment, but rather, the army, judging by the number, did not have enough.
And it turned out that we can both remember and honor. And to revive from the ashes is the Russian national tradition in general. We will revive and tomorrow what seemed to be forever lost yesterday. And here we still have work - the edge is no end.
But - we get up. Little by little, but we get up. And pride in the affairs of their ancestors - this is the starting step. Today, he spat on home and dacha affairs and devoted a holiday to just passing an hour in a column with people like you yourself, showing that we remember and are proud not just in words - this is already a small victory.
We get up, we get up. No matter how much those who are not with us would like to. And our war is still to come. And not only with modern enemies. But with a legacy that she tried with all her might to humiliate our spirit and spit on our
history
.
We still have a lot of fights ahead. But today's day gives hope that we will win them. Slowly, hard, with big losses, but we will win.
However, historically it has always been with the Russians.