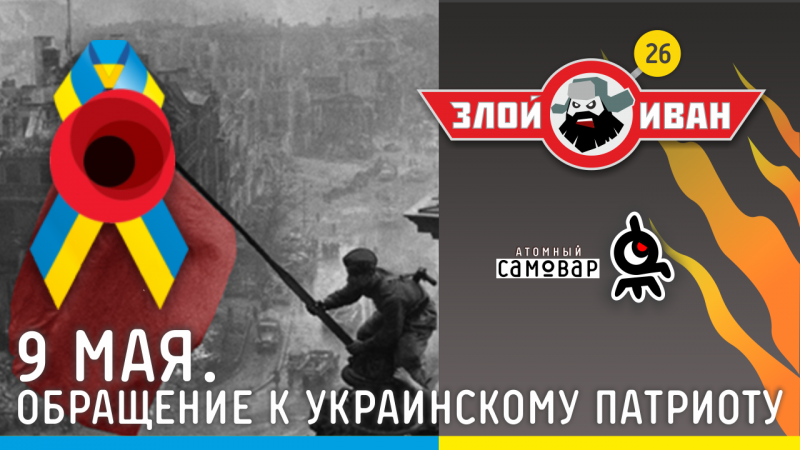 Hello to all ours and not to ours! I am Ivan Victory and I am very angry today.
Victory, not peremoga, but victory, the theme of this issue. And in it you and I will have to remember the past and think about the future.
Do you know how true winners differ from losers?
Awareness of their personal responsibility for what is happening. The winners, despite all the obstacles and hindrances, despite the machinations of enemies and traitors, go and win. Go yourself personally. They are not waiting for help. Do not try to cause pity or find excuses. They just go and do. Since they know that truth and justice are behind them and no one but them is no longer capable of such an act.
Here grandfathers, great-grandfathers and fathers of the majority of Ukrainians were the winners. And the kids were losers and traitors. Where does this conclusion come from?
All because of blame statistics. Which does not want to match the fictional myths Svidomo ukroistorikov. In the Soviet Army, 6 of millions of Russian Ukrainians fought for the USSR.
And for Nazi Germany, for Hitler, for the UPA, for Bandera 300 fought thousands of Svidomo ukropriot. This is data from Wikipedia, which specifically overstates the number of Ukrainian Nazi accomplices, howling against the Red Army, in order to instill the idea of ​​their popular support.
Come on, rather grab, a calculator, my not thinking Svidomo Patriot thinks.
300 thousand from 6 million is 5%. I repeat 5%!
Propagandists from the current government, strenuously rushed to praise the fictitious victories of the Binderites and their mythical struggle for Ukraine and the Ukrainian people. But this is a lie. It was not.
These 5% Nazi followers fought against 95% other Ukrainians. Do you realize these numbers?
Over the years of independence, 5% of the Nazis were able to impose their myths and lies on the rest of 95% of the population. And now in Ukraine most of the inhabitants are the most natural traitors. They betrayed the truth, memory and their ancestors.
But now you can yell to the blue in the face Glory to Ukraine, Heroic Glory or Ukraine ponad mustache. And do not care that under these Gundosye cries killed your fathers, grandfathers and great-grandfathers. You can also go to the cemetery, to the graves of your ancestors. And to impose a bunch of there ... This is equivalent in its stupidity and idiocy actions.
Unfortunately time does not spare anyone. And the real Ukrainian heroes are gone. And they were replaced by cowardly jackals, geeks without memory, without morality, and began their demonic dances on their graves and monuments.
And you, a flaming binderite, are not even able to realize that millions of lives of people, much better than you, were supposed to make you a bastard and a parasite just to live.
Glorifying Bandera, UPA, OUN and other Nazi accomplices. You refused the Great Victory and became a traitor, miserable and insignificant whiner. For which the victory of the Soviet Union, the victory of your ancestors, is a personal humiliation.
Although it is fashionable to be a traitor in Ukraine.
Among traitors, the popular opinion is that the German occupation is good and it is not at all scary. What if it were not for the Red Army, now everyone would drive a Mercedes and drink Bavarian beer.
Bavarian speak? During the years of the German occupation in Ukraine, almost 4 million civilians died.
You would not drink beer, but would work in as slaves in the factories. And your sisters, mothers and Zhinki would appease the German "liberators". Although in an inverted ukromir, it now could be a reason for pride.
I have a sincere misunderstanding, causing the behavior of the current generation. Which, ingeniously look into the eyes of Europeans and dream of working on them. This servility, licorice, servility ... just causes disgust. It is especially amusing to watch it under the pretentious cries about "we are not slaves." Where did this slave trait come from the former Russians? Who could convince you that this is the very hidnosti, dignity?
After all, this is your father, grandfather, great-grandfather of the Red Army cleaned up the rot of Nazism and all this trash from his land, rabble who dared to consider him a second-rate man. He proved that the German Nazis - it's just dirt under his boots. He conquered Europe and put her on cancer. And the Europeans snickering were withdrawing, hiding and lowering their eyes. Unable to withstand his gaze. They knew their place. And they understood who allowed them to live, although he had every right to destroy them all, for all the atrocities that they did on his land. He spared them. Since I was Russian. But they would not have spared him for anything.
The victory of 1945 of the year is the last real military victory of the Ukrainian people.
Was. And now it is not. Ukrainians you no longer have real victories. Only fake remained. And there are no more real heroes.
You betrayed them, and replaced with cowardly Binderites and fabulous sharovarny Cossacks. Whose exploits are primitive myths and absurd inventions. All you got in return is a fake surrogate.
Look, this is how the medal for the victory over Germany looked like.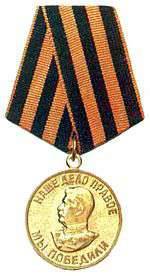 Which got your heroic ancestor. This medal was established in 1945 year. And the current symbol of that victory, the Guards Ribbon, that you vyblyadok call the Colorado, is a tribute to the real heroes, including your grandfather, and this Victory.
Summing up.
Attitude to our Great Victory and to the date of 9 May, this is the watershed that draws the line between Russian Ukrainians and Svidomo labor Ukrainians. It is he who separates ours from ours.
So decide on which side you're on. You have no time left.
And it depends on your choice whether you will participate in the upcoming victory parade, as a winner or go under guard in a column of traitors, followed by watering machines.
This also applies to the rest of the Russians of all nationalities. Any mockery of our Great Russian Victory deprives you of the right to be Russian.
Everything! Believe in your people and your country. Need to respect your
history
, their ancestors and their victories. This is our holy source of power. Treat him carefully.
See you soon!