According to the Chinese designer
tanks
Mao Mina, tanks ZTZ99A (type 99A) are quite reliable, and sometimes breakdowns are not critical and are associated with minor problems, such as leaks of water, oil and loose contacts. Kanwa Asian Defense magazine tried to figure out if these issues could be called minor.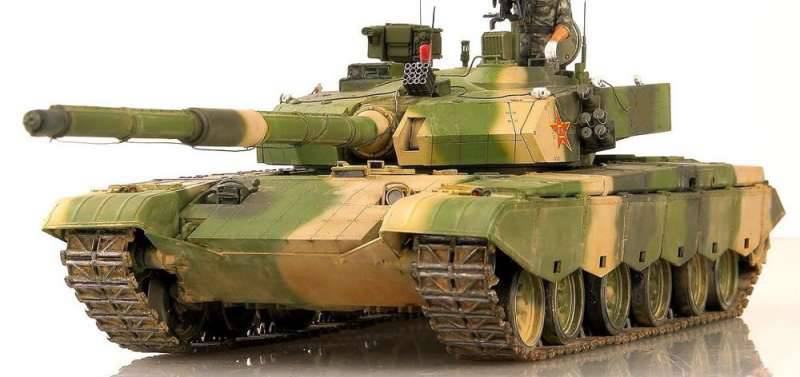 "During the rehearsals of the 2015 parade, technical problems were fixed with tanks of this type. So, at first, the three-level alarm system of tank No. 12 worked, as a result of which the automatic system stopped the engine. According to the manufacturer, this was due to problems with the alarm system. During the fifth rehearsal, tank number 216 stopped moving after a transmission failure, "the newspaper newspaper article cites.
Look
.
The author notes that "if based on statistical data on the health of Chinese-made armored vehicles, the ZTZ99A tank has the highest level of malfunctions (210 cases), while in the ZLT95А floating tank there were only 108 cases, in 04 BMPs - 75 cases , for other BTT specimens, the average level was less than 80 cases. " The lowest level is recorded for wheeled armored vehicles - around 10-ti.
"If such results occurred with Chinese tanks on a flat surface during the parade, then on rough terrain the situation only worsens, especially in areas with hot / cold climates and in the tropics," the magazine notes.
Currently armed with armies of Bangladesh, Pakistan, Morocco and Myanmar are Chinese tanks MVT 2000. The journalists were able to talk about the reliability of Chinese cars with Pakistani specialists.
It turned out that in Pakistan MVT2000 were refined: "the tanks received the Ukrainian 6TD-2 engine, as well as other ammunition". In addition, the unreliability of the Chinese trucks was noted - they broke down every 100 km of march. Pakistanis were forced to change them, for which they bought new ones in Thailand.