May 4 is small, but proud Latvia celebrated the next day of the declaration of the country's independence, as we all remember, specifically from the USSR.
A military parade in honor of this event took place in the small town of Kraslava in Latgale.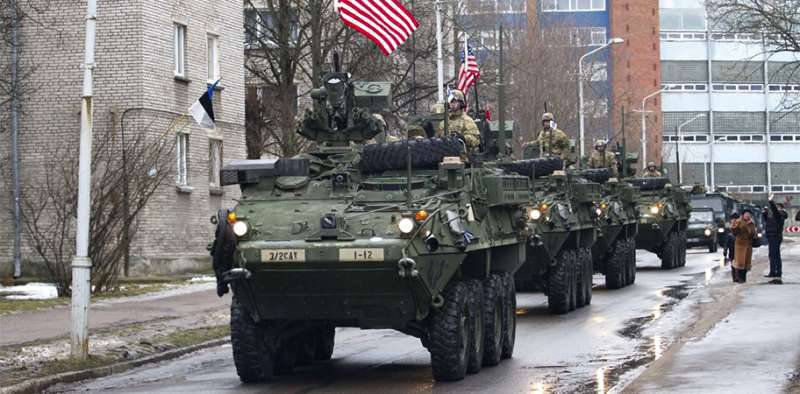 In the very Latgale, which so selflessly saved, trying to return to the fold of democratic values ​​in a memorable show on the BBC channel, using nuclear
weapons
and other means of cultural deterrence against aggressive Russia, which provoked an outbreak of separatist sentiment there. It is in this Latgale region, which is now predominantly populated by Russian-speaking citizens, and therefore causing the particular concern of the authorities of an endangered, but "independent" country, in a small town that, by a strange whim of fate, is located very close to the Russian border.
Well ... military parades, especially in honor of Independence Day, is the sovereign business of each sovereign state. And on occasion, I want to digress a little and remember, but what exactly is a "military parade" itself?
Military parades are known to mankind since the days of ancient Persia and Rome. Initially, they were held to commemorate big victories, like the Roman "Triumphs". Parades were also of particular importance as the highest award: a symbol of honoring the heroes of the generals who distinguished themselves on the battlefields and the greatest rulers. Of course, during times of special demand for bread and spectacles, parades were actively used to amuse citizens and raise the patriotic spirit, as well as for the drill of soldiers, as a means of maintaining them in the proper tone. Also, quite quickly, the great advantage of military parades in the matter of intimidating the conquered peoples and maintaining them, these very peoples, in an appropriate tone was recognized.
And over the years, little has changed!
Although now military parades are believed to have acquired such value as attractiveness for tourists, but now it will be a vain assumption to think that this was not always the case.
Commemoration of great victories, demonstration of power, demonstration of power over the conquered, commemoration of commanders, inspiration of citizens and non-citizens, these are all the motives that guided the organizers of any military parades throughout all ages! And such things, like the review of the troops, drill training, sometimes served as good reasons in the absence of timely victories, but only.
And I think that a special line in
history
World military parades should enter mentioned above. Of course, the participation of foreign military in parades is not some kind of wonder, such kind of know-how! But somehow, the assumption that the US military took part in it as representatives of the vassal's country does not stand up to criticism!)) And the delegation of the military of the union state, which arrived to designate the strength of the relationship, also doesn't look like much the fact that these same American military are quietly stationed in Latvia itself, and the gallant Latvian military do not disdain at all their equipment, weapons and ammunition.
Of course, the highlight of the parade, as is customary in modern times, has become
aviation
: British fighters taking off from a military base in Estonia. But somehow there is no point in particularly commenting on this fact! After all, it's completely understandable even to a fool that when foreign soldiers march on your land on foreign equipment, and foreign aircraft make a celebratory flight over your head, then there is clearly some kind of substitution, not only that it looks like a perverted one, with special cynicism, banter!
In short, such a moment, as the main motivating factor, that is, the goal pursued by this extremely strange procession, absolutely defies comprehension, taking into account the understanding of specific, such as those listed above, features of this kind of events.
If, for example, we assume that this is indeed a holiday for citizens in order to demonstrate the pride and independence of the state, stirring up their patriotic feelings, then, really, the most unfortunate format was chosen! ..
If this event was intended to intimidate and suppress potential enemies ... but God ... who? Zimbabwe? .. So they are far away! And maybe the fifth most powerful army in the world according to Petro Poroshenko? So they seem to be friends? .. Riddle! ..
But I still have a version! And precisely because of the existence of such, I am above and suggested that a new milestone has been opened in the world history of military parades. But the thing is that during the time Latvia was in that state, which the Latvians tried to remember in such an amusing and inadequate way, the Latvians achieved tremendous success. And if we talk about a catastrophic reduction in population, "for example, in the same Latgale almost twice," this is already a move, then talking about the Latvian army, or rather what was left of it, is quite possible without much damage to reputation. Fortunately, the question is not greasy, because there are few hunters to speculate on what is simply not there.
And Latvia, it just so happened, at a certain stage in the evolution of its independence, "God, I so often have to repeat this word, so absurd in existing circumstances, that sometimes I want to ask myself - is it true?" reached that state, when the troops simply - no, no. And over time, when an understanding was ripe in some minds that the country desperately needs at least something like national identity, and in time there was a good reason to cherish it in the person of the "Russian threat", from which only Latvia, coupled with Ukraine, it suddenly turned out that even the strongest formulation of such an epic thesis makes even the most upsetting Latvian patriots laugh to the pain of the colic. So the phenomenon arose when a military parade is held with only one purpose, to show - hey, look, we are! We even know how to march! .. And we even have a technique, no matter whose, most importantly, is! And we also have, look here, what beautiful allies, and if they do something for us, they will take revenge ... even with nuclear weapons, do not you believe? .. BBC, look! .. Egegai! Don't bother with us! ..
Somehow like this!..
...
Sad?
Sadly! ..
But, oh well, as they say - what would the child not amused.