The next selector meeting with the leadership of the Armed Forces took place at the National Center of Defense yesterday, the press service reported.
Ministry of Defense of the Russian Federation
.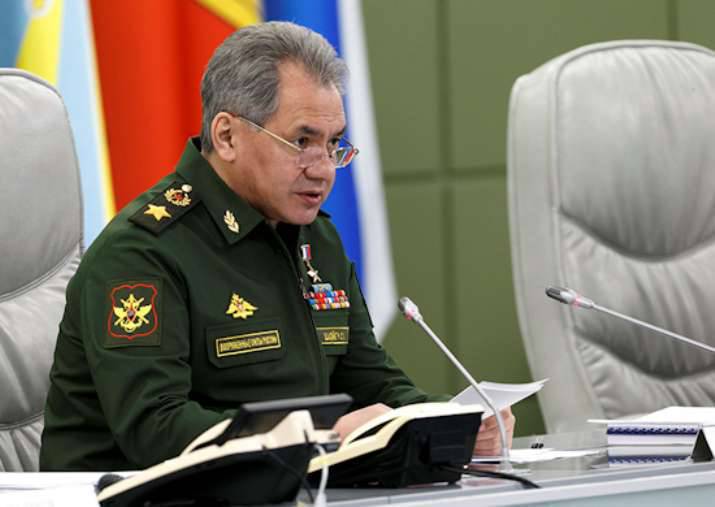 "Three main issues related to the arrangement of military units and formations of the Western and Southern military districts, the course of tests of the frigate Admiral, were submitted for discussion by the Minister of Defense
Fleet
Soviet Union S.G. Gorshkov ", training heavy aircraft carrier" Admiral of the Fleet of the Soviet Union N.G. Kuznetsov "to solve the tasks of military service," the release said.
Shoigu once again stressed that "the Ministry of Defense is taking a series of measures to counter the buildup of NATO forces in close proximity to Russian borders."
"In this regard, by the end of the year, two new divisions will be formed in the Western Military District, one in the Southern Military District. Arrangement of places of deployment of these compounds is currently underway, "he said.
The minister recalled that earlier he had "instructed to use the most advanced construction solutions in the construction of objects," such as block-modular structures. They allow you to build a building in 3's - 4 weeks. "At the same time, if necessary, it can be quickly disassembled and moved to a new location," he noted.
The second question concerned the construction of frigates project 22350.
"Six of these ships should be part of the Navy by 2025 year. They will be equipped with modern weapons and the latest controls. Currently, the lead frigate of the Admiral Gorshkov series is being tested in the Northern Fleet "
said Shoigu.
Special attention was paid to the preparation for combat service of the aircraft-carrying cruiser "Admiral of the Fleet of the Soviet Union N.G. Kuznetsov.
"By July 1, 2016, the ship should be ready for testing aircraft and helicopters, which will be based on the cruiser",
The Minister has set the task.
Touching on the theme of the celebration of the 71 anniversary of the Victory, Shoigu stressed: "You need to make every effort to hold celebrations at the traditionally high level."