Apparently, the results that our Armed Forces achieved in Syria have borne fruit. Of course, the fruits are far from those that we hoped for, but agree, and when it was possible to count on a benevolent attitude from western partners?
Today we have what we have. Namely, the desire to plunge us into the next arms race and thereby precisely fuck. As it was in the USSR.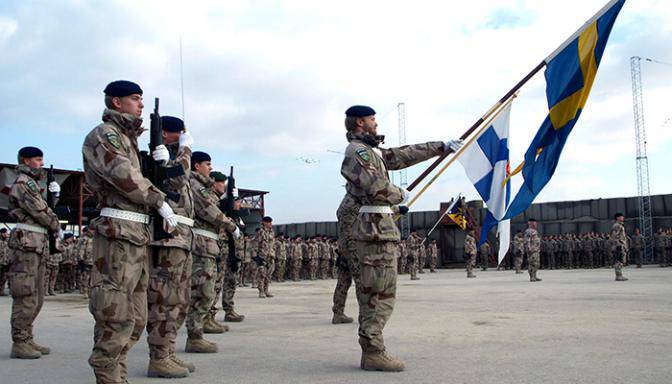 The desire of gentlemen from NATO to shake is quite understandable.
weapons
near our borders. This is safe if these boundaries are not violated. Unlike the same Syria, where they can send something like "Made in the USA" to the address of the NATO warriors. From ATGM to MANPADS.
And today we are seeing exactly that. The new commander of the North Atlantic warriors, on the frenzy at all not inferior to the previous one. So, at the very least, it will conduct the same policy, and even try to surpass its predecessor.
And quite naturally, our neighbors moved. Of these, limitrofov. The fact that all the military leaders from the Baltic micro-education wake up every night in a cold sweat with a cry of "Russians are coming!", We all know. And of course, they want to be ready to repel the growing external threat from Russia.
Hence the constant maneuvers led by Western colleagues. Well, the exercises at the platoon level Balts learned. Not bad. So, you see, and the company will reach.
The very fact of the deployment of American battalions near our borders is unpleasant. It is unpleasant when they see the aggressor in you, and pretend that the battalion is exactly what can stop this aggression.
Disrespectful even somehow.
Perhaps that is why Comrade Shoigu 4 of April and said that if this is the case, then we will create another 2 division in this direction, where we love to maneuver. And we will also maneuver. From the heart and with the Russian scale. Who wants to - join, who does not want - makes conclusions.
And there is only one conclusion - we have something to answer.
And will have to answer, as if we did not want. Once went this alignment.
Long thought why battalions are placed there. In order to stop the Russian troops, in the event of a situation, "God forbid," this is not just not enough, but scanty. In order to stand behind the gallant Baltic warriors and play the role of a detachment - completely. Although it is possible that a regiment or brigade, which also couldn't really do anything in such a situation, but at least flattered our vanity, the Balts simply could not pull. The matter is not even in money, but how would I put it this way, in the concomitant fecalization of the territory of countries by the contingent.
And there are probably no free janitors. They all work in Europe.
Apparently the same alignment and in terms of the Air Force. Yes, a couple of F-22 - this is a significant contribution to the defense of the Balts. Let them fly to write-off, then make monuments from them.
What else can I add? Never mind. It is clear that all these constant maneuvers and exercises are still a gift to the budget. Considering, for example, that the budget of the same Latvia is only 10-11 times more than in my Voronezh region. But we have no bugs in terms of external aggression. And the problems are a little different. But it is, by the way. What are we going to consider other people's money, right? Let them consider them.
Let, by the way, all well considered and hot Finnish guys who rushed to NATO. We understand with our mind that the Finnish guys in NATO do not really need that, there is definitely a thing at the top that someone very eloquent, such as Mr. Bridlav or his successor, Skaparotti, dismissed.
Nevertheless, it is necessary to think. And to think that a battalion of American warriors is not the worst thing that could happen in Suomi. No matter how unpleasant the Russian is, this fuss around our borders, we will digest the next battalion somehow.
But if movements like strike aircraft begin, or, God forbid, and the Finnish government, of rockets, then forgive me, guys, Santa Claus is more precious than your Joulupukki. Although, by the way, maybe Joulupukki just does not threaten anything. Unlike the rest.
This will not be a joke. Peter from the Russian-Finnish border you know how far it is. And therefore, no matter how cool you are, you'll have to find money, build a regiment (or better two) of "Iskander", direct it to peaceful Finnish territories, where experts from NATO will sit and things like that.
And now it will not be a threat. The threat is NATO's personal belongings in Finland. Accordingly, it will be necessary to calculate everything at the right moment of that ... Preventively, not preventively, and considering how people are settled there, Joulupukki with deer will remain to write if they want to write petitions.
It is necessary to think. Head. Especially before the referendum.
In fact, if the head works, then everything is in order. It is not necessary to shout every day that the Russians are coming. Nowhere they are not going. They, Russian, do not need someone else's. So far at least not planned. And it is unlikely that in the foreseeable future it will be incurred for the conquest of foreign lands, for there are enough of its own.
But if the head does not work, then nothing more than suicidal tendencies can not be explained by the suddenly arisen desire to substitute his head and everything else under the Russian cudgel.
I, frankly, a long time ago I put a cross on Balts. But here the Swedes and Finns would recommend to think. In museums to go on the weekend, on the Mannerheim line to ride. Refresh your memory and breathe fresh air. While they are letting us, we call on our side, look around us again, take our vodovka.
And then, the next day, soberly ponder whether this is all that is necessary.