Rosgvardi subunits will receive the upgraded AK-74M assault rifles, reports
RIA News
TASS message.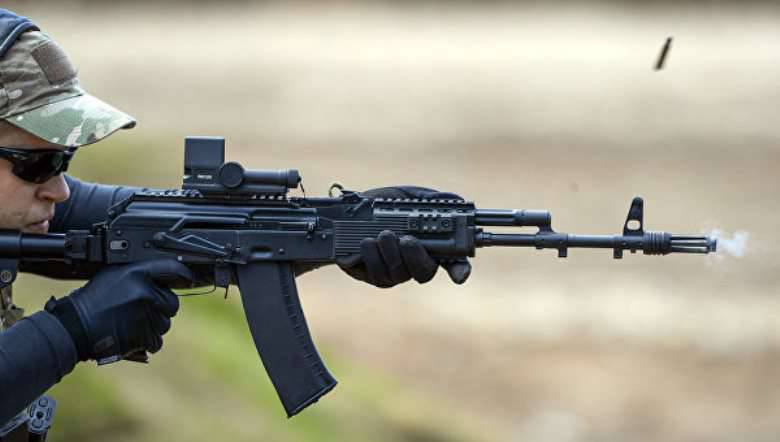 "AK-74M is a compromise solution before adopting the new AEK-971 and AK-12 submachine guns, second only to their weight and accuracy. The upgraded AK-74 is a new telescopic butt, a new receiver lid, a modern barrel trim and forearm, on which the Picatinny integrated slats are located, thanks to which the collimator, optical and night sights can be mounted on the machine gun, "
Ruslan Pukhov, director of the Russian Union of gunsmiths, told the agency.
According to him, "the machine can also be mounted
weapons
flashlights, devices for low-noise shooting and effective flash suppressors. "
Pukhov added that "the design used a new belt, a translator fuse and an ergonomic fire control grip."
"The proposed set of changes allows not only to improve the ergonomics of weapons, but also to individually customize each model to fulfill certain tactical tasks on the battlefield at any time of the day," he said.
According to TASS, "in the arsenal of" Kalashnikov "- three sets of sets of additional equipment for the modernization of machine guns caliber 5,45 and 7,62 millimeter: for combined-arms units, troop intelligence, as well as for units that are part of special operations forces."
According to the director general of Kalashnikov, Alexei Krivoruchko, "the Ministry of Defense has large stocks of AK-74 assault rifles and there is no sense in purchasing the same weapons," therefore the concern conducted a series of design and development works on the Obves program in order to increase the effectiveness of the weapon.
"Today we receive from the army warehouses automata of the second category, which have lain for several decades, carry out repairs and upgrades, after which modern optical-electronic aiming devices, laser designators, gun lights, low-noise shooting equipment and a flame arrester can be installed on the machine, increases the efficiency of the product several times, "said Krivoruchko.
As a result, according to him, "it turns out an automatic machine for a professional army". From security agencies have already received orders for "several tens of thousands of upgraded kits."