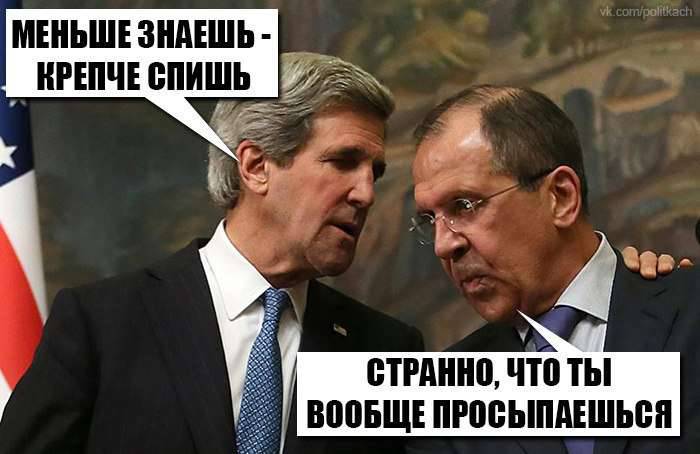 The general confusion, which is actually US policy towards Syria, never ceases to amaze. This week, we watched a whole performance as the US State Department spokesman stated that Obama's promise not to invade Syria was never a promise not to invade Syria. Yes, it was funny to see how awkward he was, but there was nothing funny about the policy that had been pursued in Syria for five years. Especially taking into account the thousands of people killed after the United States decided that Assad must leave the post and began sending fighters to achieve this. The director of the Ron Paul Institute for Peace and Prosperity, Daniel McAdams, for the AntiWar blog, was trying to figure out Washington's attitudes toward factions. The translation of the material was prepared by the Federal Agency
News
.
Today, an unusual situation can be observed - the US government recognizes that the armed groups "Jaish al-Islam" and "Ahrar al-Sham" are fighting side by side and are associated with the "Front of An-Nusra" (groups prohibited in Russia), but rejects Russia's request to classify these two terrorist groups.
In fact, not only the struggle on one side and the link with Al-Qaeda (banned in the Russian Federation) do not allow classifying the groups as "terrorist". The US government is actually asking the governments of Russia and Syria to stop shelling these forces.
The following is a request from the US State Department spokesman, Mark Toner: "The United States does not want Russia and Syria to be bombarded by Ahrar al-Sham and Jaish al-Islam terrorist groups, even if they are fighting side by side with An- Nusra.
So, the State Department is convincingly asking Syria and Russia to stop bombing Aleppo, since the groups are conducting operations there, even though he also admits that these fighters are associated with the Front of An-Nusra.
As Colonel Steve Warren, a Pentagon spokesman, said at a press conference last week, "first of all, An-Nusra controls Aleppo."
Why does the State Department call for the cessation of military operations against the forces controlling Aleppo, while the Pentagon says that the operations in Aleppo are primarily led by An-Nusra Front?
Does anyone know what is happening there?
John Kerby, a spokesman for the US Department of State, is trying to justify himself by stating that since "Jaish al-Islam" and "Ahrar al-Sham" are also present in Syria (by contacting the "Front Al-Nusra"), "because they want be close to each other "), there should not be a single attack on Aleppo, neither Russian nor Syrian.
However, at a February 22 press conference, Mark Toner, a State Department spokesman, openly stated that groups that fight side by side with Al-Nusroy or other terrorist groups in Syria will be considered legitimate military targets.
When asked whether groups fighting on the same side as Al-Nusroy in Syria would be considered military targets, Toner explained that these actions would make them: "Again, this is their business, to be honest, they make the final decision. I mean, if they are going to do this - I mean that they cannot - we clearly explained that - we, the International Syria Support Group, explained in an accessible manner that Al-Nusra and Jaish al-Islam are not part of any cease-fire agreement or any kind of agreed cessation of hostilities. So if you communicate with the wrong people, this is your decision. "
Is everything clear? Does it seem like they are smoothing the wine?