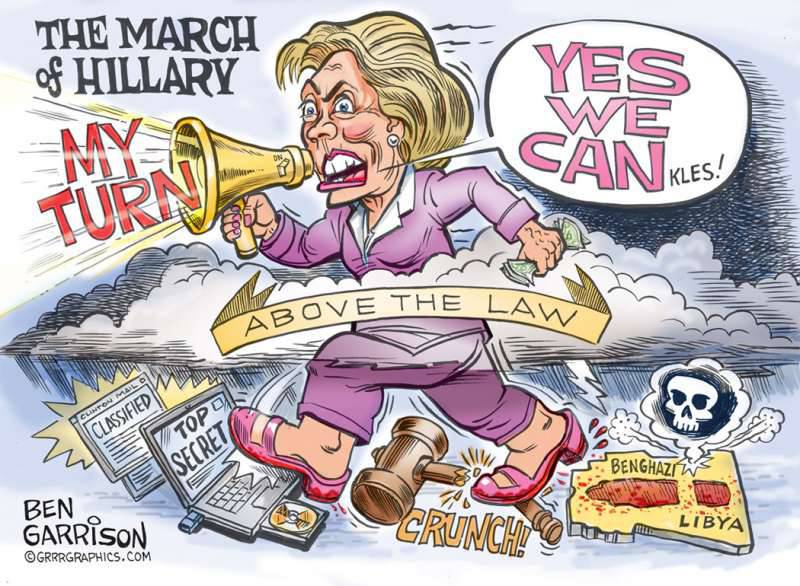 The neoconservatives surrounding Hillary Clinton and the big oligarchs who support her may push her to start a war.
Karnieletto interviewed the author of the biography of Hillary Clinton Diana Johnstone. In particular, it recalled that Hillary was born in 1947, in a Republican family. Father has always played a dominant role, and probably gave her his unrealized ambitions. Hillary's philosophy has always been based on the aggressive nature of the American dream. Hillary feels great surrounded by billionaires, and they are - in her company. Methodist, she shows her religion, using it as a means of support, said Johnston.
According to the author of the biography, Hillary Clinton's role in destabilizing the situation in the Middle East was enormous. "If there is a military option, she supports it, she voted for the invasion of Iraq in 2003, and she is proud to be responsible for the devastating war in Libya, since the dictator was destroyed: if things went badly in Libya, they say, it's because that the United States had to do more and not less, it always demanded aggressive actions against Assad in Syria, and her hostility towards Iran has no boundaries.It has made her a favorite of supporters of Israel.Any enemy of Israel is the enemy of the United States, says Johnston.
In her opinion, a Hillary supporter of tough anti-Russian policy. "Foreign policy - a product of the aggressive side of the American Dream America - the best, the strongest and will surely dominate when to use force Clinton assured:... If the US acts, they are likely to win the case of Russia, then Hillary is fully signed before prevailing in Washington interpretation of that America "won the cold war."
"Hillary's ideology serves the interests of the military-industrial complex and financiers who benefit from it," explains the biographer. "Its hostility towards Russia is a consequence of the cold war, when the US military power was built in opposition to enemy Moscow. But I think that to a large extent it was the fruit congenital hostility towards everything that is not American or does not recognize American hegemony. The coming to power of the Russian leader defending the interests of Russia was perceived in Washington as a betrayal
stories
".
"Vladimir Putin," continues Johnston, "became a clear obstacle to the tacit policy of gaining economic control over Russia's vast resources. There is also a strategic explanation for hostility towards Russia, set out in Zbigniew Brzezinski's book The Great Chess Board (1997 year): United States hegemony depends from the destruction of unity between Western Europe and Russia. The current US foreign policy was designed to build the Iron Curtain to isolate Russia, especially from its natural trading partner Germany. The ideological, economic, psychological and strategic motivations for an anti-Russian propaganda campaign that is frightening and not based on real facts were combined. To say that Russia is a "threat" is pure fantasy. But NATO surrounding the Russian borders is real. Hillary Clinton uses both fantasy and reality, "says the source.
Hillary often lies, continues her biographer. One striking example was its story in 2008 year's Democratic National Convention that during his official visit to Bosnia snipers fired her. There were witnesses and video footage exposing this version. Later, Hillary, responding to reporters' questions, said that people who have a lot to say, can make mistakes. Interlocutor correspondent also said that Hillary is very often not to answer the uncomfortable questions, starts laughing or coughing.
If Hillary wins the presidential election, which scenarios will open for the United States? It can hardly be hoped that Hillary will do what he says, Johnston believes. "But what she says is alarming: she threatens to step up US intervention in Syria against Assad, which will provoke a conflict with Russia, threatening to break normal relations with Iran, give full support to Israel against the Palestinians, and threaten Russia's uncompromising hostility. "- believes biographer Clinton. The power of the American president is limited: he must satisfy the dominant oligarchy. "But in this case, the oligarchy supports Hillary, it will be surrounded by neoconservatives and liberal politicians who support the intervention, which may prompt it to unleash a war."
Most should be wary of "activity" Hillary, her willingness to use military force instead of diplomacy, its dualistic view of the world, divided by the "friends" (the ones that support the United States) and "enemies" (anyone, depending on the circumstances). "It will strengthen the military power of NATO against Russia as long as due to an incident will not start World War III - Johnson said -. I did not foretell that it is I'm just trying to warn Europe only your refusal United war policy.. States can be crucial. "