Washington does not consider the deployment of American troops in Syria as aggression, State Department spokesman John Kirby said yesterday.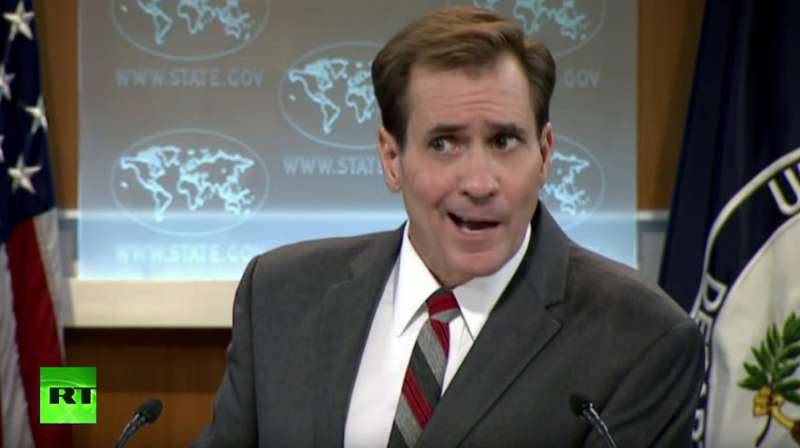 "It's true that we didn't seek permission from the Syrian government before making a decision." And I find it ironic to call this our step a brazen act of aggression when they continue to use barrel bombs against their own people and, reportedly, bombed a hospital in Aleppo. These are brazen acts of aggression against their own citizens ",
quotes kirby newspaper
Look
.
So the representative of the State Department responded to the statement of the Syrian Foreign Ministry, in which the actions of the United States are called "brazen aggression and violation of the sovereignty of Syria."
Kirby also stressed that the special forces deployed recently in the SAR "will have special forces to advise and support those rebels who are fighting the IS."
In turn, Sergei Lavrov called the behavior of Americans in Syria "a big mistake."
In an interview with the Swedish Dagens Nyheter, the Russian minister recalled that "the only state that is engaged in the antiterrorist struggle in Syria legitimately is Russia".
"Although I have repeatedly told our American partners that this is a big mistake. Just as they received consent from the government of Iraq, they had to get consent in Damascus or come to the UN Security Council. If this happened, I have no doubt that we would work out a UN Security Council resolution that would suit the American coalition and the Syrian government, because this is our common misfortune, "he said.
"The fact that they went there illegitimately reflects, firstly, the arrogant manifestation of the position that the president of the SAR Assad heads an illegitimate regime, and, secondly, in my opinion, the desire to keep his hands untied the ability to use this coalition not only to attack terrorist positions, but, possibly, for a subsequent attack on the regime's forces with a view to changing it, as happened in Libya ",
he noted.
"We have never seen such plans anywhere officially, but from time to time they slip, and the wishful thinking is already being issued. We must be on our guard, "added Sergey Lavrov.