Jaloliddin Rakhimov, deputy head of the civil registry offices of the Republic of Tajikistan, told the media that a law had officially entered into force in the republic, which introduced restrictions on the use of "non-Tajik" endings in the names of citizens of the country. The non-traditional for the country names are also banned. Now you can name a child in Tajikistan only by the name that is in the special registry.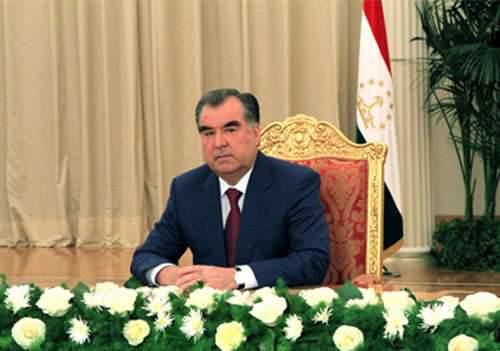 About this "democratic" innovation reports the office of "Radio Liberty" in Tajikistan -
Radio Ozodi
. In this case, the material is called the following: "In Tajikistan, legalized national names and surnames."
Jaloliddin Rakhimov:
The assignment of names and their correct spelling in the Republic of Tajikistan is carried out in accordance with the culture, national traditions and the Register of Tajik national names, approved by the Government of the Republic of Tajikistan.

The name of the person, according to the Tajik national traditions, can be formed on behalf of the father or from the root of his last name with suffixes forming the names of -and, -zod, -zod, -on, -yon, -yyon, -yor, -niyo, -far. The name of the person can also be formed on behalf of the father or from the root of the last name of the father or mother without the addition of suffixes forming the surnames.
The same representative of the civil registry office said that there are "explanatory conversations" with people who want to keep the "Russian" version of ending their surnames "ov", "in", as well as the patronymic with the endings "ovich", "evich", " Aries "," Evna. "
Rakhmonov (whose name, apparently, will also undergo changes):
When we talk with them, we explain that the goal is the Tajikization of surnames, they understand. If the situation does not change, then in 10 years our children will be divided into two groups, one will be proud of their Tajik names, the other will be carried by strangers. We must have national and patriotic feelings.
That is, the citizens of the republic are "strongly recommended" to refuse (if available) from the Russian version of the end of the family name. To all appearances, Tajik children will in any case become owners of names that have passed through "Tajikisation".
From the new Tajik law:
It is prohibited to give a child a name that is alien to the Tajik national culture, the names of things, goods, animals and birds, as well as offensive names and phrases that degrade human honor and dignity and divide people into castes. Adding to the names of individuals pseudonyms "mullah", "caliph", "tour", "hodge", "hudzha", "shaykh", "wali", "okhun", "amir", "sufi" and the like, which contribute splintering among people is prohibited.
Earlier, the President of Tajikistan Emomali Rakhmonov, who became Rakhmon, refused to finish the "ov".