Over the past day, the ceasefire regime in Syria was broken 8 times, opposition forces opened fire on the positions of government troops and settlements in the provinces of Aleppo and Damascus, the Russian Conciliation Center bulletin said on the website
Ministry of Defence
.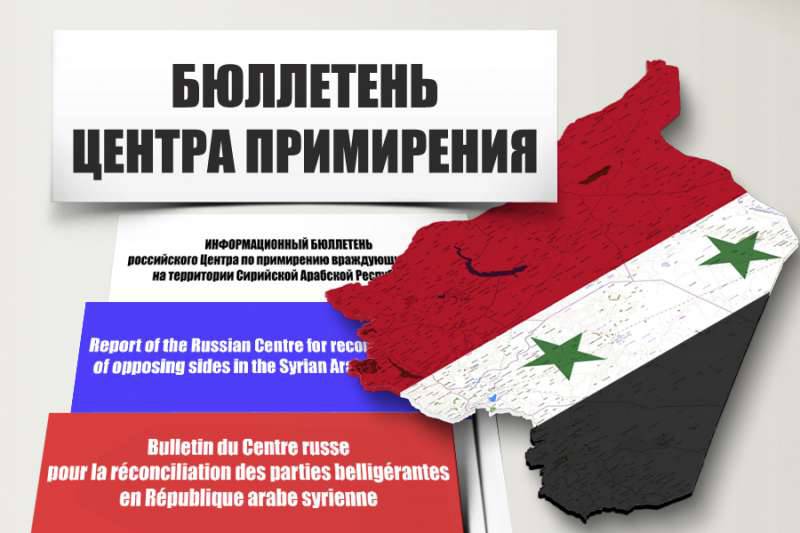 The truce continued to be violated by the Ahrar al-Sham, Syrian Free Army, and Jaish al-Islam groups.
It is also reported about the incessant shelling of the UAR army by the Jabhat al-Nusra terrorist group. Data on the victims is not given.
Work continues on the provision of humanitarian aid:
"3 tons of humanitarian aid were transferred to the settlements of Al-Ghazbiya and Al-Yamamam, Homs province.

Medical personnel from the Center for Reconciliation provided 36 medical assistance to local residents.

The formation of humanitarian convoys for residents of two settlements in the province of Hama continues.

The Ministry of Health of the Syrian Arab Republic, together with the organization "Syrian Arab Red Crescent", has vaccinated children against polio in the blocked towns of Fua'a and Kafar-Khaya of the province of Idlib, Zabadin and Madaya of the province of Damascus.
In the liberated cities, restoration work is underway:
"The repair teams of Syrian builders in the city of El Qaryatayin, Homs province, cleared the rubble of 22 meters of streets within 24 hours and restored the 200 meters of power lines. Demining 5 land mines.

In the village of ABTIN in the province of Aleppo, work is underway to restore the water supply system and the electricity supply. 320 families have returned to their homes in this village. "