Georgy Lordkipanidze, acting head of the State Police in the Odessa region, and Sergey Batrakov, head of the SBU department in the Odessa region, reported at a joint briefing that the Odessa police from April to November 13, 30 may be transferred to enhanced duty. The gain will affect not only the Odessa police. The units of the National Guard and the Armed Forces of Ukraine are connected to patrolling the streets.
In Odessa, "anti-terrorism" exercises were held, during which military personnel from the units of the Ukrainian Navy and representatives of the operational command "South" of the Armed Forces of Ukraine took part. According to the message
Odessa information portal
, the Ukrainian military has worked out the skills of localization and liquidation of sabotage and reconnaissance groups. Apparently, the Ukrainian military are going to "catch" imaginary DRGs directly on Odessa streets.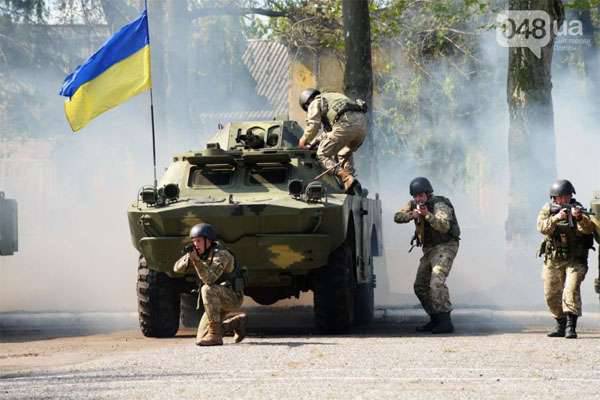 The fact that even now the official authorities of the Odessa region have announced who can be declared a representative of a "sabotage and reconnaissance group" or a "separatist-provocateur" draws upon itself. During the briefing mentioned above, Georgy Lordkipanidze stated that searches were started in the apartments of "Kulikovtsy" (as the Ukrainian authorities say those whose comrades were brutally murdered and burned in the Trade Union House 2 of May 2014), and that the Odessa police would "press provocateurs red flags.
Lordkipanidze:
They will not put on St. George ribbons. If someone walks with a red banner, it will be regarded as a provocation.
According to the chief of the Odessa department of the Security Service of Ukraine, Batrakov, additional special forces detachments of the Security Service are sent to Odessa. First of all, we are talking about 300 representatives of the Ukrainian special forces "Alpha" SBU, who arrive in Odessa along with weapons and military equipment, including armored personnel carriers.