The U.S. military department issued a message containing a kind of warning for aircraft of foreign countries that will fly around the ships of the U.S. Navy. It is, of course, about Russian military aircraft. Recall that a few days ago, Su-24 aircraft flew over the destroyer Donald Cook, located about 70 nautical miles from the Baltic base
fleet
RF US officials said the maneuver of Russian aircraft was carried out in an "unsafe and unprofessional manner."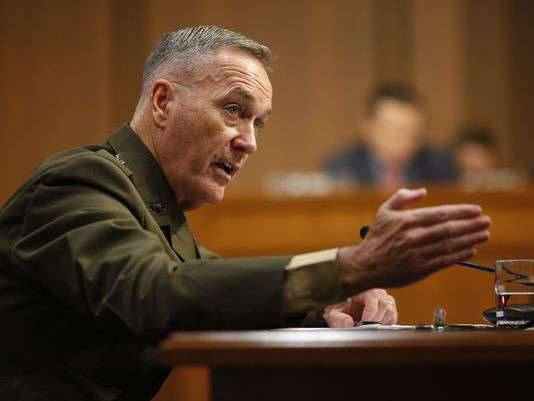 After that, the head of the US State Department, John Kerry, said that the US military could continue to "respond to such actions." Now the chairman of the Joint Chiefs of Staff of the United States, Joseph Dunford, made a similar statement, speaking to the senators.
Informational portal
Military.com
reports that Dunford told the senators about the case of the destroyer Donald Cook, and about the interception of two American aircraft by Russian fighters. We are talking about the interception of the reconnaissance aircraft RC-135 over the Baltic Sea, as well as the interception of the Poseidon anti-submarine patrol aircraft P-8, which tracked in the area of ​​the KF base station in Kamchatka.
Dunford stated that he agreed with the head of the General Staff of the Russian Armed Forces, Valery Gerasimov, "to discuss such incidents," and then added that the commander of an American ship (air or sea) could "make any decisions in the event of such an incident and is not obliged to request permission from the superior or other actions.