How many articles are written about fascists and fascism in Ukraine! In any publication during the week necessarily something like this appears. Now there is a torchlight procession, now another monument is "won" ...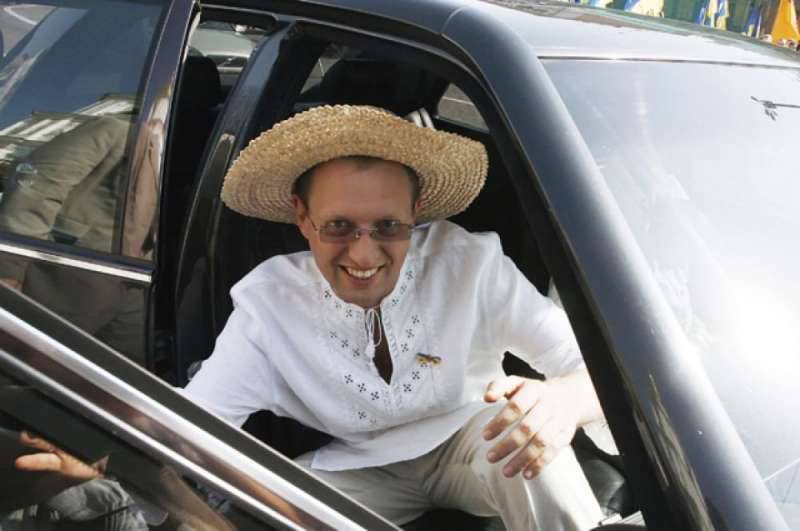 The topic covers, probably, only the theme of the work of the new government of Ukraine. No one reads about any ordinary zradah or peremogs. Habit. And the understanding that any Ukrainian peremoga after two days will become another sight.
And against this background, Arseniy Yatsenyuk, who was loved or unloved by everyone, was completely lost yesterday. There was a prime minister, but all went out. But how interesting it was to read about his affairs for the good of the country! And the Ukrainians themselves. They look around ... Ass. And then turn on the TV. Arseny says that no ... This is not an ass ... This, on the contrary, is an apron.
It hurt me why such a man suddenly forgot everything. Unfair it is. Political kamikaze and suicide, in his own words. A daredevil who was going, if that, to get a "smack in the forehead". Well, you can not just take it and forget it. And Ukraine somehow forgot. Again zrada.
I had to do a little investigation. Where is Arseny? Who hid the hero? Did any "Donetsk DRG" work?
Interesting, but the Ukrainian media, too, have no particular desire to find Yatsenyuk. They are also not interested in this "fuck." So searches through journalists, alas, were not crowned with success. Even the most informed answered that the topic is a dummy. It does not hit the brain of the people, and therefore it is not worth doing it.
But it was possible to find such people among politicians and other political beau monde. I don't know for what purpose they collect this information, but they collect it.
Remember, after the end of the Second World War, it was suddenly discovered that some political leaders like Martin Bormann, as well as high-ranking Nazis from intelligence, the SS, the Gestapo, disappeared somewhere? They evaporated from the territory of Germany. And so that they could not be found.
What only versions were not nominated then. And as it turned out, everything was much easier. We felt the "Fuhrers" that the earth began to burn under their feet, and they disappeared. Throwing the army and the police, and the people of Germany. The main thing is my own ass.
And they did not slip into the toilet or sink any. Washed off in Latin America. Who to Argentina, who to Brazil, who else where. There are impassable forests, wild. As the famous hero of the famous film said, there are many, many wild monkeys. Search will not be exactly.
And did not look. While the former Fuhrer with different attachments to the title did not become impudent and did not stop hiding at all. It was then that the truth about the land, capable of hiding any criminal, was revealed.
So, I don't know what Yatsenyuk knows about his fate, but he guesses about what, but according to my information, the ex-prime minister jerked in the footsteps of the Part-Rousse Bormann. I drove off to Latin America. Even the press secretary of the former prime minister turned off her phones. In order not to "burn" the chef.
The only person who dared to merge information is MP Sergey Kaplin. I do not know whether by stupidity, or by the simplicity of the soul, but ...
"According to my information, Arseniy Yatsenyuk flew to Argentina. A business trip, for the purpose of rest or flight, I do not know. When he returns, it is also unknown." This was reported "Vesti".
Sorry Arseny. What will he do with one billion in Argentina or the Amazonian forests? Starve and sit on the porch of a temple? An unenviable fate for a man who showed Ukrainians a direct path to the future. And not only pointed out, but also actively pushed into this future. Some clever speeches, some handouts of the former state property, and some
tanks
and armored vehicles.
As shows
история
, fascists are born all over the planet, but for some reason they are going to die in a certain place. We used to think that this only applies to animals. And it turns out how. Although, how do fascists differ from animals? Probably, only by the fact that the animals are more humane towards their fellow tribesmen ...