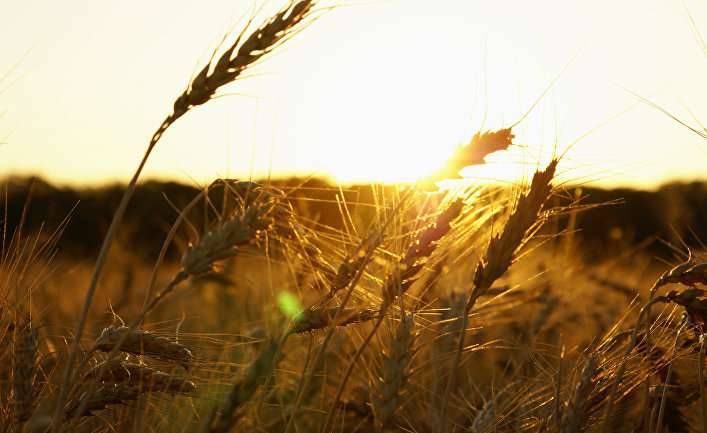 A strong dollar, global warming, increasing competition and not increasing yields have deprived the US of first place in the wheat market.
In Kansas, a state for which grains have a special symbolic meaning, is warmer, and winter wheat is sprouting in the fields of Paul Penner. He grows it on roughly 300 acres. Profitability, he said, depends on the state of world markets. According to the US Department of Agriculture, about two-fifths of American harvests go abroad.
However, with all the importance of exports for American farmers, American grain is losing ground in the world. Its competitiveness reduces a strong dollar, and this year the United States may slip into third place among wheat exporters, giving way to Russia and Canada. Back in 2014, the United States ranked first. In America, areas planted with wheat have been constantly declining for more than a decade. Over time, American wheat in the world markets will become smaller. This affects the plans of such farmers as Penner - the former president of the National Association of Wheat Producers. This year he plans to plant an equal amount of corn and wheat. "People vote with a wallet," says Penner, who owns 660 acres of land in 50 miles north of Wichita. In the 1970s, 90% of its fields were planted with wheat. "Our products retain the highest quality, but the technology for growing corn and soybeans has advanced greatly, and in terms of earnings, wheat has become a less attractive option," he admits.
This year, wheat exports are expected to decline by 9,3% - to 21,1 million tons in a season ending May 31. As government statistics show, this is the minimum level since 1972 of the year. At the same time, domestic grain reserves are at a record level in five years. All this encourages farmers not to sow wheat. The area of ​​winter wheat sowing, according to the Ministry of Agriculture, has decreased to the second since the end of the level since the 1913 year.
The lands of Ukraine and the Russian Black Sea coast are considered to be among the best in the world for growing wheat. Tsarist Russia was its main global exporter. However, by 1972, because of the shortcomings of the communist government, wheat production in these regions fell so much that the Soviet Union even had to buy grain in America.
Now Russia has again taken the first place, and Ukraine got the fifth. They seize the Middle Eastern markets, which were once the main destination for American wheat. In Canada, the world's second largest exporter, the climate is getting warmer, which lengthens the growing season and increases yields. Argentina, Australia, France, Germany, Kazakhstan and Eastern European countries are also increasing their supply to the market.
All of this put an end to the undivided leadership of the United States in world markets, says Alan Tracy, president of the American Wheat Association, which promotes American wheat abroad. "Now we are unlikely to lead each year in terms of volumes," he says. "Fortunately, in general, world wheat trade has grown, and we can still sell our farmers' products."
The attractiveness of wheat for American farmers has declined, since this culture was not affected by two revolutions, which advanced corn and soybeans, biotech and biofuel. In 1990, the area of ​​wheat crops last exceeded the area of ​​corn crops. Since then, areas under wheat have been reduced by 36%. This year, they are projected to make 49,6 a million acres. On the contrary, corn is now occupied by 26% more area than in 1990 year (93,6 million acres), and under soybeans - by 42% (82,2 million acres).
Since the end of 1990, virtually all corn and soybeans in the United States have been genetically modified. This allows them better than before, to resist the pests and the vagaries of the weather. As a result, their productivity and profitability increased markedly. Genetically modified crops also need less water, and this allows wheat rivals to capture dry regions in the north and west.
Wheat can also be genetically modified. However, consumers do not want their staple foods, such as bread, to be made from genetically modified organisms (GMOs). Therefore, commercial supply of biotech wheat is not allowed anywhere in the world. This ban prevents scandals, but at the same time prevents the growth of yields. "From the very beginning, this industry did not want to introduce GMOs, fearing consumer response," explains Allen Featherstone, an expert on agricultural economics from Kansas State University. "Time has shown that this forces farmers to switch to other crops."
High-quality American grain still costs a dollar per bushel more than competitors' products. "We sell not so much raw material as an ingredient," which is better suited for cookies, cakes and high-quality bread, emphasizes Tracy.
The question of the introduction of GMOs remains controversial, but industry lobbyists are now seeking to increase federal funding for research in this area, and both farmers and scientists recognize that crop yields need to be increased. Nigeria and Indonesia — two rapidly growing markets — are now becoming major buyers of American grain. At the same time, America's strength as a supplier is reliability. For example, in 2010, Russia imposed a ban on exports because of drought, which led to unrest in Egypt and spawned the Arab Spring 2011 of the year.
Wheat will always be grown in regions that are considered too cold or too dry for corn and soybeans, and the United States will continue to be a major exporter. However, this does not mean that the industry can still operate, Penner said. "There is a certain point beyond which recovery will become impossible. In my opinion, we have not approached it yet, but the competition will only continue to intensify. "