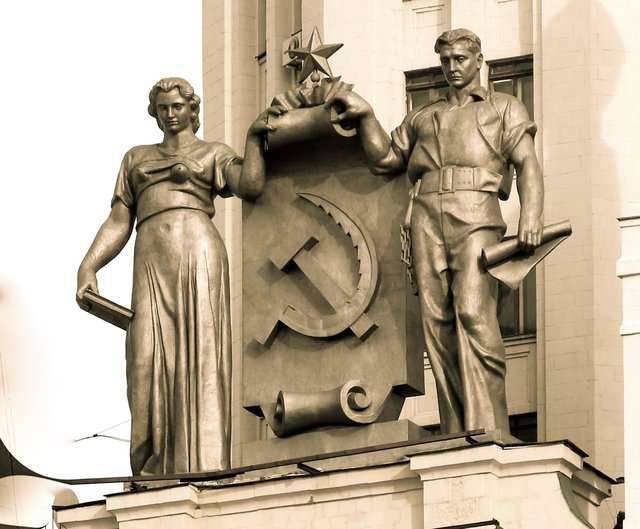 Sometimes two systems that are not fundamentally similar begin to develop according to the same laws, putting scientists at a complete dead end. Carefully examining the development of the situation in Belarus and Ukraine, suddenly you discover fundamentally common points. Somehow: fundamental inability to develop in accordance with the development of the surrounding world (Europe and Russia). Both in Minsk and Kiev, time seemed to slow down its run.
Agree: a very different economy, politics, state system. And yet there are characteristic similarities. Both Belarus and Ukraine tightly "froze into the 90", and it is almost impossible to tear them out of there without destroying them. Just due to different subjective and objective reasons for their development went on very different trajectories. But it went very close to the starting point.
With Belarus it is clear: the KGB, the state control of the economy in manual mode and the irremovable leader. It is such a characteristic and stable system, which fundamentally does not want and can not develop. We need to understand one thing: Belarusians are firmly stuck in time like a fly in amber and neither there nor here. This is from our Russian point of view. In fact, there is a kind of such development, but very, very slowly. And the entourage (and Poland, and Russia) go ahead. They change very quickly in the economy, in culture and in politics. Russia managed to make a wild privatization, after which it restored step by step at least partial control over the economy and "reset" the state.
We somehow do not fully realize this, but today we have a completely different state and economy in relation not only to 80, but also to 90. Everything is torn down by the "torrential stream." And Russia again begins to make the "White Swan". All these years, Belarus is anxiously standing near the coast, ankle-deep in cold water, and wondering: "To swim or not to swim?" Discussions are held in society, different opinions collide. But in reality, the situation froze at the start of 90's. That is, all those years ... They thought. And continue to think. And the wild / gangster capitalism of Russia does not appeal to them at all.
Oddly enough, but the same applies to Ukraine. They also froze in the 90's. Just another option. They were just stuck at the level of "oligarchic capitalism" and "seven-bankers". After the collapse of the USSR, only a few steps were taken forward (by inertia) and political / economic development stopped. At first glance, the active "movement" is explained very simply - it is a kind of "Brownian movement." Development as such did not occur. The same remnants of social benefits, the same oligarchs who have "grabbed" the economy. The same, bought by them, Rada. Time there, in fact, stopped.
The funny thing is: for the last ten years, Russia has been actively trying to "wake up" Belarus, "push" it, take it out of hibernation. Useless. Absolutely useless. All these efforts in Minsk caused only growing irritation: "We ourselves know how we can manage
our
state. " To achieve failed virtually nothing. All projects were either canceled or frozen. And now in Belarus "pro-Western" moods are rapidly growing. Why in quotes? Belarusians simply naively believe that it is interesting to someone in Europe to finance them "for nothing". If someone does not know: Russia has returned the Chechen Republic to the "legal field," although it cost Nemer.
Iraq also has one of the world's largest reserves of cheap oil (never shale), potentially the richest country, but the Westerners left it to die on the sidelines. The country has essentially broken up. Who on this planet is interested in poor countries? So, interest in Ukraine (due to its poverty) disappeared much faster than in oil-bearing Iraq. For a year and a half, the US and the EU invested some money there and tried to reform Ukraine. The money was cleaned up, the reforms did not begin de facto. Theoretically, the West had complete control over Ukraine and complete loyalty of the "Euro-oriented" population and the ability to eliminate unwanted ones. Physically eliminate if someone does not understand.
Nevertheless, the attempt to somehow "reform" Ukraine ended with an "epic Fail". So the problem is more serious here than individual oligarchs and corrupt officials. This is not a matter of individuals, but of the system itself, a kind of "time bubble / lacuna" in which the country of Ukraine is located. Brilliant Western politicians come, bring money, give advice. Further: the money is being stolen, the country is striving "to zero", no one listens to any recommendations and is not going to carry out, any criticism causes offense. The "people" is sitting, smiling cheekily and waiting for a new portion of money. Do not you think that this is very similar to our relationship with Belarus? Its futility?
Ukraine, like Belarus, live their inner life and
nothing is going to change
. Despite the serious pressure of Biden and Steinmeier about Minsk-2, Ukraine did nothing. Nothing at all, but there is a constant desire to "level the Donbass to the ground." This is interesting for Ukrainian politicians. Here is just a complete consensus. For a year and a half, Ukrainian politicians came to Europe, uttered ritual phrases, asked for money and political support. And it worked. Too Europeans do not like Russian. The only thing that can unite them (Europeans) is the confrontation with Russia.
At this, the Ukrainians and played. But after a year and a half (sometime in the fall of 2015), it began to reach Europeans: they were fooled. Ukraine was not going to carry out any recommendations and was not going to reform something there. In 2014-15, we had the good fortune to observe "Ukrainians" in its pure, undisturbed "moskalskimi influences" original state. This is the theft of everything that is not pinned up, a war with dissidents, open banditry and the disintegration of all state structures. Yes, this is "Ukrainianship" as it is. A kind of "hello from the past", a distant past.
Attempts by Moscow to negotiate something with this very Ukraine before the 2014 year were useless: the Ukrainian "elitarians" did not care about the future of their own country. They did not grow to such a level of political consciousness, maybe in a hundred years ... Attempts by Europeans and Americans to bring at least some semblance of order there, after the second Maidan, also ended very badly. Politicians simply assume that the Ukrainians, they are here, next to us. And here we have this "space-time" paradox: Ukraine lives its own, special time.
Already two years of civil war, the country has been drained of blood and forever in debt, but
only now and only to the Ukrainian oligarchs
Begins
little by little
reach that something is wrong. We live with Ukraine at different times, although we have the same dates on the calendars. And our consciousness is already very different. About how
three years
negotiations with Minsk on the merger of KamAZ and MAZ ended in nothing. Different sense of time. From the point of view of the Belarusians, it is possible to negotiate for another ten years. In the Integral enterprise, they have been going in different forms for more than ten years, estimate. From the point of view of the Russians, the Belarusian economy causes more and more sincere amazement and misunderstanding.
It is this very different passage of time that makes the cooperation between Russia and Belarus more difficult. Belarusian leaders still live in the past millennium and are just trying on the third. The same applies to Ukraine: all the growing pressure of European politicians on the implementation of the Minsk-2 agreements did not lead to anything good. Ukraine, despite the invasion of "Varyags" into the power structures, they (successfully) successfully ignore them. There is a different life, a different time and different views. And the laws of Newton there act quite differently ... This is not a game for the public from the European structures, from Ukraine
real and hard
require to do something, but she does nothing.
Simply, people in Kiev are sitting and waiting for money and a visa-free regime with Europe, "for beautiful eyes." And the agreement? What kind of agreement? Brussels can achieve nothing from Kiev, nothing at all, except general declarations about "close friendship and opposition to Russia". At the same time, the Ukrainians, in spite of everything, are struggling to prepare for the "sweep" of the Donbass. The trend in society is. If you think that this is vile NATO members are preparing another brawl from Donetsk, this is not quite so. Europe has authorized the establishment of "order through
weapons
"In the Donbas, but Europe is already tired of this war, as well as of Ukraine as a whole.
But the process is going on its own, especially since Kiev does not have much control over the country. Paris and Berlin, "getting in the teeth" under Debaltseve, became disillusioned with the Ukrainian warriors and made a choice in favor of a political settlement. And Ukraine is not. And this very difference in positions is becoming more and more difficult to "gloss over". Poroshenko and Yatsenyuk were puppets, but the West did not gain control over Ukraine in full (and even in a reasonable volume). Paradox. Having failed to achieve anything in Kiev (despite the lack of IMF tranches since the fall of 2015), European politicians even tried to put pressure on Moscow. It also did not work. Dead end.
Similarly, Russia tried to put pressure on Belarus in terms of economic reform and integration, as well as foreign policy. The result is close to zero, despite the terrible economic and political crisis that broke out in 2011, after the reduction of subsidies. The system lives its own life. The amount of resources in it is sharply reduced, but the policy does not change in any way. Paradoxically: the Ukrainian many-headed oligarchic hydra and dad behave completely similarly, realizing the principle: "They will beat, we will cry". Alexander Lukashenko, I must give him his due, withstood the strongest pressure from Moscow, but he did not give up one iota. The logic is: "We must endure, stand, endure, then we quit." The logic is not entirely correct: they simply stopped financing it according to the results.
The Ukrainian "politbomond" operates in exactly the same way. Oh, and Biden came, and sang sweet songs about federalism. But the Ukrainian deputies remained deaf to his calls. The West "controlled" Ukraine when it came to the Donbas force cleansing. When the West abandoned this idea - it turned out that he did not control a damn thing. Suddenly for everyone it turned out. I take the liberty to suggest: Kiev will not do anything from Minsk-2. Fundamentally. Don't even wait. The West has finally collided with the very "cunning Ukrainians" whom they so enthusiastically admired. They will sign and promise, but they will do nothing. Under any pressure. The system is from another era.
No, if you spend ten years on it and give ten dollars to each Ukrainian deputy, then it is possible. There is a reason to bargain. As it turned out now in Europe too: state interests and state obligations for Ukrainians are fiction. The image of the state is also a fiction (like the state itself). There are hundreds of "cunning Ukrainians", for whom the implementation of Minsk-2 is, firstly, good, and secondly, a reason to make good money. Well, rinse the brains of "European strategies." And for nothing, no one will do anything. Under any pressure. Here is such an "unexpected" for the EU. According to them, it is enough "on the sidelines" to "hard" talk with the president and a couple more people - and everything will be decided in the best traditions of democracy. In Poland, yes, perhaps, but not in Ukraine. Here, each deputy will have to catch, scare and bribe almost individually. The country is such an era.
By the way, both "Euro-holders" - both Ukraine and Belarus - entered the economic peak almost simultaneously (with full dissimilarity of economic models). Almost at the same time there they refused (they had to give up) the "Soviet prices" in the housing and utilities sector. And the funny thing is, almost simultaneously, both there and there, there was regret about the lost (stolen) nuclear weapons. Very bitterly and emotionally on this topic were expressed both in Minsk and in Kiev. Also almost at the same time. I now wonder how to treat economic diseases with nuclear weapons? In principle, Estonia and Kyrgyzstan, too, could regret this nuclear weapon bitterly. In general, of course, it was necessary after the collapse of the USSR in each union republic to leave a little nuclear weapons. So, for a change. A souvenir in memory of the years lived together.
Seriously, none of the former republics The USSR did not have the slightest chance to save a couple of "nuclear bombs." Absolutely impossible option. Here and Moscow, and Washington, and London, and Paris were one. Absolutely not. Because. Even then, there were certain doubts about the bright future of these newer republics. By the way, these doubts were quite reasonable. And the thing is that, by inertia, both the residents of Ukraine and the inhabitants of Belarus felt that: "we are all children of a great power ...". However, it was completely wrong. And when the "moment of crisis truth" came, and it came both for Kiev and for Minsk almost simultaneously, it turned out that the times of "great power" had hopelessly passed for them. Both Kiev and Minsk almost simultaneously (Minsk a little later) were firmly and clearly indicated their role and their place in modern politics. The real role and the real place.
And there, and there came a shock. They did not wait for this, they did not prepare for this (here you are not from the USSR!). And it was then that they remembered the imperial nuclear weapons and even started talking about the development of rocket weapons. Compare: how different are systems, how different are politicians, how different is ideology and economy. And the result is one - plinth. And achieved almost simultaneously. Unwittingly you will believe in the omnipotence of the laws of celestial mechanics ... So, many Eastern Europeans ask: "And
why at all
do you need your outdated intolerant empire today with its missile carriers and killer satellites? "I answer:" And then, so that any leisure bankster could not bend us. " Soros and Gaddafi will confirm.
Still, the difference is big: live in the empire itself and "beyond the Lemes".