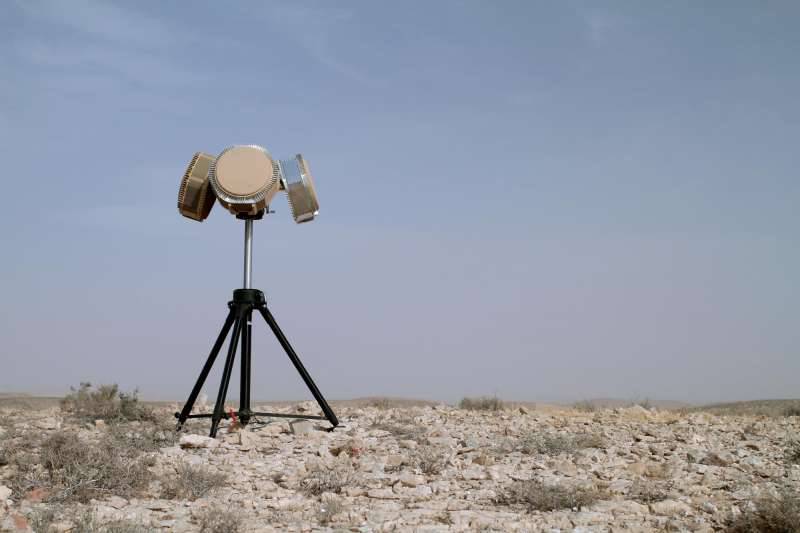 Radar RPS-40 company RADA is used to protect borders and objects, as well as to intercept missiles, artillery shells and mortar ammunition
With the intention to reduce the need for human resources, the military are closely looking at automatic sensors and weapon systems in order to reduce the traditional but burdensome guard and patrol duties.
Protection systems of stationary and advanced military facilities are slowly being improved, because the threats aimed at overcoming traditional measures of perimeter protection are becoming more diverse and effective. Such traditional measures usually include guard posts with people and various forms of passive measures aimed at stopping an invasion or attack. Such an approach endangers the lives of soldiers who may be under enemy fire.
There is a growing interest in advanced sensors and remote security systems, as defense organizations are increasingly aware of the vulnerability inherent in important military objectives in conflict areas. For example, objects of coalition forces in Afghanistan and Iraq were regularly bombarded with cannons, mortars and rockets, they became targets for improvised explosive devices and suicide attacks. In addition, traditional, but labor-intensive approaches, such as the placement of posts with people, become overwhelming for a number of countries, as the recruitment of combat units is becoming increasingly problematic.
As a result, the complexity and functionality of defense systems for military facilities is growing, as new types of sensors and remotely operated actuators are integrated into the existing security infrastructure as an addition to passive countermeasures.
Electronic eyes and ears
The Israeli company RADA Electronic Industries, in response to regular mortar and rocket attacks on both military and civilian objects, has developed a line of semiconductor programmable radars with an active phased antenna array with electronic scanning (AFAR) for the tasks of protecting facilities and combat units. The company offers compact hemispherical radar CHR (Compact Hemispheric Radar) for short-range detection and mobile applications, as well as multi-tasked hemispherical radar MHR (Multi-mission Hemispheric Radar) for the protection of perimeters and borders.
The RADA CHR family includes a tactical radar RPS-14 S-band for perimeter surveillance. It is able to detect, identify and track ground targets, such as vehicles and people, at distances up to 10 km and 4 km, respectively. Each panel of passive cooling with a mass of 13 kg closes in azimuth 120 ° and in elevation 90 °. In order to improve performance, energy efficiency and reliability, they applied gallium nitride technology. Full hemispherical position coverage can be achieved by synchronous operation of three or four RPS-14 radars.
The MHR line includes the RPS-40 radar with S-band AFAR, which is designed to detect, classify, track, and localize targets in direct and indirect visibility, such as anti-tank missiles, anti-tank missiles, and missiles and mortars attacking at a low angle of elevation . Each panel weighing 23 kg closes in azimuth 90 ° and angle of elevation 70 °; full coverage is provided by installing four RPS-40 panels, with direct and indirect fire can be detected at corners up to 40 ° and 70 °, respectively. The minimum target speed is 70 m / s, while the stated target speed range ranges from 600 m / s for direct fire and to 1000 m / s for indirect fire.
According to RADA, the RPS-40 radar has three modes to determine and track the trajectory: a hemispherical search with a maximum range of 5 km, a sector-wise search with a maximum range of 10 km and a horizontal search for targets leading to direct or near direct fire. The company also offers the RHS-40 system, which uses the same physical equipment as the RPS-40 system, but the radar is programmed to detect both ground and air targets; 20 km maximum range stated for vehicles and medium-sized ships, km 25 for helicopters, UAVs and light aircraft moving at a minimum speed of 5 nodes.
The radars of both the CHR and MHR families are capable of interfacing with the existing networks of automated control systems using standard Gigabit Ethernet channels or wireless connections.
"This is an intelligent system; it detects a threat immediately after start-up, issues an alarm and also calculates a firing position ... and now you can connect it to other systems, that is, with timely notification, you are much more likely to stay alive, in addition, now you can also stop this threat, "says Dubi Sella, business development manager at RADA. "You can respond with fire, you can send helicopters, and if you have advanced weapons, such as high-energy lasers, you can hit the target before it hits you."
"When you defend a base surrounded by enemies, then a sudden fire can be opened from different directions. We can change the modes of our radar or add another set of radars that can detect any fire from the close range directed towards the base, for example, mortar shells, guided and unguided rockets, ATGMs, and can give an alarm signal a few seconds after the start of shelling " .
RADA also upgraded and updated the MHR family of radars, which were first shown in Asia at the ADEX international exhibition held in Seoul in October 2015. Among the new products are the radar stations RPS-42, RPS-72 and RPS-82, which are also known by the designations pMHR (portable - portable), eMHR (enhanced - enhanced) and ieMHR (improved enhanced - improved). According to the company, the most advanced radar ieMHR is able to detect mines at a distance of 12 km, mini-UAVs at 20 km, a fighter at 50 km and a large military transport aircraft at 100 km.
Meanwhile, Controp Precision Technologies has released the 3D Guard, an unattended round-the-clock video surveillance system that is designed to protect military installations as well as critical infrastructure and national borders.
3D Guard consists of two fixed cameras with a fixed field of view - dual thermal imagers or dual day cameras. They are installed on a fixed base, in parallel, at a distance of one meter from each other, and "look" in one direction. Both cameras cover the 7.2x9.6 ° field of view. According to Controp, this configuration forms a "triangle" that forms a stereoscopic image of the threat, allowing you to accurately calculate the distance and direction of movement.
"These systems are extremely useful when you need to close large areas with open areas around an object," said Controp Vice President Johnny Carney. "The goal is to detect the intruders before they reach, for example, a fence, and pass through it or move through it."
Controp has developed the 3D Guard video surveillance system, which is less susceptible to false alarms. Below is the interface of this system.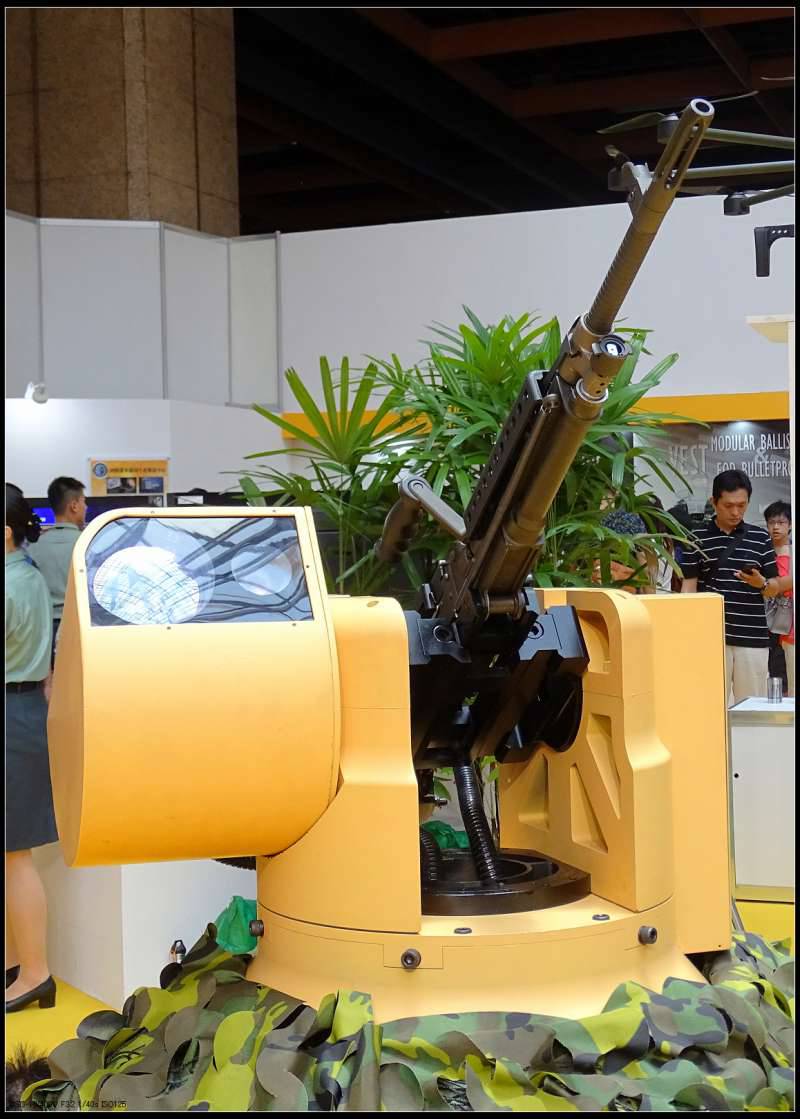 A new Taiwanese modular weapon system is being developed to meet the protection needs of stationary and mobile objects.
"Even if you have a closed camera system or sensors installed on the fence, you still need to send security officers to parse," he added. "By the time you get there, they are already inside, and therefore, I believe you will want to have an intruder detection system that has not yet come close to the fence."
The system also includes proprietary video analysis software, which, the company says, can automatically detect and track moving objects of interest with a low probability of false positives and a higher probability of detection than other surveillance systems available on the market.
Each 3D Guard system, which has a maximum range of 1000 meters, is designed for installation on stationary structures, such as poles and towers, but can also be used as part of a mobile security system. The system weighs less than 2,5 kg, can operate in the temperature range from -10 ° to + 55 ° C and with humidity up to 95% (non-condensable).
The 3D Guard system is fully automatic, one or more surveillance units automatically scan and accurately filter out potential threats from false targets and provide information about the location, size and direction of movement of the target to the operator at the central control panel. The process of recognizing targets and issuing alerts is carried out automatically; the operator receives a warning only when the system identifies a potential threat.
"The problem of operating existing automatic detection systems lies in the too high frequency of false positives, usually associated with such systems," explained Carney.
The 3D Guard system was developed in 2014 year in response to customer requirements. According to Karni, the company has already sold "several dozen systems" to an unnamed start-up customer in the Asia-Pacific region and began shipping them.
Tireless guards
In addition to advanced sensory systems, either autonomous or remotely controlled weapons systems of a new generation are being developed.
Taiwan has at least two well-known programs in this area and both were presented at the Taipei Aerospace & Defense Technology Exhibition (TADTE) in August 2015. The systems are designed to partially offset planned redundancies amid China's increasing projection of military power, which could impact the Taiwanese army's ability to recruit its island garrisons as the country shifts from conscription to a fully mercenary army, officials said.
The 202 th military plant of the Taiwan Ministry of Defense, for example, is developing a new, lightweight, compact, remotely controlled combat module (DUBM), which can accept either the 5,56-mm light machine gun T75 or the 7,62-mm universal machine gun T74. These local machine guns resemble machine guns from the Belgian company FN Herstal, respectively, 5,56-mm Minimi and 7,62-mm FN MAG. Standardly, the cartridge box is installed on the 100 cartridges in the combat module, although in the case of a stationary installation it can also be equipped with an internal loader mechanism that allows you to pull the tape directly from a magazine of any capacity.
With a small footprint and a mass of less than 100 kg in running order, this DBMS rotates by 360 ° and has elevation angles from -40 ° to + 40 °. The azimuth transfer rate is 60 ° / s. The system is equipped with an optoelectronic / infrared sensor kit, which consists of a high-resolution daytime camera and a thermal imager, which allows the operator to detect targets at ranges up to 1500 meters and use armaments at ranges up to 1200 meters.
When used as a remote security system, the Dubbedland Aviation Administration increases the fire power and the level of situational awareness of the troops stationed in the stationary fortifications, as well as reduces the need for human resources necessary for security. Depending on the requirements of the task and the platform, the prototype of the combat module is available in wired and wireless configurations.
"This OCDM will add fire power to troops stationed at military bases and island garrisons," said a spokesman for the Ministry of Defense, explaining that the OASB is in the early stages of development, as work began only in January 2015 of the year. "We expect to finalize the system and further, we will produce a prototype 4 before the module goes into production."
The Chung-Shan (CSIST) Taiwan State Science and Technology Institute, which is the main organization in the field of defense research, is also developing a remote-controlled multiple launch rocket system (MLRS) for anti-airborne operations, the main task of which is to combat armored vehicles and landing craft.
The Coastal Defense missile system of the Coastal Defense Rocket System is a stationary weapon system consisting of an 12 electromechanical launcher (each with seven missiles, i.e., 84 ready to launch), an optical electronic station and a touch screen fire control system .
A launcher with a mass of 1500 kg, capable of rotating in azimuth by 330 ° at a speed of 60 ° / s, has elevation angles from -10 ° to + 60 °. A spokesman for the institute said that the launcher can now launch a modified version of the Kestrel anti-tank missile with a cumulative warhead, which was originally developed by the institute for the Taiwanese Marine Corps.
Each rocket has a diameter of 46,5 mm and weighs 2,4 kg, and the maximum range is 1200 meters. The possibility of developing a missile with a fragmentation warhead is being considered, although this will of course depend on the requirements of the customer.
Taiwan Science and Technology Institute developed the coastal defense MLRS to combat amphibious threat. The system is a further development of automated installation with twin 20-mm automatic guns.
Autonomous work
When used as a separate system, the MLRS Coastal Defense Rocket System is controlled by a portable SLA, information on the objectives is provided by an optical-electronic station equipped with CCD cameras, a thermal imager and a laser range finder. The system is able to carry out autonomous observation, target designation and tracking of targets, although, if necessary, manual guidance is also possible using an aiming cross and a joystick.
Using the touch screen of the OMS, the operator in single-fire mode can choose which of the 84 rockets to launch. The operator can also give a start command at short intervals or a group salvo in order to hit several targets or fire across areas. To improve coverage and firepower, rocket launchers can be integrated into the existing defense system.
"The Coastal Defense Rocket System was designed to protect Taiwan's islands from landing a naval landing without placing large garrisons," a CSIST spokesman said, adding that the launcher was designed to meet the needs of the marines for increased firepower when fighting amphibious combat vehicles. He also said that the development of the system is complete and it is ready for production.
It is clear that this system is a further development of the stand-alone XTR-102 gun mount, which was shown in the 2013 year. This separate copy is armed with two X-NUMX-mm T-20 automatic cannons, which allows you to hit targets at a range of 75 meters with a maximum rate of fire of 2000 shots per minute. It is expected that in the future, the caliber of weapons will be increased in order to increase efficiency in the fight against combat vehicles.
Although the CSIST Institute declined to name the likely threats to Taiwanese territorial interests, the reality is that the country controls several strategically important islands, including Kinmen and Matsu and the small islands around them. To protect against potential attacks, military contingents and surveillance systems are deployed there. For example, the border islands of Dadan and Erdan are located just 4 km from the city of Xiamen in mainland China, and in the past there have often been exchanges of artillery fire.
And here we will move smoothly to a large neighbor on the other side of the Taiwan Strait, where similar developments also appear. China North Industries Corporation (NORINCO) has developed several automatic security systems. The company introduced its UAW ORW-1 as autonomous weapons for land and marine applications.
The OPW ORW-1 is armed with a Type-12,7 88-mm machine gun (QJC88), has an optical-electronic station; The system is stabilized to improve accuracy at maximum range to 1500 meters. UAB ORW-1 also has a high level of automation, featuring a completely self-contained "watch" mode, which allows automatic tracking and capturing of targets. Intelligent energy management protocols allow you to work for a long time without danger of overheating.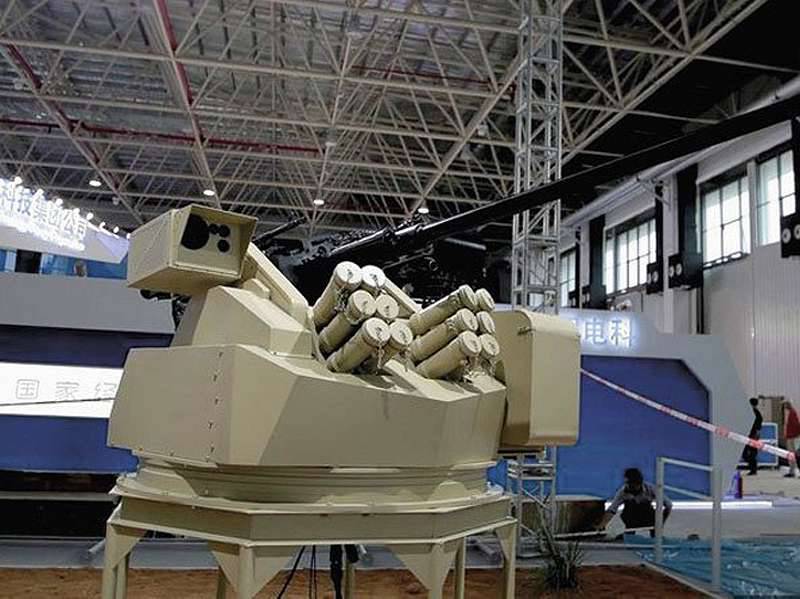 The Chinese company NORINCO developed the UW4 UAB to protect the border and perimeter. He is armed with a 30-mm cannon and smoke grenades
NORINCO also introduced the UW4 UAB equipped with a 30-mm cannon with selective power, an optical-electronic sensor system, 12 smoke grenade launchers in the 2x6 configuration. It can work as an unattended armament platform with integrated tracking and guidance functions, although a non-penetrating platform also allows the module to be installed on most of the mid-weight machines.
"We have developed these systems to conduct continuous monitoring and improve the security of military facilities and other important infrastructure near our borders," a NORINCO representative said. "We pay special attention to sealing and compaction, protection from precipitation, etc., which allows our installations to withstand the harsh natural conditions prevailing in the places of their installation."
Similarly, at the request of the Israeli army, Rafael Advanced Defense Systems developed the stationary long-range DUBM Sentry Tech, a tower defense system that includes several Samsun Mini SDMAs of the same company installed on fixed or mobile towers and integrated with various sensor systems. Sentry Tech has a retractable armored roof for protection from the weather, although it is also designed to ensure safe operation when maintaining and replenishing ammunition.
Each combat module, armed with either an 7,62-mm universal machine gun or an 12,7-mm machine gun with integrated remote cocking and indication of the last cartridge, rotates 360 ° and has elevation angles from -20 ° to 60 °. The integrated optoelectronic system consists of a daytime color CCD camera with narrow and wide fields of view 2,9 ° and 33,4 °. This allows daytime detection of targets at a maximum range of 2500 meters in a narrow field of view, while an uncooled thermal imager with fields of view 4x3 ° and 12x9 ° allows the operator to distinguish targets at ranges up to 2000 and 5000 meters, respectively.
"The advantage of the system is that it allows one operator to control six combat modules from a protected position or command center located a few kilometers away from them," Izhar Sahar, head of the Directorate for Ground Systems at Rafael, said. "This eliminates the need to deploy troops on the perimeter of patrols, and if you need to respond to the invasion, you simply open high-precision fire on the target, rather than sending soldiers to a dangerous place."
The Sentry Tech system can be integrated into a wider network of operational control in order to use the capabilities of radar or cameras, as well as air sensors to guide its sensor set, which allows you to automatically transfer the module to the target for further decision making by the operator.
"Today we use fiber optic cables to control these weapons systems, but the idea for the future lies on the surface. This is a wireless control, says Sugar. "We are also in the process of gradually commissioning next-generation weapons modules, which have increased accuracy, the ability to transfer to the target, and moreover, we now have more types of weapons than we had just a few years ago."
"Another interesting topic is to put stationary (at present) combat modules on posts that could move from one point to another," continued Sugar. "Perhaps this could take the form of container modules in which the functions of the combat module and command post are combined or separated. And then we can use these elements at the advanced bases where they can be quickly installed ... these systems, of course, will have a wireless connection, unlike the optical fiber that we use today. "
In search of increasing the level of protection of its military on the forward operational bases, the American army has been experimenting with several complex systems of defense for the last five years.
In 2011, the army announced the existence of a COSFPS (Combat Outpost Surveillance and Force Protection System) surveillance and protection program for the military security system, also having the informal name "Kraken". The system includes a radar, surveillance cameras, automatic sensors, shot detection devices and DUBM.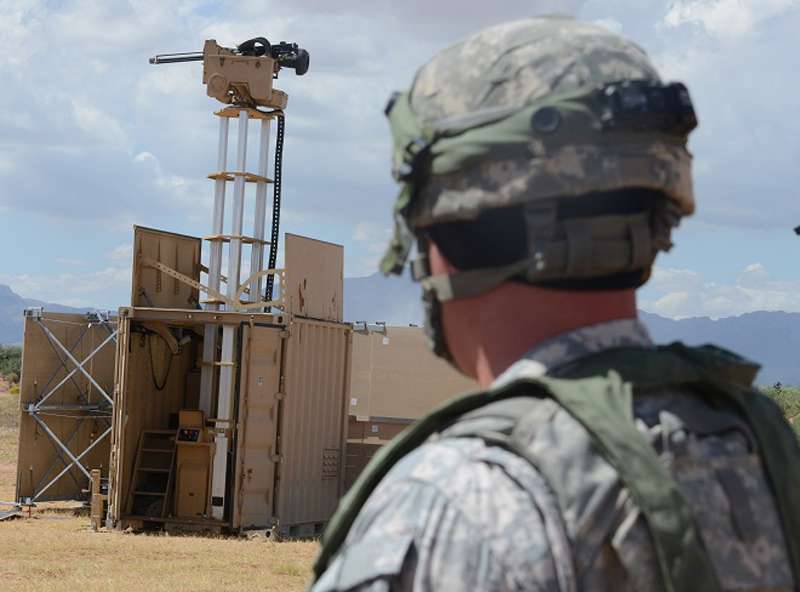 The US Army evaluates several base security systems, including the Tower Hawk remote weapon system.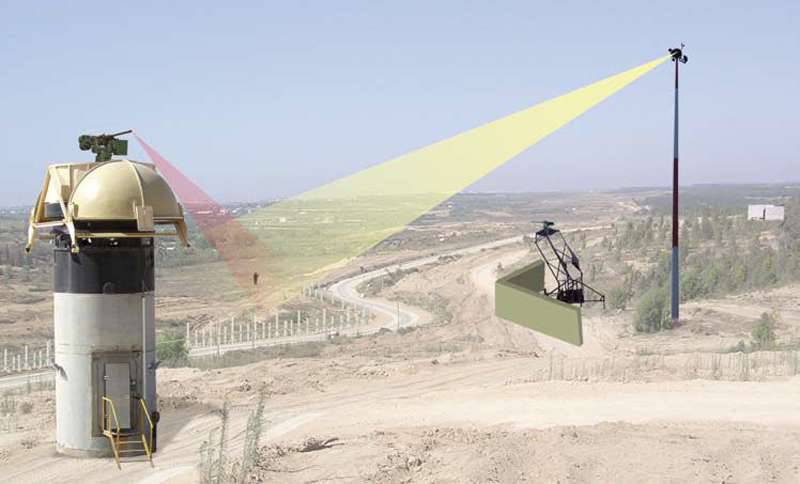 Rafael's Sentry Tech systems were acquired by the Israeli army to guard its southern border. The company also offers it to protect various objects.
COSFPS includes the Ground Master X-band ground-based radar (NOR) of IAI Elta, Ka-band STS-1400 infrared Ka-ray, AN / PRS-9 AN-intrusion detection system L-3 Communications and five ShotSpotter shot detection and localization devices. In addition, the system has a set of 11 day and thermal imaging cameras, which provide a circular coverage of 360 ° in direct line of sight.
According to the information available, data from these cameras and sensors are combined using scalable software based on the Joint Force Protection Advanced Security System open architecture, which also features intelligent target identification algorithms, such as people or vehicles, based on the merging of seismic and acoustic data.
As an additional system of protection of military bases in the system there is a pair of stabilized, mounted on tripods of Precision Remotes Trap T360 company, which are armed with 7,62-mm machine guns M240. Each module is capable of being transferred to a target when receiving data from an integrated sensor set. According to the US Army, it deployed its first COSFPS system based on Pashmul South, in Kandahar Province, at the start of 2013.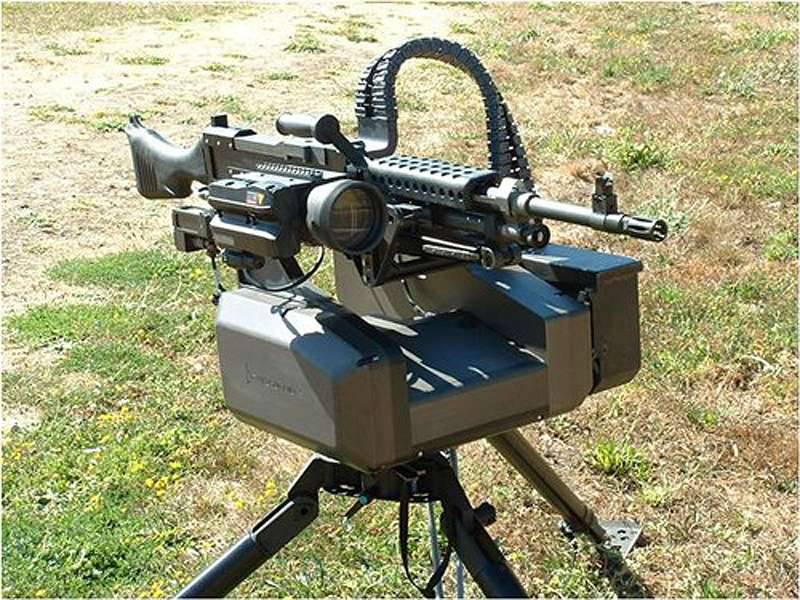 Precision Remotes DUBM Trap T360
Among the latest developments in this area, which leads the American army, can be called the remotely controlled weapon system Tower Hawk, which was tested during the evaluation of network integration Network Integration Evaluation 16.1 in Fort Bliss in October 2015 of the year.
For each telescopic tower, located in a separate container, various weapons can be installed. During the NIE 16.1 evaluation, a Browning M12,7 2 heavy machine gun and a Lapua Magnum .338 sniper rifle were installed. According to an army spokesman, Tower Hawk can be assembled by six soldiers with minimal instruction in one hour.
During operation, the system is monitored by two military personnel from the tactical operations center; Each tower can replace up to six soldiers in perimeter patrol missions.
Comment
Despite the high levels of automation and high accuracy provided by sensors and remotely controlled combat modules, it is unlikely that in the foreseeable future, truly autonomous security systems will be ready for wide distribution. Representatives of the defense complex say that until "iron" (sensors and armament) and the corresponding software algorithms reach the required level of technological maturity, complete autonomy is currently limited to the rules of engagement, which, as a rule, provide for a positive and indisputable identification of the target , as well as making a final decision before the lethal effect is applied.
It is also unlikely that the armed forces will completely replace such traditional means of providing security, such as guard posts or patrols equipped with people, with these systems, taking into account the importance attached by the majority of the military to the human mind. Most likely, in the foreseeable future, the prevailing method of ensuring the security of military facilities will remain hybrid structures, combining both manned and autonomous remote facilities.
Materials used:
www.rada.com
www.controp.com
www.tadte.com.tw
www.norinco.com
www.rafael.co.il
www.ustower.com
www.wikipedia.org
en.wikipedia.org