US Senator John McCain, who chairs the weapons committee, severely criticized both the newest American Fighter-bomber of the 5 generation F-35 and the work related to the creation of this military aircraft. According to McCain, recently he sees only the advertisement of the aircraft against the background of the constant statements of developers and the military that certain constructive defects are being identified. McCain states that all this pushes potential buyers away and creates obvious problems for putting the F-35 into service with the US Air Force in the proper quantity.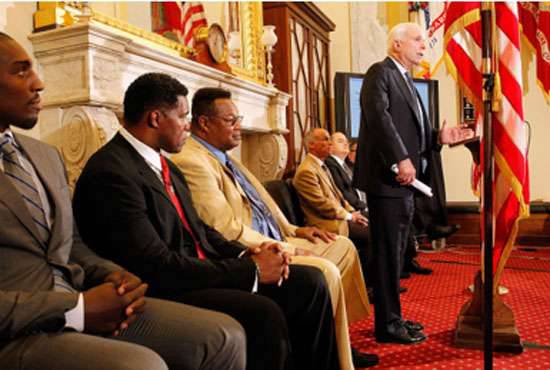 McCain walked through and at the gigantic cost of the entire F-35 creation program.
RIA News
Give a fragment of McCain's statement:
The performance of the F-35 program is both a scandal and a tragedy in terms of cost, timing and quality of work. The development of the F-35 has already stretched for more than 15 years. The cost has more than doubled from initial estimates.
McCain recalled that the US plans were to build more than 1 thousand such aircraft by the year 2016.
McCain:
Where are these thousand planes? In reports - only 179. This can not affect our combat capability.
The senator recalled that the program is designed for up to 2040 year. And according to McCain, around 1000 F-35 with the current pace of work and the number of flaws will indeed be delivered to the USAF, but not to 2016, but 2040.
John McCain:
But only in 2040 will these planes become hopelessly outdated.
McCain on the flaws in the fifth generation aircraft:
There are problems with maintenance, test software, instability of the radar. Deficiencies in the sensors, fuel system, structural damage during testing, deficiencies in engine reliability, limitations in the crew rescue system, which caused restrictions on the weight of the pilots, and possible vulnerability to cyber attacks.
It must be recalled that in the Pentagon's program, the purchase of 2,5 from thousands of F-35 planes is listed. The total amount spent on this program is a whopping 0,4 trillion dollars.