With the onset of spring, near the Bulgarian-Turkish border, groups of young men of Arab and African descent again flashed. The Bulgarian authorities make a theatrical gesture. "Talking heads" express concern from televisions. Meanwhile, four-wheel ATVs (all-terrain vehicle) thunder in the mountains and forests near the border. And the landscape moves strangely, even if there is no wind. This people are running in camouflage. Emigrants are also running. They are dressed in casual clothes and run in flocks. And behind them, people in camouflage are running along a chain.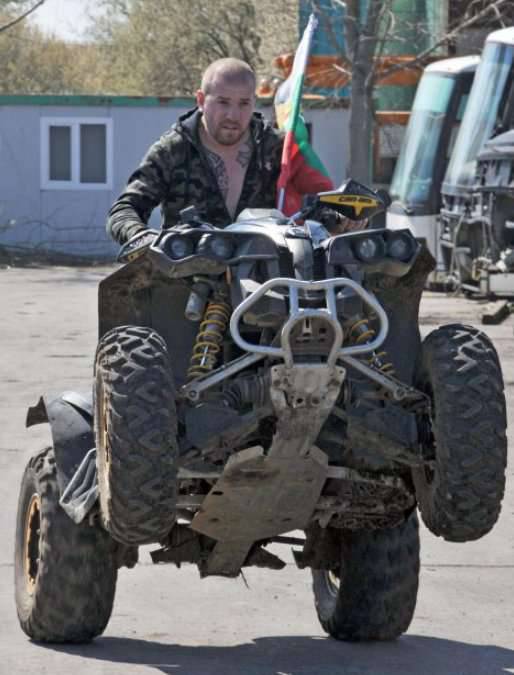 This is how a typical Bulgarian volunteer goes on the "hunt". Imagine a meeting with a group of volunteers in a forest where "the law is taiga and the prosecutor is a bear"
These people are not soldiers, policemen or other officers of the Bulgarian state. These are ordinary Bulgarian guys who call themselves "volunteers". They absolutely do not want to see people from the Middle East and Africa in Bulgaria. Volunteers patrol the Bulgarian-Turkish border to prevent the illegal transfer of immigrants. This is not always possible for volunteers. In any case, much more often than the official representatives of the Bulgarian authorities - border and ordinary policemen and soldiers.
If volunteers notice a group of immigrants, the latter will have virtually no chance of escaping capture. Emigrants cross the border tired and scared, they do not know the terrain. Rarely who has shoes and clothes are suitable not only for running, but even for going through mountains and forests. In addition, expatriates come with their belongings: a blanket, a bottle of water, some food, a set of clothes. Volunteers go "on the hunt" well-fed and well-rested. They run light, in a comfortable, often professional uniform. And they have binoculars, radios, mobile phones, GPS navigators, jeeps and ATVs.
To be fair, we must admit that practically every group of immigrants also has some kind of electronic device with built-in GPS: a smartphone, a tablet or a navigator. But the forces are too unequal. Usually, volunteers are the first to see migrants and secretly surround them. Emigrants notice people in camouflage too late when they have nowhere to run.
Even if the emigrants notice volunteers in time, there is only one chance for salvation: at the same time, rush off in different directions and hope that the hunters will not have time to catch everyone and someone will come off. But psychologically it is very difficult to separate from the group at the moment of danger. Especially, if a person is in a foreign land, and from childhood he was used to living in a large family, tribe or clan.
The fate of emigrants after being caught depends on whether there are representatives of the official Bulgarian authorities nearby or not. If at least one policeman or soldier approaches the surrounded emigrants, even if it is a cook or a car mechanic, volunteers have nothing more to catch. They are forced to get their personal documents and declare to the representative of the government that they have made a civil arrest of a group of people suspected of illegally crossing the border of the Republic of Bulgaria.
Further, the representative of the authorities appeals to the detainees with a request to get their documents. The emigrants do not carry documents in principle, and a representative of the authorities takes them to the state center for refugees. There they are fed, clothed and kept very well. In any case, it is much better than Bulgarian pensioners who have given forty or more years to honest labor for the benefit of the Bulgarian state.
But when immigrants are caught by volunteers, this rarely happens. Volunteers do not hunt under the noses of soldiers and policemen. Yes, and soldiers and police also do not like immigrants and believe that there is no point in keeping them from the meager budget of the Bulgarian state. So let the volunteers manage the emigrants as best they can. And people in camouflage can do it!
First of all, volunteers shackle the hands of immigrants caught with plastic collars — handcuffs, which in Bulgaria are called "pig tails". Then they "collect" from emigrants in accordance with the Christian prescription: "If you have two shirts, give one to your neighbor." They take away everything except for a shirt, pants, shoes and socks. Volunteers take away all the money and all the things they like. Useless things for volunteers like blankets, plastic bottles for water, clothes and other things are destroyed on the spot.
Last year, volunteers deliberately carried small containers with diesel fuel to fill up and burn the trash of refugees. But journalists got the hang of reading smoke signals in the border strip as well as Indians in the prairies of North America. Therefore, there are no more arsons and smoke. Only hard work with a knife, an infantry shovel and a pick. Whoever does not believe that it is difficult, let him cut at least one blanket with such a spatula into pieces.
While the "peace-loving" participants in the volunteer group are working hard, the "war-loving" participants make the мигmigrants 'immigrants that they are not welcome here, and you should not return here. "Suggestion" is done in English. Not all expatriates know English. And for those who know, it is not at all easy to make out what exactly furious people in camouflage are saying. They catch illegal immigrants well, but foreign languages ​​are not their strongest side. Nevertheless, everyone understands the meaning of what has been said. It comes through intonation and gestures. And sometimes through kicks and slaps, especially in those cases if someone imagines what is in front of the official Bulgarian authorities, and will begin to "swing right".
Then, bound emigrants are escorted to the boundary groove. There, volunteers cut the pig tails with nippers and kick out the emigrants back to Turkey. At the same time they are sworn to promise that if they get caught again, they will end up on the spot.
The emigrants believe these threats because they are removed during the "suggestion". Of course, no one asks their consent to the shooting. Volunteers post photos and videos online. This is the propaganda cover of the group in case the authorities decide to arrest one of its members. All the Bulgarian people hate emigrants and are ready at any moment to rise to the defense of volunteers.
European bureaucrats officially recognized the existence of the emigrant crisis only in 2015. In fact, the exodus of refugees to Europe, including through the territory of Bulgaria, began as early as 2011, with the launch of the "Arab Spring". The Bulgarians had a whole four years to look, evaluate and understand who came to their land under the guise of persecuted, unfortunate and disadvantaged people.
The conclusion was unequivocal and disappointing. 90% of refugees are young men (under the age of 25 years, rarely for 30). Even less often women and children come across (no more than 10% of all those who arrived, although the ratio varies by year).
Emigrants do not want to work, do not want to merge (it's customary to say now - to integrate) into European society. For weeks and months they wander the streets and squares. They smoke, breed their "tary-bars" and look impudently at white women. But require 1000 and more euros of social assistance every month. This is especially infuriating the population of Bulgaria, where the minimum wage is slightly more than 200 euros per 22 working day in 8 hours, and the minimum pension is lower than 100 euros.
Bulgarians began to perceive refugees as parasites and even parasites. And at the end of 2015, the first groups appeared in Bulgaria, "hunting" for migrants.
The origin of these groups is very interesting. About this cost to tell separately. With the end of the era of socialism in Bulgaria, in 1989, the gangster "lawlessness" began in the country, which has no end to this day. In the era of socialism in Bulgaria, there were 10000 policemen per 9 million population, and there was order in the country. Now in the country over 50000 policemen 6 million population (2 million "did not fit into the market" and died of democracy and other liberal reasons, 1 million more was expelled from the country by economic genocide), but still there is no order and is not expected . The so-called judicial system of Bulgaria is very far from any legal, moral and human norms.
Survival in such an environment is possible only in two ways. If you have money, you can pay private security guards, and in case of need - and the judges, in order to achieve the desired result by the "official" way. If there is no money, it is necessary to unite with the same have-nots, but people who do not tolerate injustice, and in the case of injustice in relation to someone from the group to defend justice themselves.
So in Bulgaria there were tens of thousands of civil groups consisting of 5-15 people and formed mainly according to the territorial principle and community of classes, interests, level of education, etc. If they manage to catch the thief or the offender, they will deal with him cruelly. They can tie him to an electric pole and severely beat him with a cable. Or break his arms, legs, ribs. Or even strangle the offender. Or drown.
After such retaliation, the state intervenes. It is unable to protect normal citizens from criminals, but it very zealously persecutes citizens when they arrange retribution at their discretion. It is clear that normal citizens do not need such a state, they hate it. For the past few years, only mentally and sexually abnormal people have participated in public events and events of the Bulgarian state. Such people like the European Union very much, and he tinkers with them like a fool with a written bag.
Volunteer groups to catch illegal immigrants - it's flowers, berries in front. The Bulgarian government knows that the people hate it, and know its strength. She herself made him strong, leaving him to survive in very difficult conditions. The people survived because they had no other choice, and now the wolf looks at the neoliberal and pseudo-democratic power hostile to him. Soon the patience of the Bulgarian people will end, and this will come back to power in such a way that not only Sofia, but also Brussels itself will not find it.
After all, the Bulgarian people have already organized themselves and openly apply violence in defiance of the power hostile to them. Only for the time being this violence is limited to the border strip and manifests itself in relation to a certain group of persons. But from
stories
and sociology is aware that any social phenomenon has tendencies and potential for strengthening and development.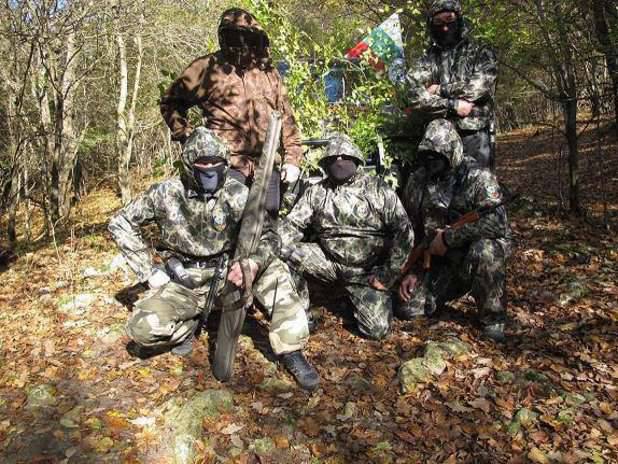 Here, window dressing is less, but there is more danger for emigrants. These guys really "nullify" the "bearded men" they like and therefore hide their weapon and faces. Notice how well the jeep is disguised in the background. Banner set in the opening of the left door. The group consists of four hunters (in camouflage) and a driver (in a brown jacket). Such a well-coordinated, well-armed and maneuverable group can give a light not only to a flock of wild Taliban, but even to a division of power structures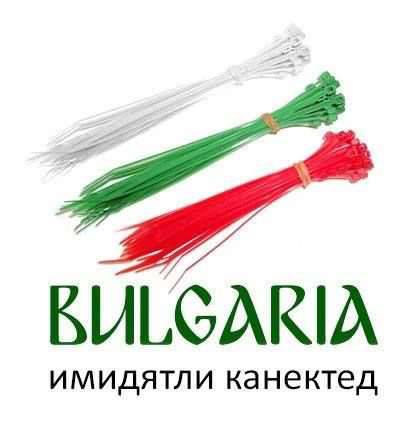 Tourist "logo" of Bulgaria for expats. Three bunches of "pig tails" in the colors of the Bulgarian flag and the phrase "immediately connected" are clumsily written in Bulgarian letters
Voice of the volunteer off-screen:
- Go back to Turkey, immediately! ("Go back to Turkey immediately!")Translation of the dialogue from the second minute of recording, 02: 00, from Bulgarian):
- I told them to lie face down in the ground, otherwise I would kill one of them.
- And it worked?
- Yes, it worked ... If you knew that you were going to die, wouldn't you have fallen down?