In the Barents Sea, the final stage of the anti-submarine exercises of the North
fleet
RF with the participation of a large anti-submarine ship "Vice-Admiral Kulakov." The anti-submarine is also involved in the exercise.
aviation
. In particular, it is about Ka-27 helicopters, as well as IL-38 and Tu-142 airplanes.
Press Service of the Northern Fleet of the Russian Federation
reports that within a few days the crew of the BOD "Vice-Admiral Kulakov" was involved in working out various elements of the implementation of anti-submarine missions of a combat training course. Among the tasks is the organization of the search for a submarine of a conditional enemy and tracking of it both as a single ship and as part of a group (including submarines of the Northern Fleet).
During the exercise, various types of anti-submarine weapons were used, including torpedoes and depth charges.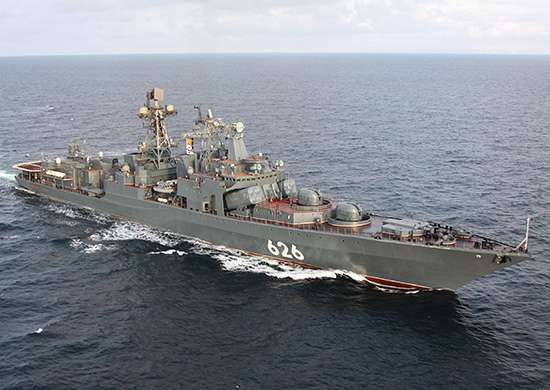 For your information:
Large anti-submarine ship "Vice Admiral Kulakov" was built on the project 1155. Commissioned in 1981 year. In 2010, it was put into service after a massive modernization. It is armed with anti-submarine missile systems, jet bombs, torpedo tubes and other types of artillery and missile weapons.
Less than a month ago, the BOD Vice Admiral Kulakov returned to Severomorsk after a semi-annual long hike (the Atlantic Ocean, the Mediterranean, the Red and the Arabian Sea).