The Syrian government army transferred several Russian-made BTR-82A to Aleppo. Information Agency
FARSNews
(Iran) reports that the mechanized units of the SAR army were redeployed from the province of Latakia.
The BTR-82А has a mass of 15,4 tons. Engine power - 300 hp Maximum speed on the highway - 100 km / h. Cruising (fuel) - 600 km on the highway.
Armament BTR-82A - 30-mm automatic gun 2А72 (b / c 300 shots in two tapes), 7,62-mm machine gun PKTM (b / c 2000 cartridges in one tape)
night sight TKN-4GA-02.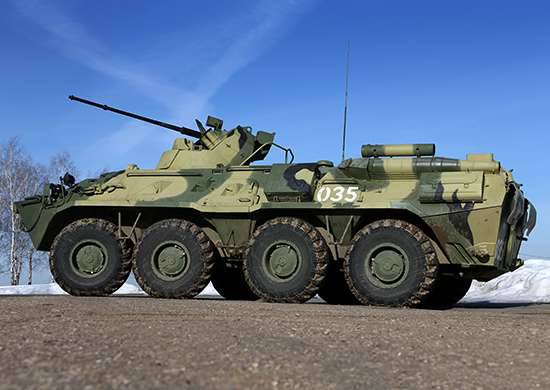 Photo of the BTR-82A at ​​one of the ranges of the Russian Federation
For the first time the information that Russia transferred the BTR-82А to Syria appeared last fall. In addition to these armored personnel carriers, other units of equipment and weapons also entered Syria. We are talking about grenade launchers, military vehicles "Ural", the party of small
weapons
and ammunition to it.
Meanwhile, militant groups continue to attack the positions of Syrian government forces in Aleppo. At the same time, civilians are often the victims of militant strikes. So, on the eve of the militants "Dzhebhat al-Nusra" fired unguided rockets quarters, subordinated to government forces. As a result of this attack, at least 6 people died. Among the dead are several children.
The most aggressive attacks are in the Christian quarter of Aleppo. It's about Sulaimania. Only last week here killed and injured more than 50 civilians. In addition to unguided rockets, gunmen use mortars during shelling. Several mines exploded on the eve in the Ashrafiyah quarter, which is controlled by the SAR government army.