Currently, smooth-bore semi-automatic shotguns with the design of assault rifles are in great demand all over the world, especially in countries where there are strict restrictions on rifled long-barreled
weapon
. Today, smooth-bore semi-automatic machines are used for hunting, self-defense, and sports shooting, they are also widely used by representatives of the security forces. Since John Moses Browning has created his shop-type smooth-bore guns, more than a hundred years have passed, but during all this time this weapon has never lost its relevance.
They are also developing similar semi-automatic rifles in Turkey, where the Hunt Group International Arms & Security company is engaged in the production of clones of the famous American AR-15 / M16 rifles, we are talking about smoothbore self-loading rifles of the Destroyer series (English destroyer). Hunt Group International Arms & Security was founded in 1992, becoming an international exporter and well-known firm by 2008. Today, Hunt Group is one of the largest manufacturers of small arms in Turkey. The range of small arms of this company includes mainly smoothbore guns of various types (pump-action, semi-automatic, single-barreled and double-barreled guns), as well as air rifles.
One of the flagships of the company's product line is Destoyer VM-15, an impressive semi-automatic semiautomatic device, or even a whole series of rifles based on this model (it's all 10 models from VM-15 to VM-24). These guns are presented in the 12 caliber, while the barrel length is 47 cm or 51 cm (18,5 and 20 inches, respectively) with different types of chokes. In a smooth-bore firearm, choke is a choke or socket, which is necessary to reduce or increase the dispersion of a shot when shooting.

VM-15 Destroyer
The most common calibers of smooth-bore guns for amateur hunting are 16 and 12 calibers. Guns of this caliber have a very good destructive power and long range. In addition, for them it is very easy to find ammunition for various purposes. Smooth-bore guns are versatile, allowing, by combining ammunition, to hunt all kinds of game at all acceptable shooting distances. In addition, the 12 caliber is called the most "indulgent" to the novice because of the massiveness of the used battle charge. Smaller calibers of smooth-bore weapons often require much more developed rifle skills, even professional ones.
In this regard, the choice of Turkish gunsmiths is quite traditional, as is the operation of the image of the American automatic rifle M16, which still remains the main armament of US infantry. From a marketing point of view, this is always bearing fruit. This weapon still remains one of the most widespread in the world (more than 8 million copies were made), and its recognition is not inferior to the Kalashnikov assault rifle. The Russian-made Saiga self-loading hunting carbines, created on the basis of AK, are also always popular on the market, in some cases solely because of the resemblance to the famous machine gun.
The receiver of the Destoyer Turkish smooth-bore shotguns is made of T7075 aluminum, the forend of the weapon can also be aluminum or polymer. These semi-automatic rifles are fed from detachable box magazines of different capacities: 2, 5 or 10 rounds. The VM-15 model first appeared in the Hunt Group International Arms & Security catalog in 2015 under the name Queen VM-15. But already in 2016, the line of these smoothbore guns received a more appropriate name for a weapon Destroyer.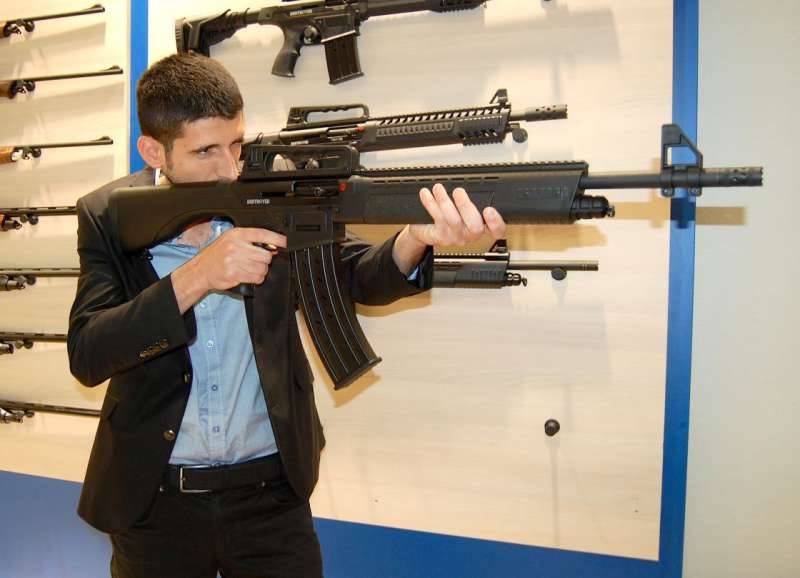 Destroyer VM-16, photo: all4shooters.com (Ilya Shaidurov)
All models of guns series Destroyer differ from each other slightly, mainly the device box, as well as sighting devices. For example, the VM-15 basic rifle has a "military" type butt and aluminum forend, the VM-16 model is characterized by a completely plastic lodge, a VM-17 polymer forend and a telescopic butt, VM-18 is a variant of the VM-15 with a special sight VM-19 has a "military" butt and plastic handguard, VM-20 - detachable butt and handguard, made of aluminum. The Destroyer VM-21, VM-22, VM-23 and VM-24 smooth-bore gun models are the same VM-17 model, but in different colors. Instead of the traditional black plastic parts, the fore and a butt of other colors are installed on them: white, army green, forest green and sand color respectively, according to a specialized resource all4shooters.com.
In general, as noted above, the Destroyer family of smooth-bore rifles is a typical representative of one of the new trends in the development of small arms, which appeared in the 1990-e years. This trend is to develop a smooth-bore self-loading rifles with a design that repeats military samples of small arms, in this case the American automatic rifle AR-15 / M16. Such guns are especially popular outside of Europe. First of all, they are popular in the United States itself, where there is a real cult of M16, as well as in a number of countries in Southeast Asia and South Africa, which the Turkish arms manufacturer is using today.
Particularly vividly, the release of AR-shaped clones of small arms has flourished in recent years in Turkey. Experts find this two main explanations: firstly, because of the legislation in force in Turkey (it is very difficult to obtain a license for the release of rifled weapons in the country and relatively easy to issue smooth-bore weapons), and secondly, because of the cheaper labor here and, as a result, lower costs for the production of weapons. Along with this, from the common variety of Turkish smooth-bore rifles made in the popular military style today, which include ALPHARMS, Derya Arms, Kral Arms, MKA 1919 or UZKON models, the Destroyer VM-15 semi-automatic guns from Hunt Group they are distinguished by the special charisma of their design, attracting the attention of the viewer at first sight.

VM-24 Destroyer
The impressive and, one might even say, menacing appearance of this firearm is perfectly suited to its main purpose - civil self-defense, use in the police, the security service and in various security structures. On the other hand, the current generation of hunters of the 21st century is no longer so conservative in the choice of weapons, many of them, especially the younger representatives, have a pronounced weakness in military-style weapons. Such weapons are also widely used for practical sport shooting (IPSC Open class), which is gaining popularity all over the world.
Information sources:
https://www.all4shooters.com/ru/strelba/ruzhya/Hunt-Group-Destroyer-gladkostvolnoye-ruzhye
http://national-travel.ru/aktivnyi-otdyh/ohota/gladkostvolnye-ohotnichi-ruzhya.html
http://www.huntgrouparms.com
Open source materials