Riga Mayor Nil Ushakov responded to the statements of the head of the special commission, Ruta Pazdere, that during the "occupation of Latvia by the Soviet Union" the republic suffered "damage in the amount of 185 billion euros". The Riga mayor has published a caricature of the statements of Ruta Pazdere. Caricature presented on page.
Nila Ushakova
in a social network.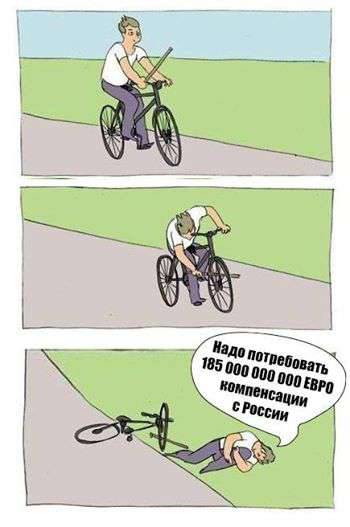 As soon as the caricature ridiculing the claim of damage to Latvia by the Soviet Union appeared on Facebook, the mentioned Ruta Pazder threatened Nil Ushakov with a 5-year term. She announced this on TV24.
Nil Ushakov commented on this statement:
Up to 5 years in prison for such a caricature. It is this punishment that threatens me, in an interview with TV24, the wonderful lady Ruta Pazdere, who is responsible for calculating compensation from the occupation.
Well, in Latvia it is so accepted - right-wing politicians are accustomed to attribute all the problems of the past 25 years "to hard
historical
heritage".
Nil Ushakov writes that, according to the same logic, the Latvian authorities must constantly publicly demand compensation from Russia in order to "nullify the sins committed (by the Latvian authorities themselves)."
Nil Ushakov:
Sins have been nullified - and you can work further ...
In addition, the mayor of Riga adds that it is interesting for him to observe how people studying repression today are no different in their thinking from those whose regime (Soviet) they consider criminal.