The UN Security Council condemned the test of a ballistic missile launched from a submarine in DPRK 23 on April.
Look
TASS message.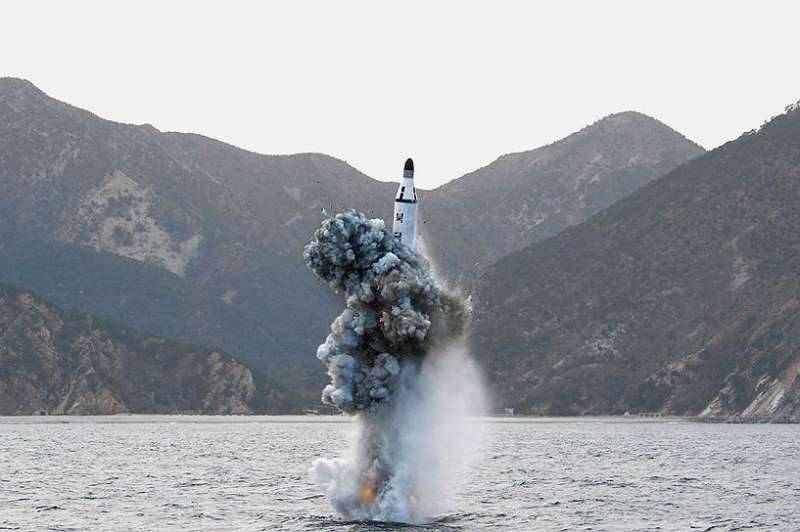 On Saturday, Pyongyang about the next "grand success" of the military - the launch of a ballistic missile from a submarine. "Now the Navy (North Korea) can be given over the heads of puppet South Korean forces and American imperialists any time they want," said Kim Jong-un after a test launch.
Here is how the CTAC test (the DPRK news agency) describes:
"At the observation post (Kim Jong Un), the test plan was told, and he personally gave the order to start the test. As soon as the order was given, the submarine sank to the greatest depth, allowing the launch of ballistic missiles, and made a volley. The test was conducted to confirm the stability of the underwater ballistic missile launch system with a maximum depth. "
The UN demanded that Pyongyang stop such activities. They recalled that "the development and testing of the DPRK of new ballistic missile technologies, even if launches fail, is strictly forbidden by five resolutions adopted from 2006 to 2016 a year."
The Security Council statement also expressed concern that such tests "contribute to the development of DPRK nuclear
weapons
and also lead to increased tensions in the region and beyond. "
The UN Security Council demanded that the DPRK leadership "refrain from further actions that violate the resolutions, and also fully comply with their obligations under these documents."
The document emphasizes that the members of the Security Council "will continue to closely monitor the situation," and, if necessary, "will take further significant measures in accordance with the previously expressed determination."
The UN reaffirmed the "importance of maintaining peace and stability on the Korean Peninsula and in the region of Northeast Asia," and also declared "a commitment to resolving the crisis through dialogue."