Russian paratroopers together with their colleagues in the Collective Rapid Reaction Forces (CRRF) of the CSTO are completing the Arctic exercises today. From the Armed Forces of the Russian Federation, servicemen of units and formations of the Airborne Forces deployed in Novorossiysk and Ivanovo are involved in the exercises. According to the plan, the paratroopers landed on the ice floe in the Arctic. There was also landed equipment.
After the landing, a march was made on skis, snowshoes and snowmobiles to the point of the geographical North Pole. Used and dog teams.
Of
messages
Management of the press service and information of the Ministry of Defense of Russia:
The paratroopers who took part in the Arctic campaign learned to overcome natural obstacles (polynyas, hummocks, snow-covered fields, cracks), mastered the necessary skills in building an ice camp, using snowmobiles, dog sledding and assisting victims in adverse weather conditions at abnormally low temperatures.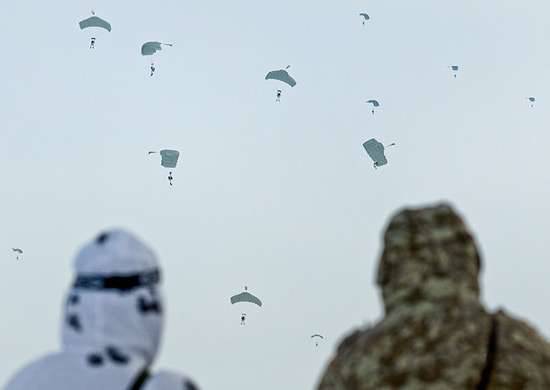 The general leadership of the educational search and rescue expedition was carried out by the Deputy Commander of the Airborne Forces for airborne training, Major General Vladimir Kochetkov.
The arctic campaign of the servicemen of the CSTO and the Airborne Forces- For the landing, military transport aircraft of the VKS RF were involved.
A temporary camp formed around the North Pole, as well as a mobile experimental site for practicing survival skills in extreme temperatures, is being curtailed. Today, measures are being taken to load and transport the special equipment involved in the exercises.