Over the past day, the truce regime in Syria was broken 13 times, from the opposition forces, fire on settlements and positions of government troops opened in 5 provinces: Damascus, Homs, Lattakia, Aleppo and Hama, the Russian Center for Reconciliation said in a bulletin the site
Ministry of Defence
.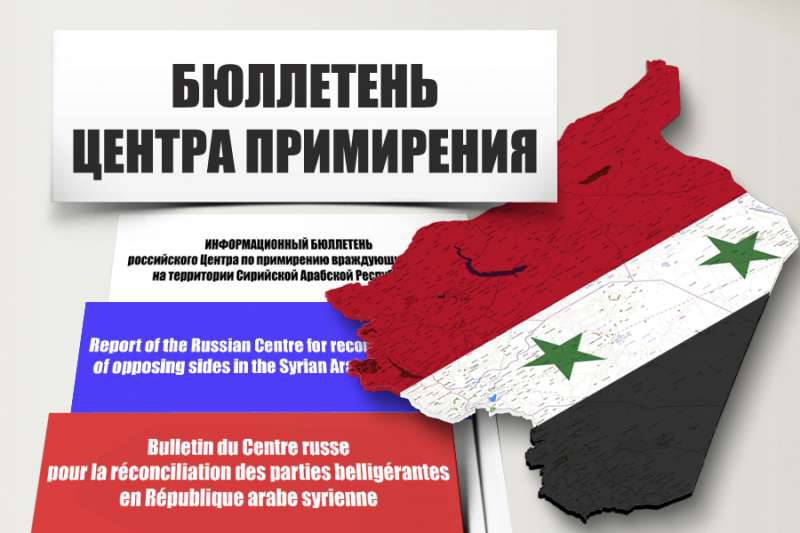 The Syrian Free Army, Ahrar al-Sham and Jaish al-Islam groups are involved in the violation of the cease-fire regime.
The Russian military continues to provide humanitarian assistance to residents of the SAR. In particular: "4,5 tons of humanitarian aid have been transferred to the settlements of Ruheiba in the province of Damascus and Abtin in the province of Aleppo. Medical workers of the Russian Reconciliation Center provided 22 medical assistance to local residents. "
In addition, "repair teams of Syrian builders in the city of El Qariatain, Homs province, have cleared the rubble of 12 meters of streets and restored 200 meters of power lines; sappers cleared 150 road meters and deactivated 10 mines. "
"According to information received by the Russian Center for Reconciliation from local residents, the terrorist group Jabhat al-Nusra continues to concentrate its forces north-west of Aleppo and in the north-eastern districts of Latakia province," the center said.
It is also reported that another settlement in the province of Aleppo has joined the armistice agreement. Their number increased to 71.
Number of laid down
weapon
groupings former - 51.