Of course, when writing this or that work, be it a large article or a "multi-letter" comment, I would like to enlist some kind of support from the great ones. Insert instead of your own witty quote, or even a couple of poetic stanzas of the classic - well, as if to confirm your own words and thoughts. And the matter is quite good, I can even say developing, if you do not overdo it with quoting and do not turn your own record into an excerpt from the Soviet textbook, where even in the mathematical paragraph the authors (for obvious reasons) managed to insert quotes any of the representatives of the famous trinity - Marx, Engels and Lenin.
Recently, however, with the quoting of the classics, problems, to put it mildly, have begun to be observed. In pursuit of the red word or a kind of base for confirming their own right, certain ladies and gentlemen do not disdain to use either absolutely frank or heavily veiled fakes, or in other words, lies issued as classics. They say that he himself did not check whether this phrase belongs to the person to whom it is attributed, and others will not check it - but hot support or, as the modern youth says, "respect and respect" are provided.
One of the examples of such fakes, which even became "bearded" and for some time has been very popular in the blogosphere in connection with known events, is a poem, as it were, by Taras Shevchenko. It should be noted that recently almost every second article about events in Ukraine and around Ukraine this "Shevchenko poem" pops up in the comments and every time earns its own comments in the style: "Shevchenko is a youngster ... gives the country coal!" or "Ay, yes, Taras, ah, yes, son ... showed the present hoch ... m, who they really are."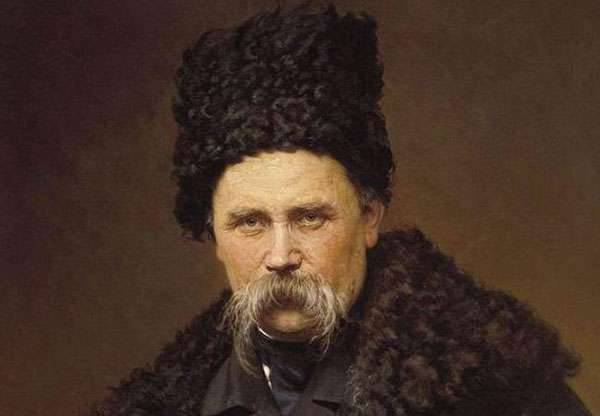 So, the subject itself:
The original page has been deleted based on the ILV requirement:
Notification of the entry of information in the "Unified Register of Domain Names, Indexes of Pages on Internet Sites and Network Addresses to Identify Internet Sites Containing Information the Distribution of which is Prohibited in the Russian Federation"
In accordance with part 7 of article 15.1 of the Federal Law of 27.07.2006 No 149-ФЗ "On Information, Information Technologies and Information Protection", we inform you that on the basis of a decision of the court / authorized federal executive body (Central District Court of Sochi - Krasnodar Territory) from 24.03.2016 No 2-1926 / 2016 index (indexes) of the page (s) of a site on the network
"Internet" https://topwar.ru/94398-taras-i-feyki.html is included (s) in the "Unified Register of domain names, page indexes of sites on the Internet and network addresses to identify sites on the Internet "Containing information the distribution of which is prohibited in the Russian Federation", the number of the registry entry 808784-RI due to the fact that this information contains information the distribution of which in the Russian Federation is prohibited by a court decision.
The poem itself can be found on the Internet, as well as information can be viewed on the site
FEDERAL LIST OF EXTREMIST MATERIALS
And then any signatures may follow, but invariably one thing - Taras, you know, Grigorievich Shevchenko. They can add: a complete works, such and such a section such and such, the poem "Ukrainians", 1851 year, or even "TG Shevchenko, from the forbidden tsarist, and then Soviet, censorship."
There is only one argument - to check, one, excuse me, hell, no one will, but simply lift up the thumb and, according to the habit, they will also add "T.G. Shevchenko" to the one who decided to "quote Shevchenko" here and now.
It is noteworthy that the original of this text from the published in the literature has never been demonstrated - not a single photographic image of the printed page on which the text would ever appear. The solution to the absence of such photographs is simple: there are no such pages, and therefore, there are no such photographic images. But no, because there is no such poem in Taras Shevchenko!
And if some bloggers worked to produce a poem, Shevchenko does not belong, for the work of Taras Grigorievich, then there were other bloggers who exposed fake. In particular, in
LJ appeared informative material
where the point is put on literary falsification. Never Shevchenko (perhaps someone (those who often exploited this "Shevchenko" work, it will even offend, but is it worth it to be offended by the truth?)) Wrote nothing like this. The author of the poem "Ukrainians" is Alexander Noshchenko, who published his work on the portal in 2009
"Poems.ru", about what he himself and reports
(spelling, punctuation and style are preserved):
On the issue of authorship; written by me as a cartoon - an evil joke, the time of writing - before 2009, published in 2009 here on the site, I am a Ukrainian with a thoroughbred, but during the information war any material can be used as
weapon
.
I was asked to publish this verse again in denial of the fake of a strolling now more, as 2, under the authorship of T.G. Shevchenko. I am not at all ashamed of this evil cartoon, because it was an answer to the ardent svidomitam - the nationalists, who through 6 years with the support of the United States came to power in our country and destroyed my beloved homeland as a state.
Of course, we can say that Alexander Noshchenko is a provocateur who introduced, you know, all honest people astray, and now he is engaged in self-disclosure. But this is hardly a provocation. This is a great example of how commonplace ignorance turns into a base for action. This is an example of how a person is ready to believe in anything, and even that if a word of three letters is written on the fence, then beyond the fence there is no doubt that it (he). And if under this word there is "inscribed a personal signature of a classic," then in general there is complete success ... And not only to believe, but also to convince everyone else of this. Referring to some (may Alexander forgive) an unknown poet of the present day - as if moveton for a certain category of people, but where the reference to the classics looks more significant, even if this classic has nothing to do with the writing.
Does one "Taras Shevchenko's poem" today have such problems? Not. Internet resources managed to produce "quotes of famous people" for all occasions, and these "quotes" become almost life guides for a certain category of citizens. The whole essence of this kind of "quotes" is perfectly demonstrated in the sort of demotivator by an unknown author: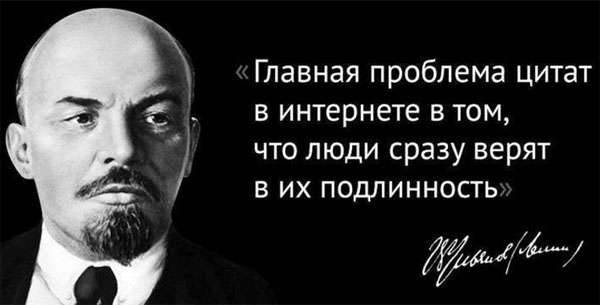 Here are examples of "quotes" that have become an integral part of a number of publications.
"Stalin's quote":
There would be a man, but there will be an article.
In fact, in none of the documents is there any confirmation of the "Stalinist" authorship of these words. V.Chkalov says that this phrase to her father (V.P. Chkalov) was told by prosecutor Andrei Vyshinsky. But the prosecutor Vyshinsky and Stalin are, as it were, not the same person at all ... But a borzopist, having reversed the facts, decided to attribute the phrase to Stalin.
"Stalin's quote":
There is a person - there is a problem, there is no person - there is no problem.
This is a frank juggling of facts - Stalin never uttered such phrases. Her first documentary appearance relates to the publication of Anatoly Rybakov's book Children of the Arbat. Subsequently, Rybakov himself admitted that this was his "transposition of the Stalinist principle", and that it was "the artist's right" to deal with the transcriptions.
"Quote Bismarck":
Officials are drones writing laws that a person cannot live through. Why do ministers have a salary constantly and irrespective of whether the population of Prussia lives well or badly? Now, if the quota of bureaucrats' salaries fluctuated up and down depending on the standard of living of the people, then these fools would write less laws, and more would think ...
Formally, but essentially ... Well, Otto von Bismarck didn't say anything like that. This quotation appeared in Valentin Pikul's 1977 in his Battle of the Iron Chancellors.
"Quote Bismarck":
It is necessary to create an independent Ukraine to maintain balance and peace in Europe. The rejection of Ukraine would be a difficult amputation for Russia.
And this is fake. None of the sources cited even by very prominent historians reveal anything like that expressed by Bismarck. It does not detect, but the authorship of Bismarck is attributed to the words even more "ironier" than what the iron chancellor himself was.
What is all this written for today? No, this is not a call to sit down at the archives and "shovel" the works of the same Bismarck. This is a common statement of fact connected with how sometimes we are trusting, and how corrosively a false word capable of creating a whole system of false values ​​and attitudes.
And the conclusion is: to continue to produce such fakes (even if they look very nice) - to give a chance to those in whose interests the existence of a thinking society in Russia does not mean ...