Syrian sources report that in the province of Damascus, near the capital of the UAR, the plane of the Syrian Air Force fell. According to some reports, we are talking about the MiG-23, which collapsed almost immediately after taking off from the airport Dumeyr. The Syrian military spread information that the plane did not fall as a result of an attack from the ground, but because of a possible malfunction in the engine. About the fate of the crew while there is no data.
Meanwhile, the joint operation of the Syrian Air Force and the Russian Aerospace Forces in the province of Aleppo, where the militants of the Dzhebhat al-Nusra, ISIL, Ahrar al-Sham and other terrorist groups have recently intensified, continues
Thus, in the east of the province of Aleppo, attacks were made on the positions of the militants of the so-called Islamic State. Positions of militants on the plain of Mesken were subjected to bombardment. As a result of air strikes, at least 40 Igilovtsy were destroyed, as well as several caches of
weapons
and ammunition.
The tense situation in Aleppo itself, where the militants continue to conduct shelling, being directly in residential areas.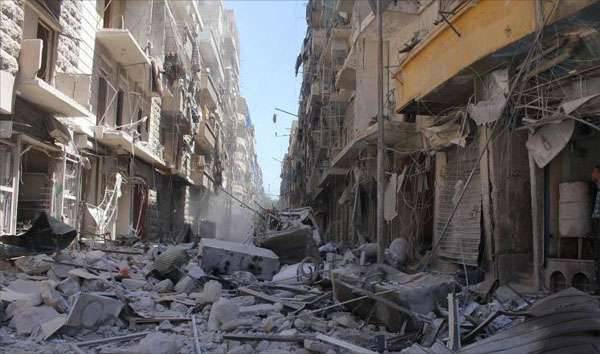 The Syrian government army continues to advance east and northeast of previously freed Palmyra. Fighting is under way in the area of ​​oil and gas production facilities. In particular, we are talking about battles for the town of Arak, in which the gas production facility is located.
Information Agency
SANA
reports that intense battles between government forces and Dzhebhat al-Nusra are under way in the province of Hama. Thus, in the Ma'an area, the terrorists attempted to attack the positions of the SAR troops and the people's militia, but were thrown back with a counter-attack. As a result of the fleeting battle, at least 28 militants were destroyed. We managed to take trophies. This is an SUV equipped with a machine gun and an artillery gun. According to some reports, government troops themselves suffered substantial losses - about 12 killed.