The Ministry of Justice of Ukraine decided to reach unprecedented heights in de-communization. After the ban on the symbols of the Communist Party of Ukraine on the territory of the "Square", it was decided to ban more symbols of the Socialist Party of Ukraine. Representatives of the special commission for a long time discussed the question of whether the name "Socialist Party" itself falls under the article on so-called de-communization or not.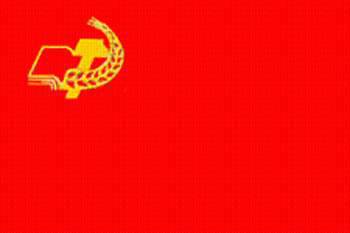 After long "expert" discussions, it turned out that the party can be called that way, that the name "does not promote the idea of ​​a totalitarian system," but ... The same commission issued a verdict that the Socialist Party of Ukraine should be deprived of its current symbols, including the stylized representation of sickle and hammer. By the decision of the Ministry of Justice, SPU symbols were prohibited as falling under the law on decommunization.
Of
order
Ministry of Justice of Ukraine:
Recognize that the symbolism of the Socialist Party of Ukraine does not comply with the first part of Article 4 of the Law of Ukraine "On Condemnation of the Communist and National Socialist (Nazi) Totalitarian Regimes in Ukraine and Banning the Propaganda of Their Symbols."
Ukrainian socialists themselves describe their symbolism: a red-crimson cloth of 120 size on 90 cm, in the upper left corner of which an image of an open book is placed, made in white, yellow and black, its right half overlaps images of a hammer and sickle shaped as an ear.
It is strange that the US State Department, accustomed to expressing concerns about political discrimination, this time did not see anything reprehensible in the decision of the Ministry of Justice of Ukraine to prohibit the image of a book, ear and hammer ...