Kharkov State Enterprise "Malyshev Plant" develops and prepares for release
tank
6TD-3 engine rated at 1500 hp
bmpd
with reference to the press service of the enterprise.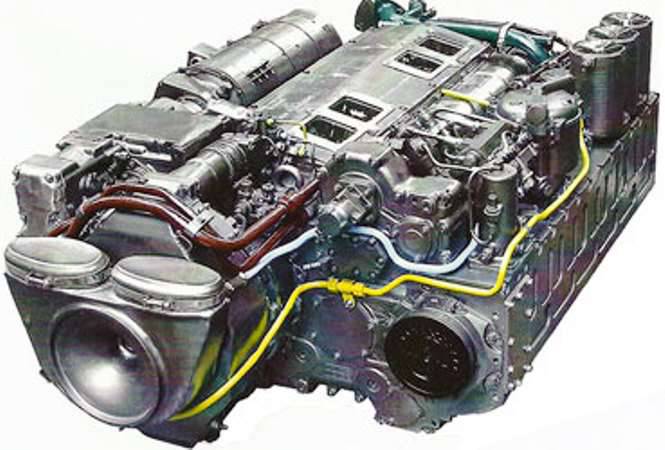 Tank diesel engine 6TD-3 developed by the Kharkov engine design bureau GP "Malyshev Plant. Dimensional model from the exhibition REA-2011 in Nizhny Tagil in 2011 year
This message was published following a visit to the plant of the Lithuanian delegation.
"The manufacture of the engine, its improvement and modernization, installation on the combat vehicle is a process that is completely fixated on the enterprise," the release says.
According to the information, "as part of the delegation that visited the plant. Malysheva, were the Minister of Protection of the Territory of Lithuania Juozas Olekas, the Director of the Department of Policy and Planning of the Lithuanian Ministry of State Protection Gedre Statkeviciuts, the Head of the Center for Military Training. General Adolfas Ramanauskas Algirdas Norkus ".
"The guests from Lithuania took part in the stationary testing of the tank, inspected the engines, learned about their purpose and features."
Help bmpd:
"Apparently, we are talking about a diesel engine 6TD-3 - the latest derivation of the family of Kharkov tank two-stroke diesel engines 5TD / 6TD. 6TD-3 engine in the power class 1400-1500 HP It was started by the creation of the Kharkov engine-building design bureau (HKBD) as far back as 1980 for the promising Molot tank. However, the development of 6TD-3 stretched out for many years. For the first time, the overall layout of the 6TD-3 engine was publicly demonstrated in September 2011 of the year in Nizhny Tagil, and even then it was announced that 6TD-3 was preparing for mass production. As you can see, this preparation continues to this day. The ability of HKDB and the Malyshev Plant to bring this engine to acceptable levels of reliability and resource in the current production and economic conditions in Ukraine is doubtful. "