On the territory of the Donetsk and Luhansk People's Republics, a convoy of emergency ministry trucks delivered another batch of humanitarian aid. More than a hundred trucks delivered food, personal care products, fire fighting equipment, medicines, as well as educational and fiction literature for educational institutions and libraries to the needy republics.
The press service of the Emergencies Ministry notes that a total of about 1200 tons of humanitarian aid was delivered in a convoy from Russia.
From the message
press service
:
Unforeseen situations on the road did not happen. All vehicles of the humanitarian convoy were inspected at checkpoints for cargo compliance. Currently, unloading begins in warehouses. All cargo is distributed among the population of Donbass.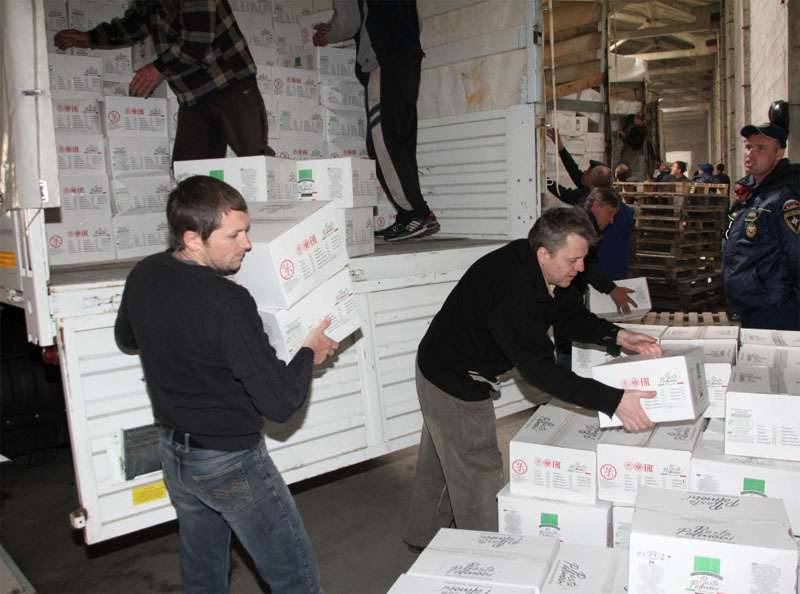 It is noted that after unloading the cars will go to the Rostov region.
Permanent supplies of humanitarian supplies from Russia became a real base for the prevention of a large-scale humanitarian catastrophe that could break out as a result of the economic and food blockade of the regions by the authorities of Ukraine. It should be recalled that the Kiev authorities actually cut off the people of Donbass (and de jure it is also Ukraine) from the supply of goods, including essential goods. This is one of the many crimes of the Kiev regime.