Technical knockout, gentlemen! And the fight stopped for a clear advantage of Mr. Breivik. Norwegian justice acknowledged that inhuman prison conditions, unjustified isolation and a lack of social intercourse were present.
This violated Article 3 of the European Convention on Human Rights. In addition, the court ordered Breivik 331 to pay a thousand Norwegian kroner (40 thousand US dollars) for legal fees.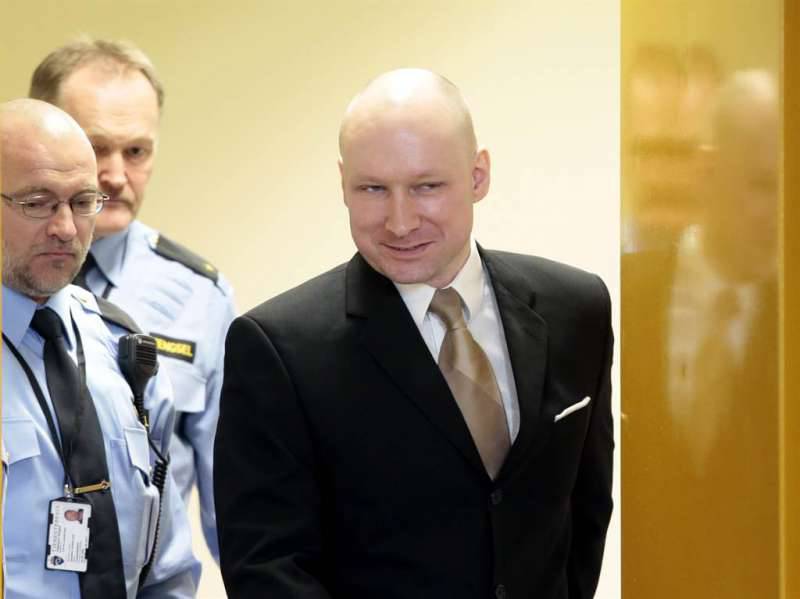 Stormy applause, turning into a standing ovation.
It is frankly not clear whether Judge Helen Andenos Sekulich passed the necessary tests and examinations for compliance with the position held, but she accompanied the sentence on the Breivik complaint with the following statement:
"The ban on inhuman and degrading treatment is a fundamental value of a democratic society. This right must be respected, in spite of everything, including in dealing with terrorists and murderers."
Wonderful! Bravo!
And why did Breivik humiliate him, you know? Oh, the list of tortures applied to him in prison is so impressive that, willy-nilly, Shalamov's stories about Kolyma come to mind. So:
1. Breivik spent as many 5 years in solitary confinement. However, he had access to three rooms: residential, training and gym. In addition, he is allowed to use a computer, game console and watch TV.
2. "Without departing from the box office," he was allowed to study by correspondence at the University of Oslo.
3. Breivik limited correspondence and banned from using the phone! I emphasize, they have limited, not banned at all.
4. He was not allowed to communicate with other prisoners.
5. Prison staff sadists gave him cold coffee and gave him food heated in a microwave.
In short, a complete set of humiliation and torture. The NKVD and the KGB nervously smoking on the sidelines, dropping mean tears.
Europe is moving further and further into the abyss. Yes, the declaration of democratic values ​​will fly to the top of the mountain, but it will have to roll down, not up.
21 year prison (well, for us - board) imprisonment for killing 77 people. For three months for each killed. In a separate room, with a treadmill, computer and Sony PS.
And now the serial killer and Nazi Breivik will communicate with other prisoners and enjoy other benefits of democracy. In the end, this is the problem of Norway, nothing more.
And God forbid, Breivik will get some guts from microwave pizza, I am sure that the same pack of lawyers (not cheap, I will note, 40 thousand dollars - this is not a penny for you) immediately rush to blame Norway for all sins. And, apparently, will win again.
So, you see, and amnesty. Since poor Breivik suffered so much from the state that only early release could compensate him for the torment inflicted in custody.
And the 77 man he killed is so ... a trifle. The triumph of European democracy is worth much more.
But in my memory another one surfaced
historical
the character. 10 years have passed since those events, but he who remembers remembers. 10 years ago, Slobodan Milosevic was actually killed in the prison of the Hague Tribunal. The essence of the crimes of which consisted only in the fact that until the last he fought for his country and his people.
Triumph, European democracy. The only question is how long. Nobody says that a farce is bound to last forever.
And in the end I would like to cite the words of one literary hero. "But only know, procurator, that there will be more blood!"
Here for some reason there is no doubt.