Ashgabat's independence is conditional, like its army
The grouping of the Soviet army, which remained in Turkmenistan after the collapse of the USSR, was somewhat better in quantity and quality of weapons than that of Uzbekistan, not to mention Tajikistan and Kyrgyzstan. On the other hand, Turkmenistan did not have and does not have its own military-industrial complex, and the level of combat training of personnel is traditionally low.
The neutrality of Turkmenistan has been elevated to the rank of state ideology, therefore, Ashgabat does not maintain relations that even remotely resemble allies with any country. With Uzbekistan, the country is in a state of almost open border conflict.

From the world of gun
Modernization of existing military equipment and the acquisition of a certain amount of relatively new ones were carried out in Ukraine and Georgia. Recently, the latest samples were purchased in Russia (
Tanks
T-90, BMP-3, BTR-80A, Smerch MLRS, missile boats of Project 12418) and in China (FD-2000 air defense missile systems) - however, in very limited quantities. The country has very large funds from oil and gas exports, but a serious limitation on the development of the Armed Forces is the lack of qualified personnel. The state of armaments and Soviet-made equipment is difficult to determine, so their number is known very approximately.
Ground forces include 9 brigades - 7 motorized rifle and motorized infantry (2, 3, 4, 5, 6, 11, 22), artillery, anti-aircraft missile. There are also several separate battalions for various purposes.
On arms consist 10 PU OTR P-17. The tank fleet includes the 10 of the newest Russian T-90CA, 640 already quite old Soviet T-72, 55 T-80БВ, to 30 modernized T-64БМ and 7 of absolutely ancient T-62. Approximately 200 BRM (from 12 to 51 BRM-1K, to XNHX, BRDM-100 and 1 BRDM-70), no less than 2 BMP (936 BMP-525, 1 BMP-405), and no more than one year (2 BMP-6, 3 BMP-800), and no more than one year (384 BMP-60, 350 BMP-70), and no more than one year's BMP (77 BMP-80, 27 BMP-8, and no more (up to 80 BTR-10, 4 BTR-73, 17 BTR-2, including 9 or even more upgraded with the installation of new combat modules, 40 newest BTR-2А and, possibly, to 1 BTR-16). Artillery includes 2 ACS (3 400S180, 197 30S6, 46 17S76) to 1 towed implements (72-20 D-6, 2 M-65, from 6 to 2 D-36, 100 D-31, 66 38A131, 56 21A9 ), about 1 mortars (60, 27 PM-6), 100 MLRS (45 BM-20 and 25 "Grad-4", 72 BM-12 "Hurricane", XNUMX "Smerch"). There are at least XNUMX Soviet Malyutka ATGM, Fagot XNUMX, Konkurs XNUMX, Sturm XNUMX, and the newest Belarusian-Ukrainian self-propelled Carakal ATGM on the vehicle chassis XNUMX. There is also an XNUMX PTO MT-XNUMX.
Military air defense includes the 1 regiment "Krug" (27 PU) and "Square" (20 PU), 53 short-range SAM (40 "Osa", 13 "Strela-10"), 300, "Strela-2" PZRK "Strela-60", to 20 "Igla-S" and, possibly, to 48 French "Mistral", 23 ZSU-4-22 "Shilka", 60 anti-aircraft guns C-XNUMX.
The air forces have a rather chaotic structure of air bases, regiments and squadrons. Shock
aviation
It has 55 Su-25 attack aircraft (including 6 Su-25U). At least 65 Su-17s are in storage. Fighter aircraft includes 24 MiG-29 (including 2 UB). 24 MiG-25PD interceptors and from 130 to 230 MiG-23 fighters (including 10 combat training MiG-23Us) are in storage. Special aviation is purely symbolic. It includes 5 transport aircraft (1 An-24, 2 An-26, 2 An-74) and 2 training L-39s. Another 3-4 training Yak-52 in storage. There are 10 combat Mi-24, 12-14 multi-purpose and transport helicopters (8-10 Mi-8, 4 European AW139).
The ground defense consists of the 13-th anti-aircraft missile regiment of the C-200 (12 PU) and approximately 40 PU-C-75 and C-125. In 2015, the FD-2000 (export version of HQ-9, which is close in TTX to the Russian C-300) entered service.
The Navy and the Border Guard incorporate the 2 of the newest Russian missile boats of the 12418 project (with the Uran missile) and the Turkish 1 (with the Italian Marthe missiles), to 25 of the patrol boats (from 2 to the 10 Soviet 1400 project and the Ukrainian Grif -T, 2 Russian 12200 project, 1 American Point-type, 4 Ukrainian Kalkan, 8 Arkadag) and, possibly, 1 minesweeper of 1252 project.

Nominal power
Thanks to the latest purchases of the Russian equipment of the Armed Forces of Turkmenistan, in terms of their potential, they took the second place in Central Asia after Kazakhstan. Nevertheless, due to the very high proportion of outdated Soviet technology, the lack of its own military-industrial complex and the weak training of personnel, the potential of the Turkmen army remains low. At the same time, the country does not have allies, and almost all neighbors are potential adversaries (including even Azerbaijan, with whom Turkmenistan has a dispute over the Caspian shelf). Some (however, unsuccessful) attempts by Ashgabat to flirt with Washington cause only bewilderment: as the experience of recent years shows, an alliance with the United States does not guarantee the slightest security even to more geographically and ideologically close and useful to America countries. The gas pipe now very closely connects Turkmenistan with China, but there should be no illusions here either - Ashgabat depends on Beijing an order of magnitude stronger than Beijing on Ashgabat. In addition, the Chinese leadership has not yet been seen in the desire to sacrifice at least a little bit of their own interests in order to help any foreign country (even if, with that, in words it's stated "the most magnificent in
stories
strategic partnership ").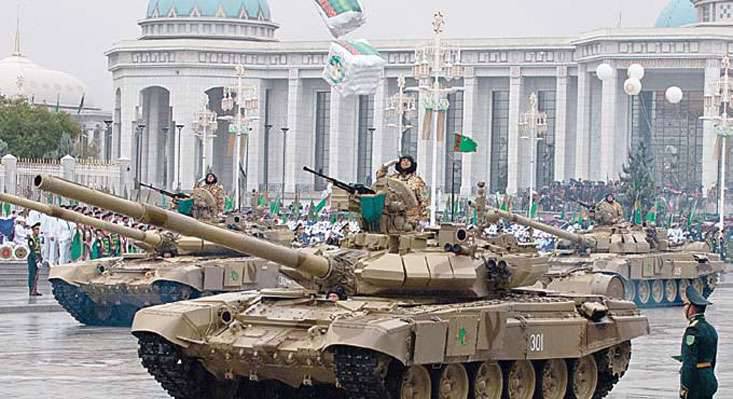 It's not a fact that the Turkmen army will cope even with the Uzbek one: although the first is now better armed, the second can simply crush the enemy with a mass (Tashkent's human resources are about five times more). Moreover, the armed forces of Turkmenistan will not be able to resist the armed forces and the IRGC of Iran. Ashgabat will have very big problems if the pressure of radical Islamists from Afghanistan increases. The fight against guerrilla and sabotage-terrorist formations is a daunting task even for armed forces that are of higher quality than the Turkmen ones. In addition, there is not the slightest confidence that the personnel are resistant to the propaganda of the Islamists and that the army, while trying to suppress them, does not fall apart from the inside, having begun to cross over to the side of the enemy.
Thus, Turkmenistan is in the same geopolitical situation as the rest of Central Asia - one can only speak about their security and defense capability with a very high degree of conditionality. In an advantageous position is only Kazakhstan. Firstly, it does not border Afghanistan, and secondly, it has established a fairly close military alliance with Russia, thirdly, it has its own good armed forces and military-industrial complex (for more details see "Competecy seekers" on page 07). All other countries in the region in the foreseeable future will face very serious tests that may endanger their very survival.