Aircraft of the Syrian air force today launched a series of attacks on militant positions in the province of Deir ez-Zor. As a result of the air strikes, several units of military equipment of ISIL terrorists were destroyed in the settlements of Huweijd Sacr and Al-Bheilia. According to the information agency
SANA
,
aviation
SAR worked for a cluster of militants northeast of Palmyra (Tadmora). The Igilovites tried to regroup and attack the ancient city, previously liberated by the army of the SAR and the forces of the militia.
Meanwhile, there is a clear activation of militants in the northern part of the province of Latakia, as well as in the province of Hama. Militants "Dzhebhat al-Nusra" with the support of other terrorist movements ("Ahrar ash-Sham", "Faylak ash-Sham", "Jaish al-Islam"), as well as the so-called. The Free Syrian Army took control of several localities located off the Aleppo-Latakia road. To prevent the militants from developing the offensive, the command of the SAR forces was forced to transfer several special forces units to the area. Soldiers of the Desert Hawks detachment, who had previously been involved in the liberation of Palmyra and El Qaryatein, returned to Latakia.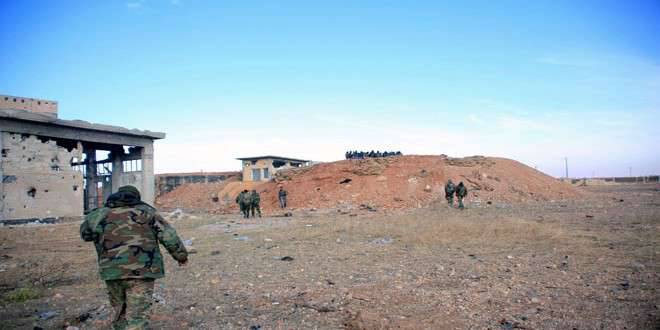 Sharp clashes between government forces and militants are observed on the border between the provinces of Hama and Latakia. The situation is also becoming more complicated in the suburbs of Damascus, where ISIS militants are conducting their offensive against the positions of the SAR army.
Against this background, there are reports from Geneva that the delegation of the so-called Syrian opposition decided to withdraw from the negotiation process. Reportedly
RIA News
, the opposition delegation in Geneva announced that it "pauses the negotiation process." Attention is drawn to this: this output took place at a time when it became known that the militants in Syria began to receive additional weapons from their main sponsors, including Turkey and Saudi Arabia, and go on the offensive on several sectors of the front. In this regard, it can be assumed that the "pause" will end exactly at that moment when the militants again feel the full power of the blows, both from the ground, from the sea and from the air. The "opposition" forces, as the practice shows, do not understand anything other than "Calibres", KABs and OFABs. And this is their choice, as well as the choice of those who actively support them ...