The definition of Russia as an "oil state" is only partially true, an American expert believes. The fact is that Russia is an entirely new type of energy power. It has global energy influence, surpassing the influence of OPEC, because it occupies a strong position in the oil, gas, coal and nuclear power engineering.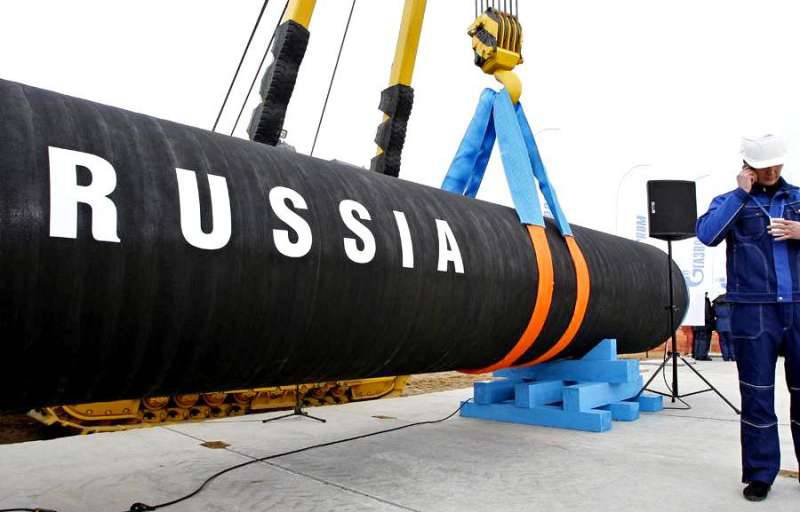 In the American edition
"Morning News USA"
They write about the "big return" of Russia to the Middle East. According to analysts, Moscow intervened in the Syrian war with a long-range view and is now preparing for a "shake-up" of the world political system.
While Obama, who does not want to link up in the Syrian conflict, focused on Asia, Putin has successfully proved to the world that participation in an antiterrorist operation does not at all lead to such a "linkage". Obama's pessimistic predictions about the Russian operation in Syria have not come true, and it is Russia that today can advance the process of political settlement. In addition, Moscow helped out its ally Assad.
This is not the only thing that should indicate the growing role of Russia and the decreasing role of the United States in the world. The other day there was a "meeting" of an unarmed Russian fighter and warship "USS Donald Cook" in the waters of the Baltic Sea. The European command of the United States in a panic reported that the "Cook" was faced with "aggressive maneuvers" of the Russian aircraft.
All this is impressive, but the main thing in the growth of Russia's power is by no means a military component, and certainly not the "aggressive maneuvers" that the Western press likes to talk about. The main thing is Russia's global energy strategy.
Scott L. Montgomery, a professor at the School of International Studies at the University of Washington, believes that Russia's characterization as an "oil state" is only partially correct. Russia is an entirely new type of energy power. It has global energy influence, surpassing even the influence of OPEC. This expert told on the pages of the publication
"The Conversation"
.
"Russia is not what you think," the author writes. - Most of the discussions about its energy impact are conducted around oil and gas, mainly gas, and Russia can be described (and usually described) as a petro-state. But there is only a part of the truth in this statement. "
The expert is convinced that today's Russia is being formed as an energy power of a completely new type, and its global influence is even greater than the influence of OPEC. The fundamental reason for such an elevation of Russia is that it occupies strong positions at the same time in several energy sectors, especially in the oil, gas, coal and nuclear industries.
Its multi-faceted energy strategy - from fossil fuels to new nuclear power programs - leads to geopolitical and economic results that affect Russia's neighbors in Europe and developing countries around the world.
Over the past few years, Russia has been the world's largest exporter of hydrocarbons (oil and gas combined). Despite numerous predictions that this cannot continue, there are no signs of change. An important point: export includes not only crude oil and natural gas, but also refined petroleum products (gasoline, diesel fuel,
aviation
fuel, etc.) that are exported to Europe and Asia. Russia has been a leading exporter in this key category for almost a decade and supplies more to OPEC.
We also have to admit that this country is much richer in hydrocarbon resources than previously thought. However, due to a strong decline in prices, the long-term forecast for Russian hydrocarbons remains uncertain.
The analyst also notes the high dependence of "export customers" of Russia in Europe on its supplies. European countries depend on Russia for an average of 30% of hydrocarbons received from outside, especially gas. Almost half of these countries (including Germany) receive hydrocarbons from Russia in the range from 40 to 100%.
Dependence on Russian supplies from East Asian countries, in particular China, Japan and South Korea, is growing more and more. Previously stated official statements that such a relationship would be overcome or reduced, turned out to be empty. The weak economic situation made Europe prefer Russian gas as the cheapest one. East Asia is still at an earlier, but already significant degree of dependence. Japan, the world's largest LNG importer, currently receives 10% of the total volume from Russia, and is ready for new deals.
The bottom line: Russia's oil and gas have become vital energy sources in most of the most economically developed countries in the world. If the forecasts of the International Energy Agency and other similar organizations are correct, then the demand for natural gas will increase over the next few decades.
And that's only half
stories
!
King Coal and King Atom - this is Russia now.
In Russia - huge reserves of coal, which are inferior in volume only to American. Russian coal exports are growing steadily from 2000 of the year: during this time, shipments have tripled, from 45 million tons to more than 150 million tons (third place in the world after Indonesia and Australia).
As in the case of oil and gas, exported coal goes to Europe and East Asia. The volume of supply falls primarily to China, Japan and South Korea (more than 40%, and deliveries continue to grow). Demand in China is falling, but it is growing in India, South Korea, Turkey, and a number of countries in Southeast Asia.
It is also worth noting that Russia is very well geographically located for export along sea and railway routes both to the west and to the east.
Finally, the Russians successfully export their newest nuclear technologies to the world.
Moscow's Nuclear Essence is the state-owned company Rosatom. Since 2010, Rosatom has signed agreements and cooperation agreements with more than two dozen countries. True, these countries are not the richest: Vietnam, Myanmar, Indonesia, Bangladesh, Armenia, Turkey, Jordan, Saudi Arabia, Egypt. Developing countries are interested in nuclear power for several reasons: the rapid growth in electricity demand, the desire for zero carbon emissions and concerns about national energy security. In March of this year, the World Nuclear Association reported on 65 reactors under construction and planned 173. Most of them are in China, India and Russia itself. But that's not all: there are still 337 proposals for new reactors from fifty countries (of which 31 is the country running nuclear power programs), and most of them have already entered into any agreements with Russia. There are other countries in Africa, Southeast Asia and South America that have shown interest and may well join the "new nuclear era" later.
Conclusion: Russia's importance as a supplier of nuclear technology and fuel will only grow, and this will give Moscow a "powerful presence in many parts of the developing world," and even more than the Soviet Union has ever achieved.
Probably, over the next decade, Russia will become an energy power of a new type, whose influence will go far beyond the economy, the expert suggests.
As for oil, we can add that a bright future may not happen here. Sergey Glazyev, an adviser to the president of Russia on regional economic integration, spoke out on this topic the other day.
According to him, oil ceases to be the primary energy source; the future belongs to renewable energy. "Regardless of how a cartel of oil countries will behave, with the consumption of oil as an energy carrier, the prospects for some growth are not foreseen, either now or in the foreseeable future. Of course, the consumption of oil and gas as sources of chemical raw materials will grow, but fundamental changes have taken place on the energy market, "Glazyev told the correspondent
TASS
.
He recalled that the oil-producing countries could not agree in Doha on the "freezing" of oil production, and noted that the world is now moving to a new technological mode: "The growth of a new technological order will be accompanied by an increase not of thermal energy, but renewable sources. The development of solar energy is booming, which at a specific cost of power looks better than thermal energy. "
There is a contrary opinion on this.
Otkrytie Broker commodity market analyst Oksana Lukicheva at an online conference
"Meeting in Doha: what is important for oil and what is not"
She said: "Possible withdrawal from the use of oil and gas, as well as alternative energy sources, is another myth, promoted under the" cut "of budgets of Western countries."
"I admit only one possibility of avoiding the total use of hydrocarbons - the invention of a completely new energy source, possibly with the participation of an atom or something like that," she noted.
According to her, the "scourge" of civilization is a lack of energy, which is why the West, in campaigns for cheap energy, unleashes wars. The same West looks at Russia.
Head of Operations at the Russian market of Freedom Finance IG George Vashchenko reminded: "Oil is not only gasoline, it is the same rubber for Tesla tires. And the majority of electricity is still being extracted from non-renewable sources. Without oil, the economy will not go anywhere. The demand for hydrocarbons is dictated by the laws of physics: their energy density is orders of magnitude higher than that of batteries. For this reason, there will never be mass electric passenger aircraft and the like. Electric transport is a good way to improve the environment in cities, but not to reduce the production of oil and gas. "
Thus, experts doubt the "drastic changes" in the energy market. Oil and gas will continue to play a crucial role. Probably, the share of nuclear energy will also increase. Renewable energy is still very far from the so-called primary. Therefore, one must assume that Russia will retain its global energy influence.
Observed and commented on Oleg Chuvakin
- especially for topwar.ru