Well, you know, dear, somehow it even becomes uncomfortable. Looking at what is happening with the Ukrainian rulers. Here where throw at junta, everywhere a wedge and a fiasco. It is clear that we are to blame in all zradahs, but here Russia has a clear alibi. And iron.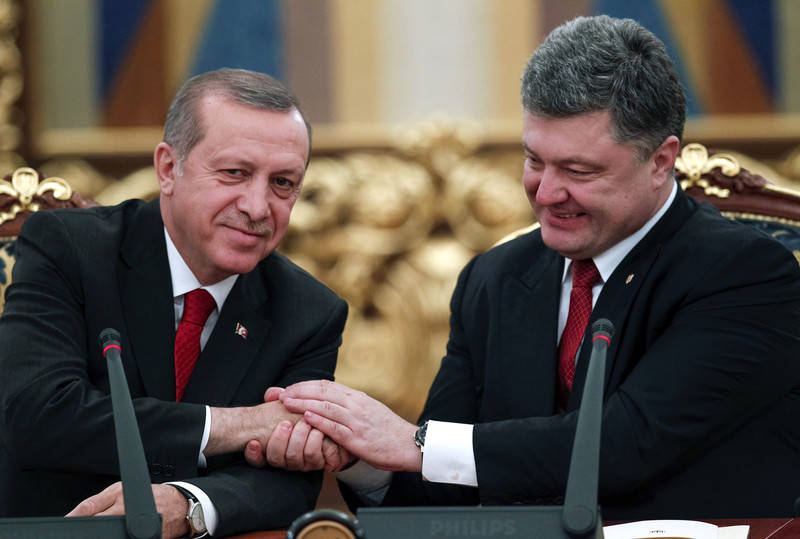 This is about Turkey. More precisely, about the Turkish-Ukrainian agreements.
After all, it was only for Russia to spoil relations with Turkey, so immediately the Ukrainian guardians began to shout that the Turks and the Ukrainian were forever brothers. And from time immemorial. And everything that was before, up to the famous letter of the Zaporizhzhya Cossacks to the Turkish Sultan, is from the evil one, that is, it was invented by these cursed ones. Us.
Confirming that "Turks and Ukrainians are brothers forever," and sponsoring the Crimean Tatar battalions in the territory of the Kherson region, Turkey, represented by its ambassador to Ukraine, Yonet Tezel, said she was ready to sign an agreement on a free trade zone with Ukraine.
However, the whole gusto of the situation is that Turkey will not include a section on agriculture in this agreement.
It is quite logical: why should a country that produces such a quantity of products that it is abundantly enough for both domestic and foreign markets, to allow foreign agricultural products to itself?
You can, of course, say: what, they say, do you want from the Turks? And really, what do you want from them? They have only the shaft, and the problem is where to put the shaft. Previously sent to Russia, and now?
Naturally, their own interests are above the interests of a certain "fraternal" neighbor. And these interests require not to buy agricultural products, and sell. And in huge amounts, because the loss of the market from 150 to millions of people is not a clean tangerine for you. It is more difficult.
Moreover, Ukraine is clearly not in a position to buy something in such volumes.
So what remains for Ukraine under this agreement? Never mind. Ukrainian industry is unlikely to be interested in something Turks. And the very existence of industry today is somewhat controversial. All that the Ukrainian government can really operate with today is precisely the status of an "agrarian superpower" imposed by its masters.
Which Turkey is already.
I will allow myself some kind of personal lyrical digression.
Remember how after the famous events of 2008, Georgian wines quickly disappeared from the shelves of the market? And I remember. And how in the Georgian media briskly stated that the introduction of the Russian embargo on Georgian wines had a positive effect on winemakers? Found, they say, new markets, and so on?
And how then proud representatives of winemakers crawled on their knees to Moscow, arguing that their wine was very beautiful and begged to lift the embargo? Well, removed. So what? Georgian wines appeared, only time passed. I do not know how anyone, but I am quite pleased with the products of many years I adored the plant "Inkerman", near Sevastopol. Used when the plant was Ukrainian, now I use Russian wine. "Inkerman" costs from 240 to 400 rubles. Georgian cheaper 700 is difficult to find. And is it necessary?
Price + quality + share of patriotism - and I did not give up this Georgian at all.
The same applies to the Baltic canned fish and Polish apples.
To compensate for the huge, and most importantly, solvent market with a population of millions of people in 150 is, excuse me, fantasy. Not scientific. Already proved. And the Poles, and the Balts, and the Ukrainians.
So once again, the Ukrainian rulers received an obvious zradu.
Olga Chubrikova, director of the protocol department of the Ministry of Foreign Affairs of Ukraine, tried, of course, to present the situation in a slightly different light. Say, the leadership of Ukraine wants the document to be mutually beneficial, and therefore Ukraine does not set specific deadlines for signing the agreement. But the Turks, the more so nowhere to hurry. Protocols are protocols, but the essence of this will not change in any way.
But for the "Great Agrarian Power" of Ukraine, everything is somewhat different.
Yes, US Ambassador Payette predicted a bright agrarian future for Ukraine. But the ambassador will not look for markets. Not his business. The cause of Payette is to crow, and the rising is absolutely not obligatory. In the economic sense.
It is even strange, but every day the number of states-friends of Ukraine is nearing zero level. Even those who first promised the golden mountains and bright European future, for some reason, today try to keep their distance.
The euro dream of free movement across Europe and the euro salary has already been virtually buried,
tanks
, guns and planes to fight the aggressor did not give, and statements that Ukraine is the shield of Europe in front of hordes of Russian invaders are already openly turned away. Yawning. And they don't give money.
In general, it turned out as always. Hope for the Turk, but do not make it yourself. Blundered, gentlemen.
And how it all began ... Remember dearly! In Kiev, probably, the fingers washed, sculpted videos. Which told how cool it would be now. What power lies in the union of Ukraine and Turkey.
And how the Turkish Air Force was glorified after the meanness with the Russian bomber. That's just the full-length films did not have time to shoot. So, licked in a hurry. But they did.
But in fact everything turned out as always. Well, if Erdogan consciously went into conflict with Russia on his own madness and frenzy, then, excuse me, but he will not even notice the Ukrainian sufferings on this subject.
And finally, another video. So just laugh. Ukraine and Turkey vs Russia. The numbers there are almost correct. But the essence is as in the old joke: "Well, who is Vasya and me?"