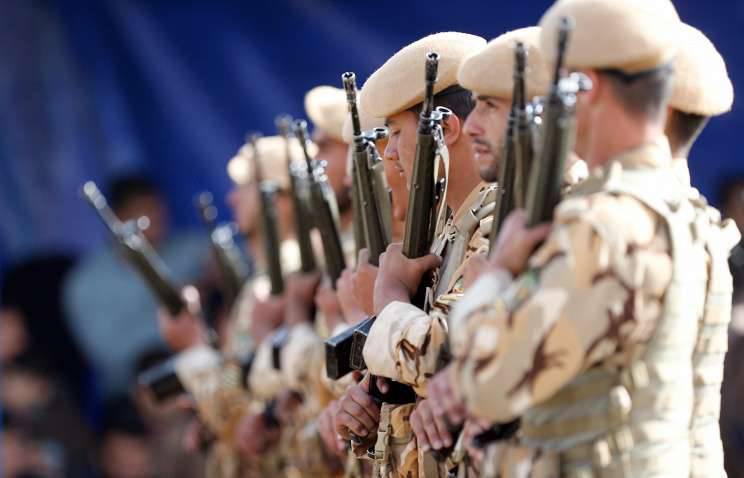 In peacetime, the armed forces (AF) of the Islamic Republic of Iran (IRI) consist of two separate structures: the army and the Islamic Revolution Guards Corps (IRGC).
The command of the Armed Forces is carried out by the united General Headquarters of the Armed Forces, the supreme commander is the Head of the Islamic Republic of Iran, Ayatollah Ali Khamenei. In an emergency situation, the security forces are also at the disposal of the military leadership, which in peacetime are subordinate to the Ministry of the Interior.
The Army and the IRGC have their own ground forces, air force and naval forces. Formed according to the calling principle (with 18 years, service life - 21 months).
The structure of the IRGC includes a structure that performs strategic reconnaissance and sabotage functions - the special purpose forces "Kods", as well as the forces of resistance "Basij".
The task of "Basij" includes calling, promoting and carrying out training of civilians, whose contingents in the event of the outbreak of hostilities go to the recruitment of units of the IRGC and the formation of new combat militia units.

Strength

The total number of Iranian armed forces (excluding law enforcement forces) as of 2016 was over 520 thousand people (hereinafter, estimates of the number of forces and equipment are given according to the Military Balance directory, compiled by the International Institute for Strategic Studies, IISS). Army reserve is about 350 thousand people.
Foreign arms suppliers

Part of the weapons and military equipment of Iran - American and British, was received before the Islamic revolution 1979. In the first half of 1990's. Iran was one of the leading recipients of Russian weapons for all types of the country's armed forces.
According to the Soviet-Iranian intergovernmental agreements 1989-1991. Into the country were delivered:
- combat aircraft
- helicopters
diesel-electric submarines
-
Tanks
and armored personnel carrier
-Zen rocket systems
-
aviation
missiles
- ammunition, spare parts for military equipment
- license for production of T-72 tanks has been transferred
The military-technical cooperation of the Russian Federation and Iran was interrupted in 1995-2000. under US pressure, following the 2000-2007 biennium. Russia accounted for about 85% of all military imports of Iran.
In April, 2016 Russia supplied Iran with the first batch of C-300 anti-aircraft missile systems.
The Defense Ministry, which controls the Organization of the Defense Industry of Iran, is engaged in logistics of the Armed Forces. It consists of seven industrial groups producing
weapon
, ammunition and equipment for land forces of the army and the IRGC.
Ground forces

Army ground forces (number of 350 thous. Of military personnel, of which 220 ths. Are recruits) have more than 1600 tanks at their disposal, including:
-480 Russian-made T-72С units
-about 150 US MxNUMXA60 units
- about 100 British Chieftain ("Chieftain") Mk3 and Mk5
-order 540 units T-54 and T-55, etc.
-about 600 infantry combat vehicles (210 BMP-1, 400 BMP-2)
-more 640 armored personnel carriers (including 300 BTR-50 and BTR-60)
-Arms are also equipped with more 8700 artillery guns and installations.
Ground force aviation includes more than 200 helicopters, including:
-50 drums Bell AH-1J Cobra, "Bell AH-1-J Cobra"
-20 Heavy Transport Boeing CH-47C Chinook, "Boeing CH-47-Ci Chinook"
-25 units Mi-171
-78 light helicopters of different types
In service of ground defense air defense - about 180 anti-aircraft installations:
-ZSU-57-2 and Shilka
- several hundred anti-aircraft machine-gun systems
launchers of short-range Chinese missiles CSS-8 ("CS-Es-8"), etc.
- portable anti-aircraft complexes "Strela-3", "Igla-S", etc.
The ground forces of the IRGC comprise about 100 thousand troops. In peacetime, they are used as internal troops to maintain public order.
The command of the IRGC ground forces is also managed by the Basij resistance forces. According to official data, more than 12 million people underwent training in the Basij system, and within one month Basij could mobilize about 3 million militiamen.
In 2016, according to the Iranian news agency Fars, aviation units were created as part of the ground forces, where attack and transport helicopters for aerospace forces of the IRGC were transferred.

Naval forces
The Iranian Navy (18 ths. Military, including 2600 Marines) consists of:
-29 submarines, of which:
-3 diesel submarines of the project 877EKM "Halibus" of Russian production, delivery 1992-1996.
- the rest - ultra small submarines of the Iranian development "Kadir"
-69 surface warships, of which:
-7 Corvette British built
- the rest - rocket and patrol boats of various projects of French, American and Chinese construction
Also in the composition
fleet
includes:
-4 minesweeper
-24 amphibious assault ship
-order 40 auxiliary ships
- Sea aviation (2600 military) uses:
-3 Lockheed P-3 Orion Coastal Patrol Aircraft
-16 light aircraft
-order 13 transport helicopters Sikorsky S-61 Sea King ("Sikorsky Es-61 Sea King") and CH-53 Sea Stallion ("CE-X-53 Sea Station")
-17 light helicopters
The navy of the IRGC (20 thous. Military, including 5 th. Marines) has:
-113 patrol boats of various types
-4 amphibious assault ships
- a small number of auxiliary vessels
-Air Force
The Iranian Air Force has 30 thousand troops, including 12 thousand soldiers in the air defense forces.
In service around 330 combat aircraft:
-No less than 180 fighters
-43 units Grumman F-14 Tomcat, "Grumman EF-14 Tomcat"
-20 units Northrop F-5B Freedom Fighter, "Northrop EF-5-b Freed Fighter"
-24 units Chengdu F-7M Airguard, "Chengdu EF-7m Airgard"
-36 units MiG-29 of various modifications, etc.
-120 transport aircraft
-12 units IL-76
- about Lockheed C-19 Hercules 130 units, "Lockheed C-130 Hercules"
-11 units An-74ТК-200, etc.
as well as:
-to 30 Su-24MK front-line bombers
-64 units McDonnell Douglas F-4D / E Phantom II, "McDonnell-Douglas EF-4 Phantom-2"
- no less than 10 attack aircraft Su-25К / UBC
-5 Lockheed P-3 Orion patrol aircraft, Lockheed P-3 Orion
- about 150 training aircraft
-more than 30 helicopters of various types (including at least 2 units CH-47 Chinook)
According to IISS experts, due to the lack of spare parts, and also due to physical obsolescence, only 60% of US aircraft are in combat formation, and up to 80% of the total number supplied by Russia.
The air defense forces are armed with anti-aircraft missile systems and systems:
-C-75 Dvina
-C-200 Angara
-C-300 (supply 2016 g.)
-25 TOR-M1 ADMS (delivery under 2005 contract)
-FM-80 Chinese production, etc.
Aerospace forces of the IRGC are responsible for the country's strategic missile weapons. They have at least 22 mobile and at least 10 medium-range ballistic missile silos launchers:
-Shahab-3 (Shahab-3, Iranian copy of the North Korean Musudan rocket)
-Ghadr-1 ("Gadr-1")
-СБСД Sejil ("Sajil")
-o-tactical missiles Fateh-110 ("Fateh-110"), etc.
Law Enforcement Units

Under emergency conditions, border troops and security forces totaling from 40 thousand to 60 thousand people are transferred from the control of the Iranian Interior Ministry to the Armed Forces. The mobilization reserve of these structures has about 450 thousand people.