On Saturday, the first cutting of steel for the corvette of the French project Gowind 2500 took place at the Egyptian shipyard Alexandria Shipyard, the blog reports
bmpd
. The ship will be built with the participation of the union DCNS.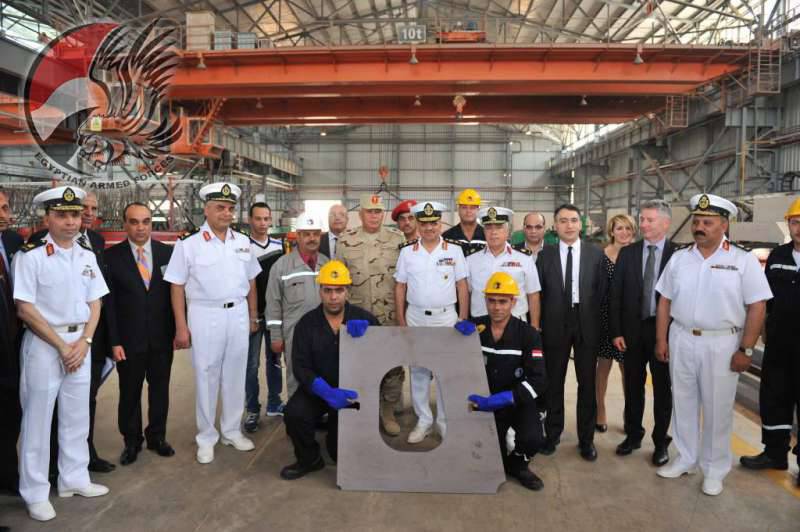 The contract with DCNS for the construction of 4's corvettes for the Egyptian Navy was concluded in 2014. Its cost (without rocket weapons) was € 1 billion.
Under the terms of the agreement, the lead ship was laid and will be fully built at the DCNS shipyard in France, the other three - in Egypt.
The deadline for the head corvette is 2017 g, the rest are from 2018 to 2019.
According to the blogger, "these corvettes will become the largest warships ever built in Egypt."
"The Gowind 2500 Corvettes for Egypt will be large enough for their class ships with a full displacement of 2600 t, having a length of 102 m and a width of 16 m. They will have a diesel-electric power plant with a total power of 10 MW with two diesel engines and two electric motors. The full speed will be 25 knots, and the cruising range is up to 3700 miles on 15 knots, "the article says.
The crew of the ship - 65 people. On board, space is also provided for 15 passengers, for example, paratroopers who, when performing a task, will be able to use two quick-release 6,5-meter semi-rigid motorboats.
According to the report, "the armament of the Egyptian corvettes will consist of two four-container launchers of the anti-ship bracers; presumably 40-mm Nexter Narhwal), 3-mm torpedo tubes for MU16 torpedoes. The hangar can house a helicopter up to the 76-tonne class of a permanent base (probably the Egyptian Navy will use the Kaman SH-20G Super Seasprite) ".