Information Agency
Associated Press
reported a sharp exacerbation of the situation on the border of two African states - Ethiopia and South Sudan. According to the news agency, several hundred armed militants invaded the territory of the Ethiopian province of Gambela, where they massacred the local population. In total, 140 people were killed at the hands of the militants, including many women and children. Most of the victims, as noted by the Ministry of Communications and Information of Ethiopia, belonged to the Protestant confessional group.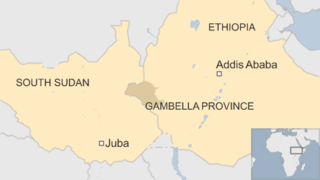 The Ethiopian army and police launched a large-scale operation in the said province. As a result of this operation, it was reported that about 60 militants, most of whom belong to the Murle people, were liquidated.
According to AP, the Ethiopian army decided to pursue militants and entered the territory of South Sudan. However, the official authorities of Ethiopia deny the border with the Republic of South Sudan. The fact is that in the province of Gambela the border between the two states can be considered more symbolic. In fact, it is not protected by anyone, and conflicts in this region have long ceased to be rare.
For reference: South Sudan gained independence (from Sudan) quite recently - in 2011 year. During the referendum, more than 98% of the population of South Sudan were in favor of independence. The largest denomination of South Sudan are Catholics (about 25% of the total population). Islam is practiced less than 2% of the population. The majority of the population are followers of African quasi-religious cults. In 2016, the country has recorded a record level of hunger since South Sudan gained independence. Under these conditions, separate nationalities of the country are trying to fight for the territories of a number of neighboring states, including Ethiopia, Sudan and Kenya.